At the first CAPITALS Business Circle Meeting of 2015, Airbus Group was the special partner of CBC. The event was organised in the unique location of German Council on Foreign Policy (DGAP) with the institutional support of IHK Berlin (the Berlin Chamber of Commerce and Industry), the German Council on Foreign Policy and CWHR (the Diplomatic Club of Economic & Commercial Diplomats).
CAPITALS Business Circle, has from the beginning the institutional support of Berlin Chamber of Commerce, which is important for a new leading International Business Club based in Berlin, who underlined the gradual increasing importance of Berlin as Business Hub and City of Lobbying and Networking and congratulated CBC for its great contribution in that direction, bringing senior speakers and discussing international topics and making Berlin even more international city.
After the welcome remarks from Christian Wiesenhütter, Deputy Managing Director at Berlin Chamber of Commerce, Andreas Toelle, Director of Government Affairs and Export Support at Airbus, shared his views on the future and key trends of aviation and air travelling in Germany and Europe, while he gave his market forecast the next 20 years, sharing extremely interesting facts and figures about the present and the future of the sector, the competition in Europe but also globally and giving an insight view of the coming innovation on which Airbus is working on. After introductory remarks and key note speech, followed an interactive dialogue with attendees on the challenges and innovations in the aviation as well as the synergies that can be developed and the impact on companies and air travelers.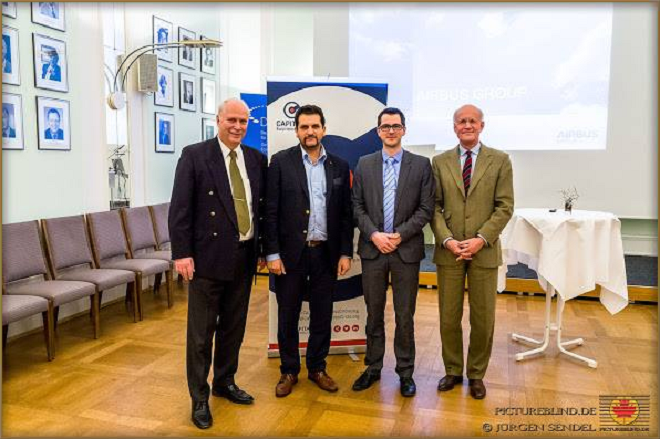 CBC announced new strategic partnerships for CBC with leading business communities in industry and sustainability for 2015. Some of them include Marwiko, a German Community with 300 industry companies as members, and Global Sustain, a leading company in the sector of sustainability, which will be Partner of CBC in the sector of Sustainability.
As at previous CBC meetings high level guests and senior executives from Business, Economy, Associations and Diplomacy participated at the CBC first event of the year.
CBC keeps on the Dialogue with senior speakers, international topics and the Meetings with established and leading companies as partners. At next one in cooperation with leading companies such as CEBIT, Base_Camp and Bitkom Research, CBC will talk about the trends in ICT Market and the future of Digital Economy.