Accenture: Purchases from social media platforms will reach 1.2 trillion dollars by 2025
This growth will be mainly due to social media users who belong to the generations Gen Z and Millennials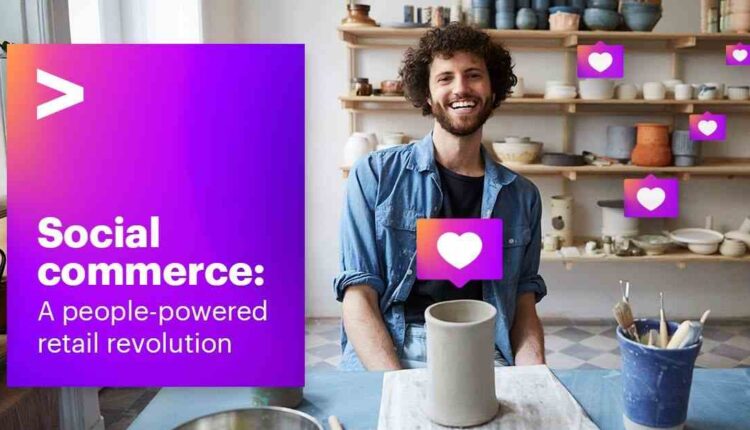 A new survey by Accenture notes that the 492 billion dollars global social commerce market is expected to grow three times faster than traditional e-commerce, reaching 1.2 trillion by 2025.
This growth will be mainly due to social media users who belong to the generations Gen Z and Millennials, accounting for 62% of global spending on social commerce by 2025.
According to Accenture's study "Why Shopping's Set for a Social Revolution", social commerce refers to a consumer's overall shopping experience -from the discovery of a product to the checkout process- that takes place on a social media platform.
64% of social media users surveyed said they made at least one purchase through social networks last year, which -based on Accenture's estimates- translates to ~2 billion shoppers worldwide.
"The pandemic has highlighted how many people use social media platforms as an entry point to everything they do online – news, entertainment and communication," said Accenture's Head of Strategy and Consulting in Greece, Marios Limnios.
"The steady increase in time spent on social media reflects how essential these platforms are in our daily lives. They reshape the way people buy and sell, which gives platforms and brands new opportunities to create original experiences and of course revenue.
While the opportunity is important especially for large companies, individuals and smaller brands can also benefit. Specifically, 59% of social commerce buyers said they are more likely to support small and medium-sized businesses through social commerce than when they make purchases through e-commerce.In addition, 63% said they are more likely to buy again from the same seller, which underscores the benefits of social commerce in building trust and increasing recurring purchases.
"Social commerce has a huge power. It strengthens smaller brands and individuals and leads big brands to re-evaluate their relevance in a market of millions of people", added Marios Limnios.
"Social commerce will require creators, resellers and brands to bring their products and services where the consumer is.This means working together within a dynamic ecosystem of platforms, markets, social media and influencers to share data and ideas, providing the framework for developing upgraded consumer experiences in an integrated digital market."
However, half of social media users are concerned about purchases through social media networks regarding issues of protection and return policies. Therefore, trust is the biggest obstacle to the adoption of social commerce, as was originally the case with e-commerce.
"Those who have not yet made purchases through social networks report that one reason they are delaying is the lack of trust towards sellers, while active social commerce users point to product returns, money and exchange policies as key areas for improvement," noted Marios Limnios.
"The trust issue that exists requires a reasonable amount of time to overcome, but everyone who focuses on these areas will be in a better position to increase their market share, in the future."
Who Buys What
Accenture's study also showed that by 2025 the highest number of social media purchases worldwide are expected in clothing (18% of all social commerce by 2025), consumer electronics (13%) and home decoration products (7%). Fresh food and snacks also represent a large category of products (13%). Beauty and personal care products, although are a small part of social commerce sales, are predicted to quickly gain ground in e-commerce and conquer over 40% of digital spending on average for this category in key markets by 2025.
Among the other findings of the survey:
•Consumers in developing countries are more likely to buy through social networks and repeat it frequently.
•Buyers in China, India and Brazil are more interested in features that help them discover and evaluate potential markets, while those in the UK and US pay more attention to prices and discounts.
•Trust is more important for older than younger generations. Older shoppers put an emphasis on safety and prefer well-known brands, while younger generations trust other buyers' reviews more.