Northern Greece Investment Fund's first investment in Pragma IoT
A new growth fund with funding from the Hellenic Development Bank of Investments and private investors began in Thessaloniki with 30 million euros funds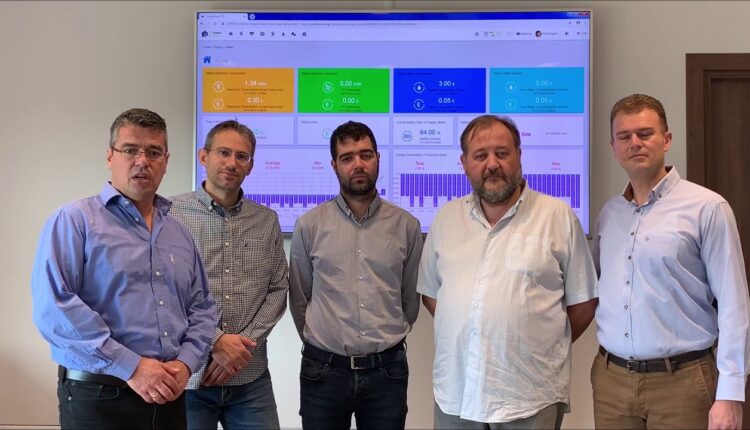 The Northern Greece Investment Fund, managed by Thermi VCM, announced its first investment of a total of 1,000,000 euros in Pragma IoT.
Pragma IoT was founded at the end of 2017 in Thessaloniki and is a spin-off of the National Centre for Research and Technology-Hellas (CERTH).
Pragma IoT provides Internet of Things (IoT) solutions and other similar services to organizations and businesses. The core of its services is a dynamic Internet of Things platform that covers the full cycle of "Collection" – using multiple communication protocols, "Storage" – with optimized data formats, automatic "Analysis" – with deep machine learning techniques, and "Presentation" of big data coming from sensors, devices, gateways and other sources of information (ERP systems, databases, etc.).
The company provides solutions in the sectors of Industry 4.0, Smart Cities, Public Utility Services (Electricity, Gas, Water), Environment, Agriculture, Shipping, etc. In less than four years the company has entered into partnerships with more than 30 companies in Greece and the international market and has developed a team of executives – partners and highly trained hardware and software engineers. Pragma IoT invests in research and development in cutting-edge technologies such as artificial intelligence, machine learning, virtual and augmented reality, next generation telecommunications systems, etc.It is also a member of Business Clusters and Competence Centers in the fields of artificial intelligence, smart zero-emission buildings, 5G telecommunications and industry 4.0.
Northern Greece Investment Fund was founded in 2021 and is the only growth fund based in Thessaloniki. NGIF manages a total of 30 million euros in capital, which comes from private and institutional investors, including the Hellenic Development Bank of Investments.
NGIF invests its funds in growing innovative enterprises in the fields of Food – Beverages, manufacturing, Renewable Energy Sources, Energy Saving and Waste Management, Health Services, Tourism, as well as in IT and Telecommunications companies.
THERMI VCM AEDAKES has taken over the management of NGIF. The team of THERMI VCM consists of executives with extensive experience in investment evaluation and management. NGIF aspires to continue the successful course of Thermi-Taneo Venture Capital Fund, which was the first fund based in Northern Greece and which completed its operation in 2021 with significant returns for its shareholders.The objectives of the managing company and NGIF are first of all to contribute to the development of businesses in Northern Greece, secondly to develop innovative enterprises with a clear competitive advantage aimed at the international market and finally to achieve returns for the Fund's businesses and shareholders.
The National Centre for Research and Technology-Hellas was founded in 2000, as a non-profit legal entity of private law, based in Thermi, Thessaloniki and is at the forefront of basic and applied research to provide solutions to modern challenges of society. Artificial intelligence, circular economy, bio-economy, holistic health-nutrition approach, green energy, multimodal transport, agrotechnology and smart cities make up the main fields in which its five Institutes are active. CERTH places particular emphasis on innovation, a fact that is reflected, among other things, in the significant economic activity recorded by its 17 spin-offs. Today it is one of the top research centers in the country, occupying the 1st place in Greece and the 14th place in Europe, in attracting funding from European competitive programs.
"We are pleased to announce the investment of NGIF in Pragma IoT. The company consists of people with a significant scientific background and great motivation to establish Pragma IoT as one of the most important businesses in the field of the Internet of Things. In a digital world, where information dominates at all levels and the need to manage, process and understand it is imperative, the Pragma IoT platform can provide reliable solutions and add value to all its customers. We are convinced that the company will achieve all its goals and we believe that it will become a pillar of IT development in Thessaloniki and the wider region.", said Nikolas Takas, CEO of THERMI VCM, manager of NGIF.
"We want to thank the members of THERMI VCM and NGIF for their trust in the Pragma IoT team. Our company from its establishment until today is making leaps of development and we believe that the investment of NGIF will help accelerate the development of our company, and to invest in new scientific and executive staff that will establish Pragma IoT internationally.
We will put emphasis on the development of new solutions, and the expansion of our clientele, which is already composed of large domestic and multinational companies. Our technological solutions are based on the needs of society and the markets of the future and we hope that our cooperation with NGIF will help us accelerate our upward course and establish us among the major companies in the field of IoT internationally.", stated Dr. Lambros Makris, CEO of Pragma IoT.
"Our priority at CERTH is, among other things, the continuous encouragement of the entrepreneurial spirit in order to create innovative products of added value. For this reason, the current funding of Pragma IoT is very important both for the company, as it will further enhance its growth potential, as well as for the Research Center, as it constitutes a recognition of its contribution to the deepening of the relationship between research and the market.", noted
Dr. Dimitris Tzovaras, President of CERTH.