Funding of 2.3 million dollars for Gaspardesk
The Conversational AI and Workflow Automation platform helps companies automatically resolve without human intervention 40% of their employees' monthly IT helpdesk requests within seconds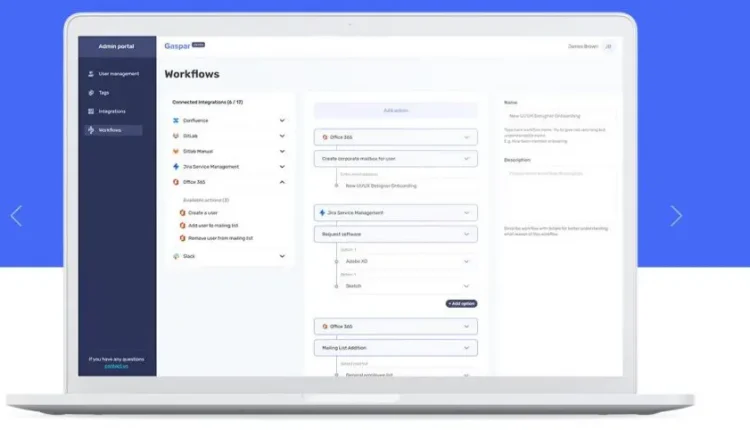 Gaspardesk raised 2.3 million dollars after a successful funding round involving VentureFriends, L-Stone Capital and many angel investors.
The new funds are to be used to make new hires in both the U.S. and Greece that will accelerate the development of the platform and the acquisition of new customers. It also plans to offer its capabilities to other sectors besides IT, with HR as the next target market.
If you wish to become a member of the Gaspardesk team, the opportunity you are looking for is here.
The Conversational AI and Workflow Automation platform helps companies automatically resolve without human intervention 40% of their employees' monthly IT helpdesk support requests within seconds.
It's no secret that for the majority of employees at work, solving a simple IT helpdesk support issue can take many hours, while using Gaspardesk the same problem can be resolved within 5 seconds.Also, with hybrid work being the new job, companies are moving their internal IT helpdesk support functions from the office that are mostly based until now, to online messaging and collaboration platforms like Slack and Microsoft Teams. Thus, employees expect that their questions and IT helpdesk issues will be resolved there and promptly without ever having to switch platforms.
Founders, Christos Karafeizis and Ash Arnold have significant years of experience in the industry having previously worked in companies such as Microsoft, Oracle, Uber and Facebook. Gaspardesk's headquarters are located in the SF Bay Area and maintain an office in Greece.
"One of our biggest advantages is that we integrate on top of the existing software solutions that companies already use for its IT Helpdesk functions and therefore organizations can leverage the capabilities of Gaspardesk's platform from day one and without any change costs.The internal support of IT helpdesk requests of employees has always been a headache for many companies and Gaspardesk is here to solve this problem that becomes more evident in this economic environment where companies have to be careful with their operating costs", Christos Karafeizis pointed out.
Gaspardesk has been providing its services so far to medium-sized enterprises and companies such as GitLab and Blueground.