Digital transformation in Greece in 2022
Despite the big steps in 2021, have companies really understood the value of transformation?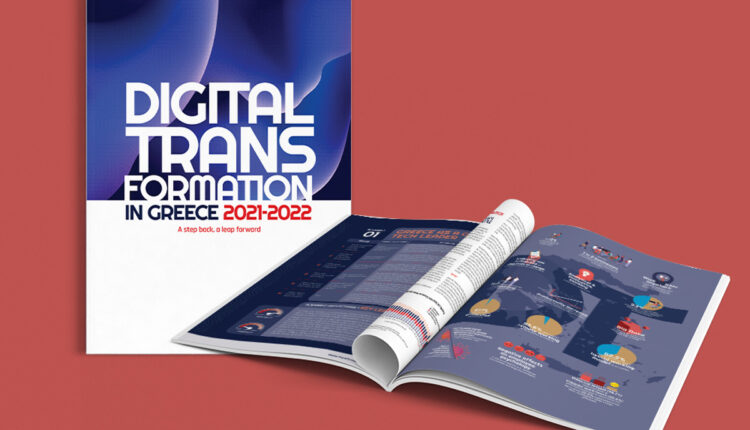 The digital transformation has been an integral part of the strategy of Greek companies for quite some time, recording steady growth over the last four years. It is, a fact that efforts to move into the world of digital technology have been significantly accelerated by the pandemic, with the rates now being dizzying, both in the public and private sectors.
According to data included in the Digital Transformation in Greece 2021/2022 report , an original study by Found.ation and EIT Digital , implemented this year with the sponsorship of InfoQuest Technologies, 97.7% of survey participants noted that the pandemic accelerated their transition efforts, with 65% of responses ranging from "significant" to "exceptional". According to the same research, most cite the speed with which the digital transformation is happening as the most positive outcome of a difficult year in which the pandemic prevailed, yet they acknowledge that they feel exhausted by the new reality of Work from home or hybrids working models. In addition, they recognize the need to acquire new soft skills, but only 50% of them participated in a skills upgrade program in 2021.
But does everyone know what digital transformation is?
The Digital Transformation in Greece 2021/2022 report brings to light some data that show that not every company understands the scope or value of the new reality of digital transformation. A significant percentage of respondents associate the term "Digital Transformation" with "Working from anywhere", while terminology related to emerging technologies (Blockchain, AR / VR) and innovation methodologies (agile, scrum) scored lower. This suggests that new technologies and frameworks related to digital transformation and innovation are still unfamiliar to most, seem complicated or confusing, but also seen as highly sophisticated.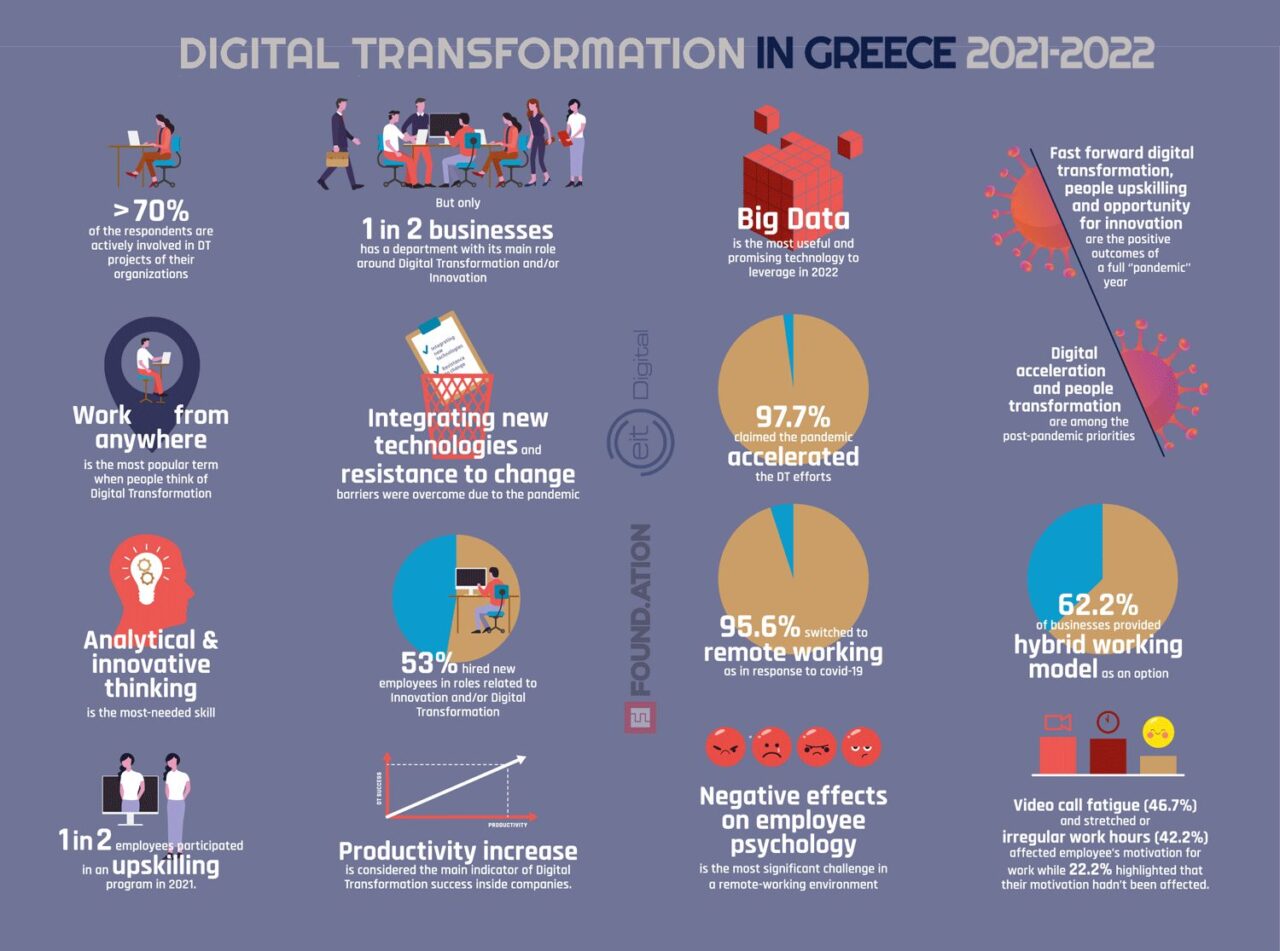 The next step must be human-centered
In this new reality, it is crucial for businesses to prepare for the next step: adopting a model of innovation and workforce-driven culture so that companies and people can familiarise with the purpose of digital transformation. And all this in the new reality of remote working, which has brought exhaustion and additional challenges to employees, with the Digital Transformation in Greece 2021/2022 report highlighting issues such as the impact on employee psychology, the difficulty of coexisting with other family members at work or safety issues, at the same time that many report that they have been affected by irregular working hours, are tired of constant video calls and they miss moments in the office.
What is certain is that, in these circumstances, priority should be given to people.Fresh talents, with knowledge and new ideas must enter the organizations and integrate with the existing teams. In addition to hiring new people in a team, it is equally important, of course, to help the existing workforce acquire new skills, but, first and foremost, to understand the opportunities and threats that digital technologies bring to our work.
The importance of skills in the future of work
In addition to the need for technological skills, we must also recognize the importance of soft skills in this new era that is coming. In the Digital Transformation in Greece 2021/2022 report, participants' responses highlight the most important skills that employees need to have to support the digital transformation of a business, including analytical thinking and innovation, critical thinking and analysis, lifelong learning strategies, creativity, originality and initiative. The truth, of course, is that there is something even more important that lies between the range of hard and soft skills: The need to understand what this technological change can bring to our lives and businesses. Employees must put themselves in the role of a lifelong learner, who must be constantly updated on developments and upgrade their skills.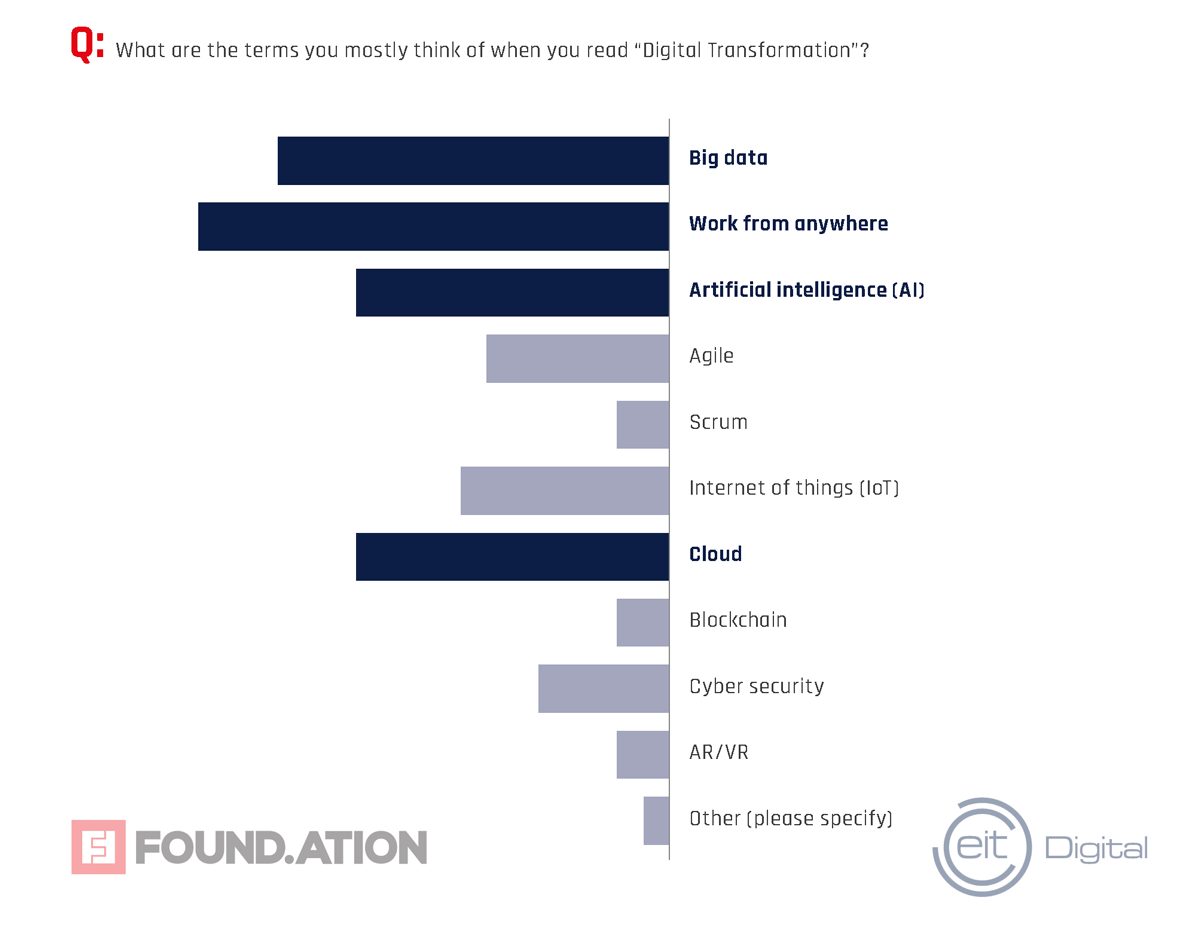 Significant changes are coming in the way we work
The new era requires a different perception and approach regarding the workplace as a whole. Managers need to be aware of the particular needs of the business and their employees, looking at new realities that may require a different set of skills in order for a team to continue to operate smoothly. Now, workplaces should be designed with an emphasis on health, well-being and cooperation under the new conditions that have arisen, while work should be valued as a result and not as a presence in the office.
If we can say that we see something positive that has happened during the pandemic is that technology has enabled the world to continue its life in a form of normalcy, even under these conditions. Based on what technology has to offer us, we can treat what has happened in the last two years of our lives – this unprecedented pandemic – as a catalyst for new mentalities, new ideas and innovation.