DIAS SA signs the European Commission's Diversity Charter
DIAS S.A. is committed to continue promoting the principles and ideals of the Diversity Charter, implementing human resources and corporate governance strategies, initiatives, and actions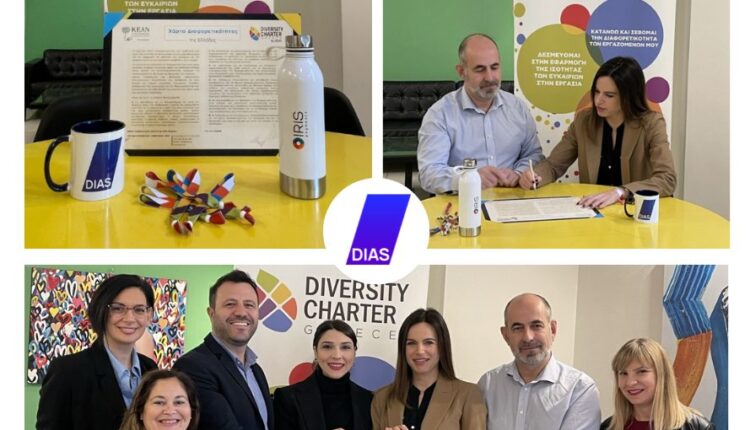 In a move that proves the deep belief and support it provides in the field of daily practice, regarding the promotion of policies of equal opportunities and equal treatment in every form and type of diversity in the workplace, DIAS S.A. recently signed the Diversity Charter applicable to Greek businesses.
The Diversity Charter, which is a European Commission initiative to promote Diversity in businesses, was established in 2019 and is implemented by KEAN-Cell of Alternative Youth Activities (KEAN), with Greece being the 23rd country of the EU to sign it. Its goal is to act as a tool of engagement for the implementation of equality, inclusion, and diversity in every work environment.
With the implementation of this action, DIAS S.A. – which is the National Automated Clearing House – is committed to continue promoting the principles and ideals of the Diversity Charter, implementing human resources and corporate governance strategies, initiatives, and actions, which at their core are inspired by respecting and promoting all forms of diversity.
The CEO of DIAS S.A., Stavroula Kampouridou, stressed: "We are particularly pleased to join forces with KEAN, helping in practice to spread the European values of respect for diversity and inclusion in the working environment. At DIAS we strongly advocate and apply the approach that if someone has knowledge, integrity, courage, perseverance, but also love for the subject they deal with, they should have every opportunity to test their strengths. Mutual recognition and appreciation, not only creates a healthy mix of competence in the company, but also increases our creativity and innovative strength, to deliver better solutions for our members and Greek society."
On the occasion of DIAS SA signing the Diversity Charter, Stavros Milionis, President of KEAN and Founder of Diversity Charter Greece, stated: "DIAS Interbanking Systems S.A. is an important addition to the relevant list of Greek companies and organizations that have signed the Diversity Charter. We are very happy for the fact that the list of Charter members is strengthened with a powerful company, such as the National Automated Clearing House, while DIAS is expected to contribute to the further dissemination of knowledge on the principles of respect for diversity and the defense of inclusion of all stakeholders in professional environments and of course in society itself".