Mentionlytics: Smart monitoring of competition through Media Monitoring
Competition analysis is a necessary component of the strategy of any enterprise. Today, we often hear about the possibilities of "smart" monitoring of the competition offered by specialized digital tools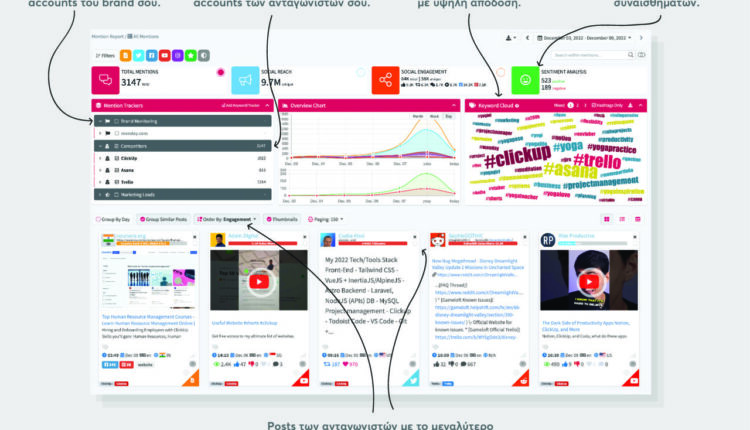 For startups, as for any kind of business, competition monitoring is recommended to be applied as a main process early on, as this way they can identify the strengths and weaknesses of competitors, better understand where they outweigh their own products or services and get ideas for new features, marketing actions and growth possibilities in the market.
What to include in the competition monitoring process
The monitoring of competition is an ongoing process, which should not be neglected, as the data resulting from it serve to create annual or quarterly marketing plans. They can also help a startup to develop a more stable business strategy and invest its capital more properly.
There are a few key elements that every startup should include in its competition monitoring process.
Firstly, regular visits to competitors' websites are considered necessary, as for many startups this is one of the main means of promoting their services. Thus, you can be informed about new products and services, about staff changes and even come to conclusions about modifications to your business plan.
Secondly, price comparison is one of the main priorities. No matter what stage your startup is in, you need to know how much the competition's products cost so that you can customize yours accordingly.
Finally, there should be no shortage of media monitoring or otherwise monitoring of what the competition does on social media and the Internet in general. This will help you understand how customers perceive competing brands and learn from their communication (and product) mistakes, gaining a comparative advantage over them. Also, you will have a picture of their most successful actions to draw inspiration from them.
How Media Monitoring can help you
Today, media monitoring is easily done with the help of digital tools that use artificial intelligence to collect and process data. On such a platform, such as Mentionlytics, you can find valuable information about your competition.
In more detail, you can initially gather your competitors and monitor all the reports made to them or their products on all social media, but also on the web, in a single dashboard. It's possible to even get notifications on mediums you use every day, like Slack, as soon as a post is made, so you're always up to date.
In fact, with Mentionlytics, you can also have your own Social Intelligence Advisor (SIA), a "smart" feature that uses A.I. to give you targeted advice based on your data to improve your online image.
You can also create competition analysis reports to see the communication performance of competitors compared to yours and calculate the Share of Voice, or else the share of each of you in the market. Thus, you can understand which instruments work best for them and in which there is room for improvement, so that you can make your own marketing strategy accordingly.
In addition, you can identify, through Sentiment Analysis, the public's feelings about your competitors. Monitoring platforms offer this capability for online reporting and record these statistics with high accuracy, using machine learning techniques and A.I. algorithms.
Finally, you can follow the hashtags used by the competition to see their performance, as well as the ratings made for competing products, without spending endless hours searching the internet.
Three smart tips for better conclusions
Subscribe to competitors' newsletters to learn about news and changes that may not have been uploaded to the websites.
Be sure to keep an eye on competitors' price fluctuations. Do such a check regularly, as prices change instantly.
Choose a reliable platform for media monitoring. This way, you will be aware of what is happening both regarding the market and your own brand. You can try Mentionlytics completely free of charge on www.mentionlytics.com.
Don't forget, knowledge is power and monitoring competition is a valuable tool for your startup in 2023.