DEI, the greek public electricity company, continues at a rapid pace the implementation of actions for the promotion of electromobility and the development of a sustainable transport system, with the creation of 14 charging points at the Athens International Airport «Eleftherios Venizelos» (AIA). In collaboration with AIA, DEI Blue creates the first Public Charging Station at an Airport, combining at the same station a variety of AC chargers and DC fast chargers that charge up to 120 kW, and can meet many different needs of Electric Vehicles in the same place.
Specifically, in the official Parking of the Airport, in the short-term parking lot 1, the following have been placed:
• 5 dual chargers with a power of 2 x 22 kW AC
• 1 high power fast charger DC 120 kW (or 2 x 60 kW DC)
• 1 fast charger with a power of 50 kW DC and 22 kW of AC.
With the creation of 14 charging points in total, DEI Blue creates the largest hub of charging points in Greece, at the largest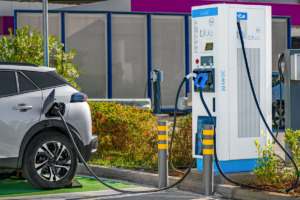 airport in the country, making electrification accessible and easy for AIA's travelers and visitors.
"Electrification took off at Athens International Airport, with DEI Blue installing the largest public charging center in Greece, and most importantly, with zero footprint for the environment using 100% energy from Renewable Sources. We share with AIA the commitment to protect the Environment and reduce the negative impact, and we are pleased that we are making this commitment a direct reality at Athens International Airport with the publicly accessible DEI Blue chargers that use green energy.", stated DEI's CEO for Electromobility Kyriakos Kofinas.
Athens International Airport's long-standing goal of reducing its carbon footprint is significantly enhanced by the creation of the largest public charging center in Greece. The project, which reflects the innovation of Athens Airport in the encouragement and service of electromobility and, consequently, in the protection of the environment, was carried out in collaboration with DEI, which we warmly thank.», stated the Director of AIA's Environment Agency, Mr. Michael O'Connor.