Capsule T triumphed at the 'South Europe Startup Awards'
It was awarded as the best acceleration program in Southern Europe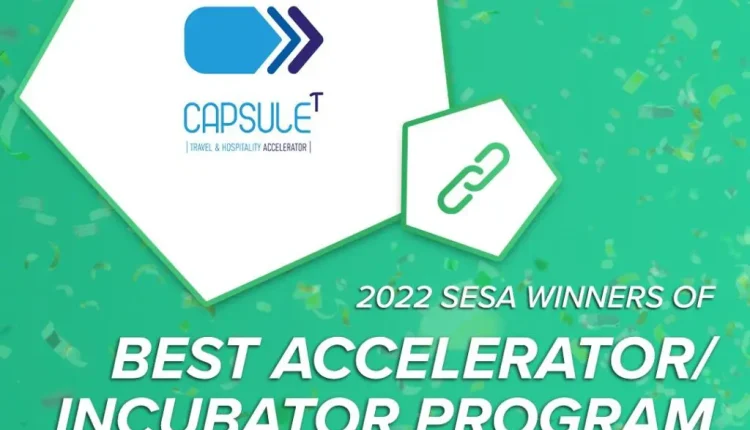 Another honorary distinction was added to this year's successes of CapsuleT Travel & Hospitality Accelerator, an initiative of the Hellenic Chamber of Hotels, with the 1st place in the category "Best Accelerator / Incubator Program" of the European Startup event "South Europe Startup Awards" (SESA), as announced on July 27.
The South Europe Startup Award covers the regions of France, Italy, Spain, Portugal, Malta, Cyprus and Greece and aims to become the one-stop-shop event for each of the Startup ecosystems of the participating countries by inspiring, stimulating and recognizing entrepreneurship, subversive innovation capacity, ecosystem cohesion and cooperation for the benefit of the economic development of each country.
"An initiative such as our accelerator, which manages to distinguish itself within its 3 years of operation both in Greece through the Tourism Awards and abroad by winning the winning position in the South Europe Startup Awards, proves that when there is a vision, targeting and collective participation, we can create new prospects not only for our industry, hotel and tourism, but more generally prospects for the recognition and development of new partnerships with partners abroad with the aim of strengthening Startup entrepreneurship and investments in it.", said the President of the Hellenic Chamber of Hotels, Mr. Alexandros Vassilikos.
"This award is truly our great pleasure and honor, it is a moral recognition of our effort, a recognition beyond our borders, very important both for us as an accelerator and a team that designs and implements the CapsuleT program, but I also consider it for all those who support us from the first moment, our sponsors and strategic partners, the excellent judges and mentors who devote personal time and know-how voluntarily but mainly our teams, who trust us to support them and guide them in their next steps. This award concerns our entire community, and is a festive moment but also a moment of responsibility towards what we do and our next steps.We thank all those who support us and of course those who voted for us during the public voting process and the SESA awards committee for this honorary distinction.", stated Katerina Saridaki, Director of CapsuleT Travel & Hospitality Accelerator.
It is noted that CapsuleT managed to be in the first place and stand out as the best acceleration program in Southern Europe for 2022 among 10 more finalists. It is worth mentioning below all the participations of SESA 2022 and to congratulate each of them.
Greece
•CapsuleT Travel & Hospitality Accelerator (winner)
•Athens Center for Entrepreneurship and Innovation
Spain
•Bridge for Billions
•Espacio Res
•GoHub
Italy
•Foundamenta
•Zcube
•012Factory
Cyprus
•CyprusInno
Portugal
•SANJOTEC – Science & Technology Park
•Vodafone Power Lab
•Building Global Innovators
All SESA finalists for the specific competition period by country and category are available here