More than 70 international speakers from 4 continents will be taking part in 2014 edition of How to Web, the most important event dedicated to innovation, technology, and entrepreneurship in South East Europe.
This year's event themes are Internet of Things and the evolution of hardware startups, the revolution of electronic payments brought about by crypto-currencies, the opportunities and challenges of startup financing, including crowdfunding, and building video games.
Early Bird tickets starting at 79 EUR are available online on the conference website.
How to Web Conference 2014 is being organised the last 5 years and this time its format will be enhanced;  with a main track dedicated to future trends & entrepreneurship and three other parallel tracks about product, game development and angel investment.
The main stage of How to Web Conference 2014 will host the Future trends & Entrepreneurship track and will bring to the public's attention the impact of the Internet of Things and the business opportunities created by its evolution, the development and implications of crypto-currencies, the impact of mobile technologies, or best practices for getting an investment.
Chris Chabot, innovator and startup mentor, will talk about transformative innovation and the way our culture and the manner in which we do business are reinvented as we enter the mobile future. The power of the crowd and the role of communities will explored by Florian Meissner, Co-Founder and CEO EyeEm, the world's premier mobile community and marketplace of photography aficionados having over 10 million users in more than 100 countries around the globe.
Jason della Rocca, Co-Founder and Indie Evangelist Execution Labs, will talk about failure as a necessary ingredient for discovering success by experimenting new technologies, business models and design principles. He will provide counter-intuitive insights explaining why failure means pushing the boundaries of what is possible and how to best go about innovating fearlessly. The decisions that make the difference between success and failure in business will be presented by Dennis Cox, Chief Product Officer IXIA US, serial entrepreneur that has started founding startup companies when he was 23, the last one, Breaking Point, being bought by IXIA in 2012 for 160 million USD.
Bitcoin and crypto-currencies revolutionized the online payment systems, raising attention while also generating controversies. The immediate implications and the potential consequences and opportunities of crypto-currencies will be debated by Manuel Heilmann (Co-Founder & CEO Coinzone, startup that enables users make online payments using crypto-currencies such as Bitcoin) and Lyuben Belov (Managing Partner of LAUNCHub Seed & Acceleration fund, passionate about Bitcoin), in a special panel moderated by Alex Barrera (Co-Founder Press42.com & Tech.eu)
The easy prototyping technologies and crowdfunding channels have caused a resurge in the hardware sector over the last 3 years. In this context, Ze Pinto Ferreira (Co-Founder & CEO FNV Labs, developing Mellow, the first smartphone controlled sous-vide cooking machine), Andrei Pitiş (Co-Founder & CTO VectorWatch, angel investor, President of ANIS and Associated Professor Polytechnic University of Bucharest) and Luka Sucic (Business Development Manager & Evangelist hub:raum) will unveil how difficult hardware really is and what are the opportunities and challenges faced by the Internet of Things companies.
Daniel Lynch (Partner 3TS Capital), Rokas Tamaosiunas (Co-Founder Startup Highway) and Sitar Teli (Partner Connect Ventures) will reveal the key ingredients investors look for in a startup and what makes a business investible. About raising money through equity crowdfunding and the way to deal with the investor crowd will talk Sean Kane (Co-Founder and CEO F6S), Ricardo Sequerra (Startup Community Builder Seedrs) and Dilyan Dimitrov (Co-Founder Eleven).
All these will be completed by an analysis of the way accelerator programs help startups speed up their learning process while also providing mentoring and support. The most important lessons accelerator directors learn after dealing with hundreds of startups and the most common fail or success patterns will be presented by Paul Smith (Co-Founder and CEO Ignite & Campus North) and Marvin Liao (Venture Partner 500 Startups) in a panel moderated by Marc Wesselink (Selection & Alumni Manager StartupBootcamp).
The complete agenda of How to Web – Future trends & entrepreneurship track and the updated list of guest speakers are available online.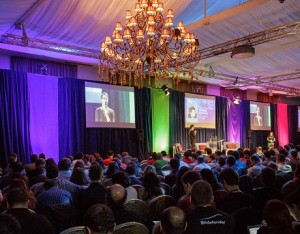 Developed in collaboration with Mozaic Works, How to Web – Product Track will host in-depth talks about product management. Ragnar Sass (Co-Founder PipeDrive) will talk about involving customers in the product development process for building a user-centric product, using PipeDrive as a best practice example. Mark Tolmacs (Product Manager Ustream) will continue by discussing the challenges of team localization and the way in which you learned to work in an ever-changing environment.
The How to Web – Game Development Track, developed together with the Romanian Game Developers Association (RGDA) with the support of King, Mobility Games, and Ubisoft, will discuss the way in which you can build globally successful games with millions of players. Dan Olthen (Game of Thrones Producer at Bigpoint Gmbh) will talk about the phases of the entire production cycle starting with the idea/concept and ending with actually releasing the game. Mathieu Muller (Field Engineer, Unity Technologies) or Vlad Micu (Head of Studio, Critical Force Entertainment) are some of the specialists that will present best practices and relevant case studies, while Agnieszka Szostak (Founder PR Outreach) will talk about marketing & PR in the gaming industry.
Angel investors will also discover best practices and will find out more about how they can collaborate with accelerator programs for getting into killer deals by attending the How to Web – Angel investment track, organized with Angelsbootcamp with the support of TrentoRise. Active investor and mentor for companies such as Soundcloud, Unlike.net or Dataminr, Felix Petersen has financed so far several high growth startups such as Tumblr, AirBNB or DropBox and he will share his knowledge on finding the best deals.
Jonathan Bixby (Executive Director GrowLab, having raised the biggest angel investment round in the history of Canada) and Adrian Gheară (angel investor that has financed 123ContactForm and AxoSuits) will also share the best practices learned, while Mălin Ştefănescu (angel investor in Green Horse Games) and George Lemnaru (Founder & CEO Green Horse Games) will present both sides of the table.
The collaboration between accelerators and angels will be approached by Lyuben Belov (angel investor and Managing Director LauncHub), Rune Theill (Co-Founder & Program Director Rockstart Accelerator), Simon Jenner (investor & Co-Founder Oxygen Accelerator) and Marc Wesselink (Selection & Alumni Manager StartupBootcamp) in a panel moderated by Mike Doherty (Director Program Angelsbootcamp), while Ana Maria Andronic (Partner Biriş Goran) and Alina Stăvaru (counsel RTPR Allen & Overy) will cover the due diligence process and will present the lessons learnt.
How to Web Conference 2014 is an event organized with the support of Telekom Romania, IXIA, Bitdefender, Grapefruit, Avangate, Softlayer, CyberGhost, Hub:raum, Domain.me, The Canadian Embassy in Romania, and Reea and will take place on November 20 & 21 at Crystal Pallace Ballrooms, Bucharest.
Early Bird tickets starting at 79 EUR are available online on the conference website.
How to Web is also organising the third edition of Startup Spotlight, competition and orientation program for the most promising 32 startups in Central and Eastern Europe, will also be organized in parallel with the conference. The teams that will be accepted into the program will attend dedicated workshops and mentoring sessions, 1-to-1 meetings with investors and representatives of some of the most appreciated accelerators and early stage VC funds in Europe and beyond, and they will also compete for the 20.000 USD cash prizes offered by IXIA, the main partner of the program.
The visibility of the event is ensured by the main media partners Netocratic, Inventures.eu, Newtrend.bg, IT Dogadjaji, Digjitale, EMEA Startups, Startupper.gr, The Pole Society, Adevărul Tech, Play Tech, Hotnews.ro, Forbes România, Wall Street, Capital, Yoda, Times New Roman and the media partners Cariere, Business Review, Business Woman, Business Cover, Business 24, Incont.ro, Manager Express, Today Software Magazine, Gadget Trends, Comunicaţii Mobile, PC World, Agora, Games Arena, Ctrl-D, Startups.ro, România Liberă, Academia Caţavencu, Evenimentul Zilei, Zelist, Comunicatedepresa.ro, Ziare.com, IT Channel, Softlead, Impact FM, Market Watch and Ejobs.
How to Web Conference 2014 has the support of its community partners Startup Pirates, Start It Smart, it.com.mk, Europreneurs, Romanian Startups, ANIS, Girls in Tech, Big Data, Tabara de Testare, Timişoara Startup Hub, Spherik Accelerator, Cluj Cowork, Ruby Tribe, Akcees, JCI Iaşi, Startup Weekend România, Startup Weekend Cluj, Startup Weekend Iaşi and Startup Weekend Mureş.