The digital transition of industry creates the new labour market for technological professions
With the digital transition of industrial production being the new, dynamic field of employment for IT professionals, the IT Professionals of Tomorrow program enables 15 young IT professionals to be part of the evolution and digital innovation in Greece and abroad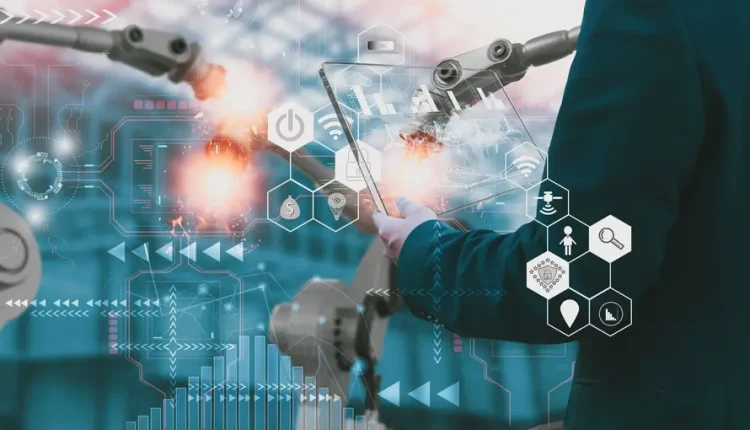 Industrial production is being transformed globally, creating a new, different reality for the labor market, with IT professionals now heading to the development of applications and technologies for the production process.
The 4th industrial revolution or Industry 4.0, as it is called, with the modern digital technologies that characterize it, such as automation, big data, cloud computing and artificial intelligence, shift the interest of technological professions to industrial production, which is the new, large market for IT.
IT specialties that support and develop with the digital transition of the industry
Specific technological specialties are coming to the fore today for the industry, which in the coming years will be the main scope of application of new technologies, while giving the opportunity to many young IT professionals to work in the digital transition of the production process.
Data Analysts and Data Scientists
Data science experts are in demand in almost every field, from supply chain and e-commerce to healthcare and banking. Millions of companies and government agencies depend on big data to better succeed and serve their customers.In the industry, the analysis of data contributes to the automation of production and data specialists find a new application of their know-how, on a large scale.
Artificial Intelligence (AI) and Machine Learning (ML) Specialists
Artificial intelligence is meant to create some of the most important innovations of the century.Autonomous cars, Digital Twins and smart devices are all applications and creations of an evolving era of artificial intelligence that will redesign the way we live and work.
Developers
The developers analyze and program applications as well as create innovative technological solutions based on business needs, maintaining a key role in the digital transition of companies.
Network Engineers
Network engineers design and implement network configurations, address performance issues, supervise network monitoring, and configure security systems.
Internet of Things (IoT)
Recent studies predict that by 2025 there will be 55.7 billion connected devices worldwide, 75% of which will be connected to an IoT platform. In industrial production, programming, architecture and interconnection creates a new scope for IT professionals.
Cybersecurity
The security of corporate data protects its competitive advantages. Scientists and professionals are trained to find and solve weaknesses in systems and corporate processes in networks, systems, databases and applications. Their main purpose is the creation and execution of a plan to prevent cyberattacks and in general the technical protection of the privacy of employees and corporate data.
Digital transition projects of industrial production in Greece
In Greece, large-scale technological projects for the digital transition of industrial production have been implemented in recent years, with STEELMET and VIOHALCO companies having completed the most important of them.
Azure ARC: With Azure ARC, STEELMET has unified the infrastructure and IT process management of VIOHALCO companies to improve the security of computer systems and optimize IT operation. With the process of transferring its ecosystem to the cloud, STEELMET operates more efficiently, improves its response to the business needs of VIOHALCO companies and moves from traditional infrastructure maintenance to a more flexible culture for fast, consistent and continuous improvement. The Company moved to a more oriented DevOps, combining development, IT operations, quality engineering and security teams to collaborate and ultimately produce better, more reliable products and achieve business goals faster and more efficiently.
Process Digitization: Industry 4.0 transformation includes implementations of manufacturing execution systems (MES), using IoT, AR, and BI technologies. Strategic MES projects in all factories of VIOHALCO companies provide flawless, accurate, real-time, complete detailed information about all production processes (quantities/times, resources, tools, quality), making available the collection, control, storage and reporting of information.
Cybersecurity and Cloud Computing: STEELMET offers services to more than 6,000 users who are distributed in various geographical locations and manages several virtual and physical servers by implementing common management and security policies offering high quality corporate services.This ensures that infrastructure and services are functioning optimally, minimizing management and at the same time the risk of costly data breaches by aligning companies with several globally accepted standards.
SAP systems: STEELMET owns a large SAP user base with the following systems: ERP, S/4 HANA, Success Factors, IBP, Ariba network, Transportation Management System (TMS), Invoice Management by OpenText (VIM).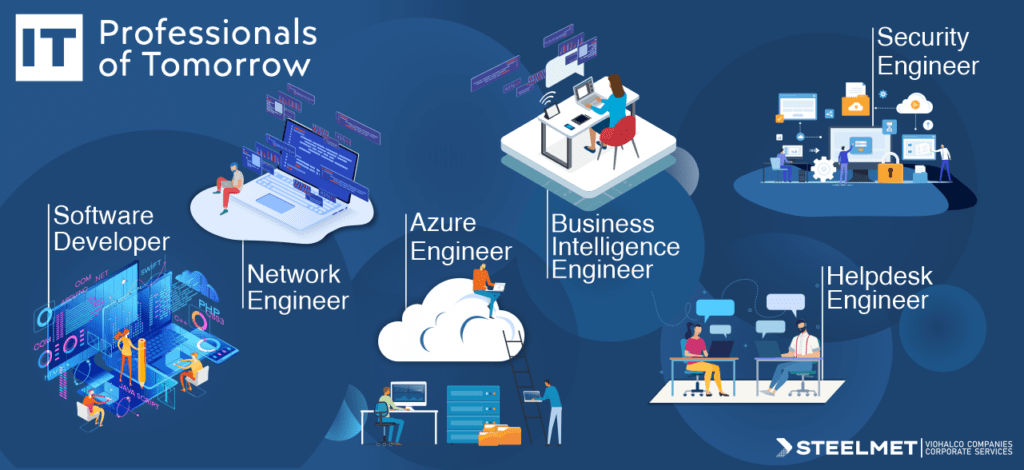 Gaining professional experience in the digital transformation of the industry
With the digital transition of industrial production being the new, dynamic field of employment for IT professionals, STEELMET, created the IT Professionals of Tomorrow program, enabling 15 young IT professionals to be part of the evolution and digital innovation it offers to some of the largest industrial companies in Greece and abroad.
Fifteen (15) young professionals will be selected to work for 6 months, as part of the IT Professionals of Tomorrow program, maintaining the prospect of continuing and developing their careers within STEELMET or other VIOHALCO companies in 6 basic specialties:
•Software Developer
•Network Engineer
•Azure Engineer
•Business Intelligence Engineer
•Security Engineer
Helpdesk Engineer
Candidates, who must have a relevant Electrical & Computer Engineering or Computer Science degree, from Greece or from a university abroad or equivalent technological certifications and from 0 to 3 years of work experience, will work on some of the most important STEELMET projects, such as:
•Digital transformation with cloud technologies
•Cyber and data Security
•Using tools to automate processes.
•Factory Digitalization
•Machine Learning and Big Data analytics
•Implementation of innovative, tailor-made software solutions using cutting-edge technologies
You can apply for the IT Professionals of Tomorrow program here