Sunlight Group acquires 70% of Technoform
After the excellent financial performance in the first half of 2021, but also the estimates for the end of the year with an increase of 50% in turnover, Sunlight Group continues to implement its business plan at a rapid pace.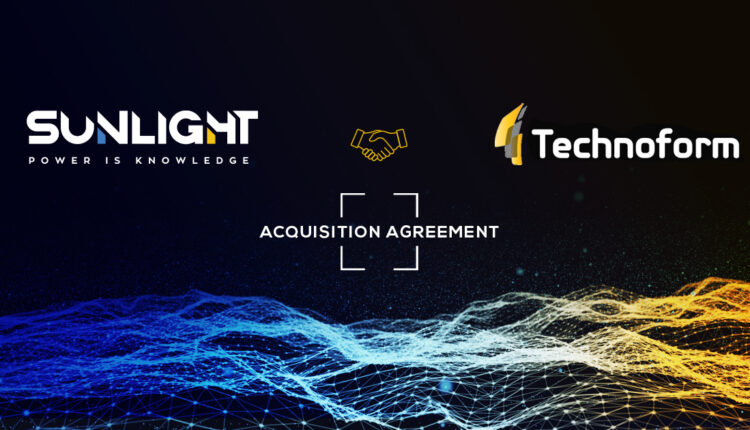 Sunlight Group Energy Storage Systems (Sunlight Group), technology company specializing in integrated and innovative industrial and off-road energy storage solutions acquired 70% of Technoform, a Kilkis-based company that designs and manufactures state-of the-art molds and components.
The agreement was signed on 30 December 2021 by the CEO of Sunlight Group Lampros Bisalas, the Chairman and CEO of Technoform Georgios Dokouzgiannis, and the Vice-Chairwoman and CEO Theodosia Markopoulou. The Dokouzgiannis family retains 30% of the company.
"With this agreement to acquire 70% of Technoform we enhance an already established and excellent collaboration. At Sunlight Group we focus our Mergers and Acquisitions program in creating value from the autonomous operation of the companies in which we have interests, while strengthening Sunlight's position globally. Our vision is for Technoform to continue growing, regardless of its relationship with Sunlight, and increase its customers in Greece and abroad. With Sunlight's support, Technoform will implement an ambitious investment plan to broaden its product portfolio and increase its competitiveness on a global scale, via further automatization of production. The fact that the Dokouzgiannis family will remain at the company, especially the promising young generation, inspires optimism for the future. At the same time, we support employment and the growth of the local economy in Kilkis, as just for 2022 Technoform is planning a 30% increase of its workforce.", stated Mr. Bisalas.
"Τhe year couldn't have ended better. We started as a family business in Central Macedonia and are now members of a global company, with exports to more than 100 countries. We have been cooperating with Sunlight for many years and share the same values and vision for the manufacturing and distribution of innovative technology products. Our cooperation will help Technoform invest even further and become a true hub of value creation for the local Kilkis economy. Given the opportunity, I'd like to thank Sunlight Group's shareholders, Board of Directors, and Leadership Team, and wish everyone a Happy New Year!", noted Mr. Dokouzgiannis. 
According to the same announcement, after the excellent finacial performance during the first half of 2021 and the estimates for a 50% increase in turnover at the end of the year, Sunlight Group continues implementing its business plan. The five-year plan aims to expand the company's production capacity in lead-acid and lithium-ion batteries and energy storage systems. To that effect, Sunlight invests millions in its facilities in Greece and abroad in equipment, automated production and assembly lines, Research and Development, human resources, as well as Mergers and Acquisitions.