The rapid increase of electronic turnover in Greece continued in 2021 after the large increase observed in 2020 due to the pandemic with more and more consumers buying for the first time products and services online.
Prevailing reasons for using the Internet
The 3 most prevalent reasons why Greeks use the internet are social media, email and online shopping. In the 1st half of 2021 there was a large increase in online shopping compared to the 2nd half of 2019, with the increase reaching 22%. There is a shift of Greek consumers towards e-commerce.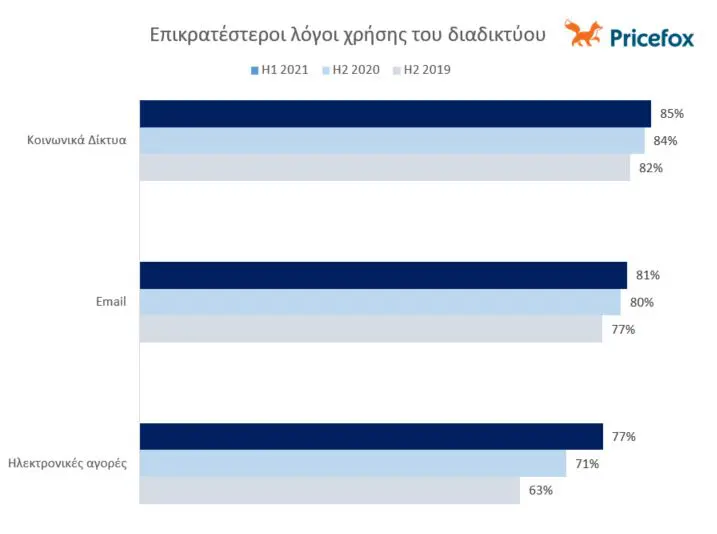 Internet use by age group
94% of Greeks are active internet users. Although Greeks up to 44 years old are all internet users, the pandemic has accelerated the penetration of older age groups on the Internet with 76% of the 65-74 years old now being active internet users, an increase of 23% in the last 2 years.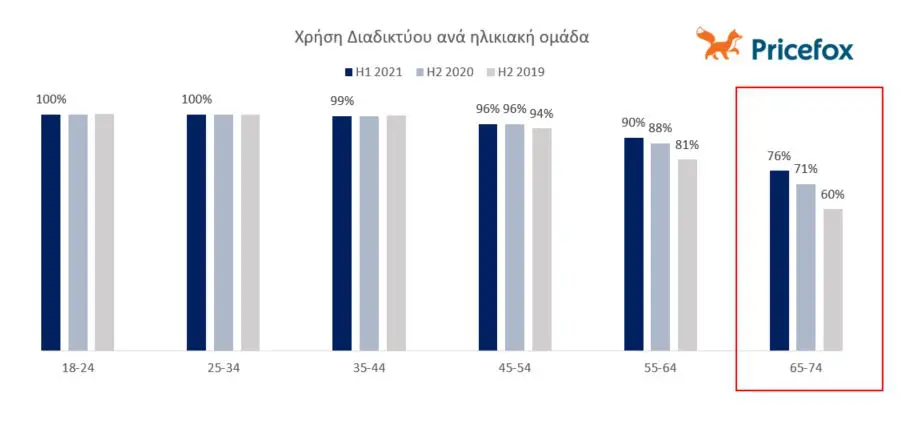 Social Media
Facebook is the most popular through social networking, followed by Messenger and Viber. New Instagram accounts have increased, overtaking YouTube. TikTok is the media with the largest increase in the 1st half of 2021 compared to the 2nd half of 2020 with an increase of 43%.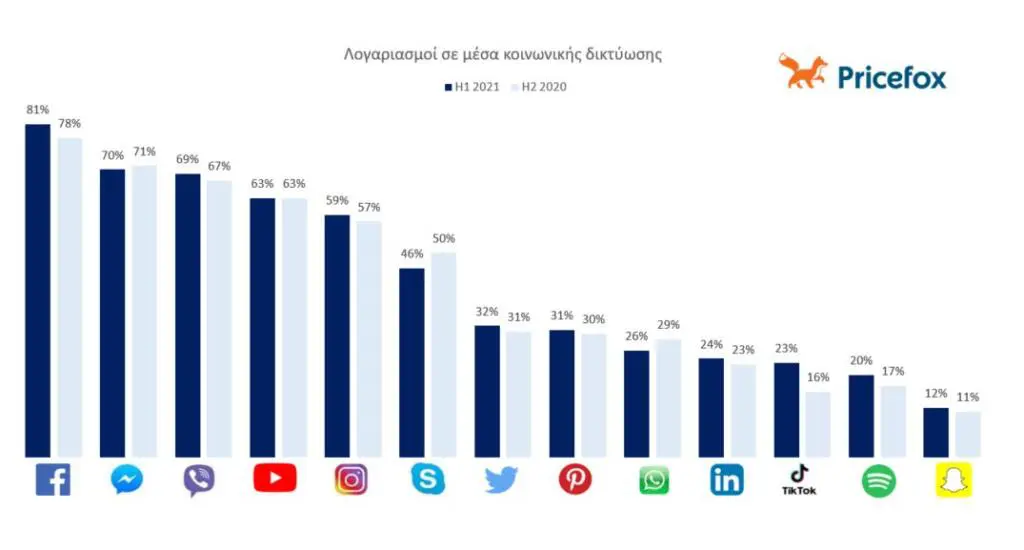 The evolution of electronic markets in Greece
Greeks are emerging as champions in Europe in how quickly they embrace online shopping. Indicative is the survey of the Pricefox.gr and Focus Bari for 2021 in Greece on the trust that Greek consumers place on the internet for their purchases.
Greeks buy dozens of products and services. Clothes, Shoes, Electronics, Electronic Devices and Cosmetics, are the most common categories of electronic transactions. With the categories that show a large increase to be electronic devices (+61%) and household items as well as furniture (+40%).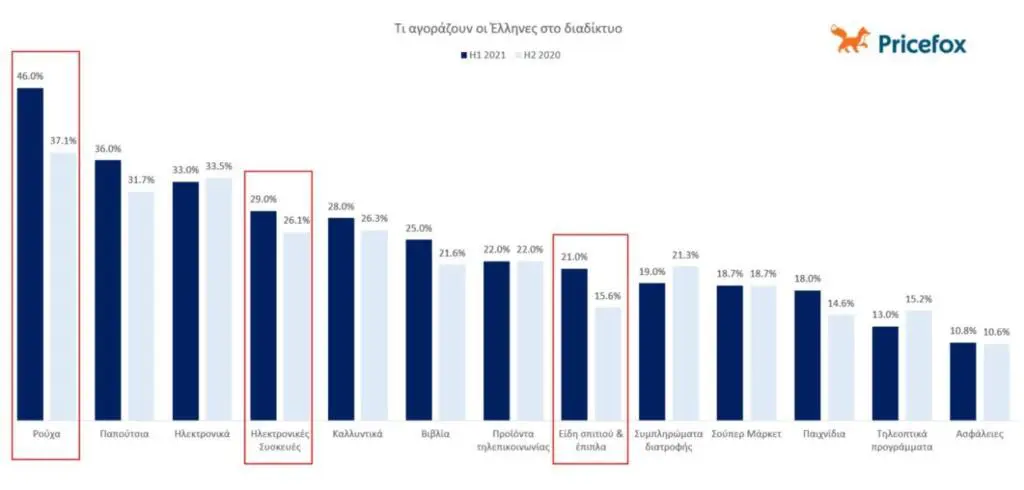 How much Greeks spend on their e-cart
At the 6-month level, Greek consumers on average almost doubled the amount they spend online from 473 euros in 2020 to 806 euros in 2021. Ages 35-44 have the largest electronic cart on average on a six-month basis at 944 euros.
How Greeks pay online
Cash payment on receipt and debit cards are by far the most common payment methods. Cash payments increased significantly (+18%) returning to first place but very close to the debit cards that follow. Other payment methods see an increase in bank transfers and Viva Wallet payments (+50%).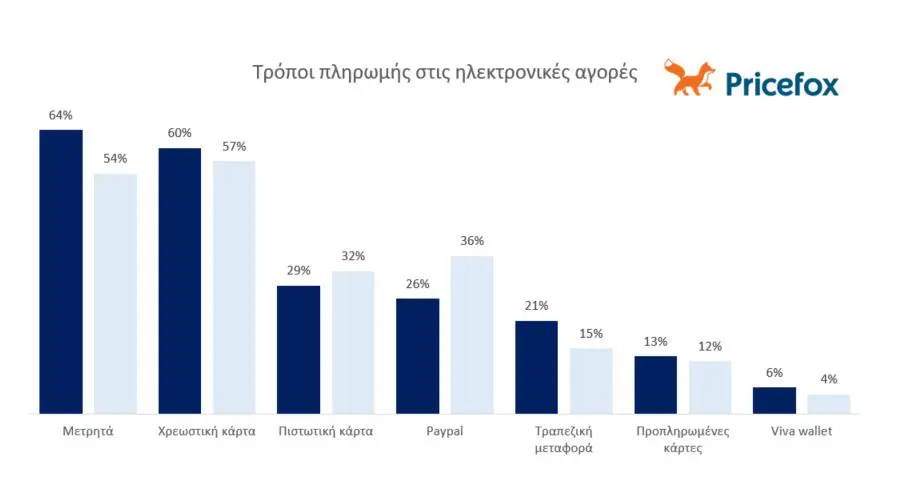 Electronic transactions in insurance products
After an increase in the 1st half of 2020 (+112%), the percentage of consumers who bought insurance products online, has remained almost stable at 10.8%.
Analyzing the profile of consumers who bought insurance online, it appears that 33% of them (1 in 3) made more than one online insurance purchase during the 1st half of 2021. Consumers who buy security online are more familiar with online transactions altogether.Also, the online cart of those who buy insurance online is much bigger than those who do not buy online insurance, with the former spending an average of 1293 per semester compared to 806 euros.
In addition, those who buy security online make more online transactions (29 versus 21) over the course of a semester than those who don't think about online security.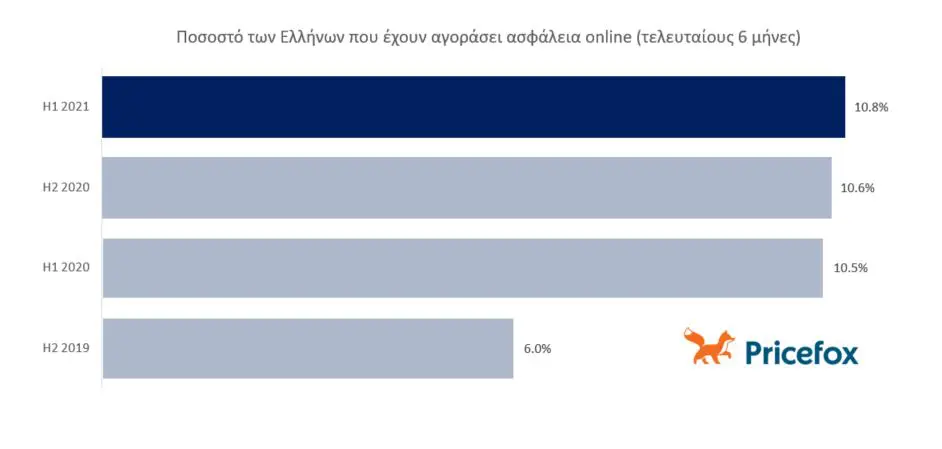 Car insurance online
Although in Greece the percentage of consumers who buy car insurance online is lower than the European average, we note that more and more Greeks understand that on the internet you can not only buy at the best price, but also receive an excellent level of service which is a priority in the services purchase. Greece, only almost 11% of Greeks buy their insurance online and about half of them use search platforms to compare market prices. Many people still do not know that they can save up to 40% per annum on the same car insurance package by taking advantage of the comparison of market offers.Consumers through the online price comparison platforms for car insurance can make the package with the coverage they want online, compare the entire insurance market and pay their car insurance even with interest-free monthly installments.