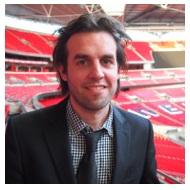 Guest post by Tom O'Meara, Editor at StrategyEye Digital Media, an intelligence platform that helps executives monitor and interpret global corporate activity and trends in the technology industry, by keeping an eye on the hottest startups, having access to insights from key industry influencers and receiving daily in-house predictions, deal analyses and market reports.
Consumer spend on smartphones and tablets is clearly exploding, with research suggesting a quarter of e-commerce payments made in the UK today are already on mobile. That's only set to increase over the next few years as retailers better optimise their sites for smaller screens and consumers become more relaxed about it.
Investors are aware of this and last year saw something of a tipping point in VC investment in mobile commerce. According to StrategyEye mobile commerce investments nearly doubled from $561.35mn across 41 deals in 2012 to some $1.2bn in venture capital funding last year across 106 deals.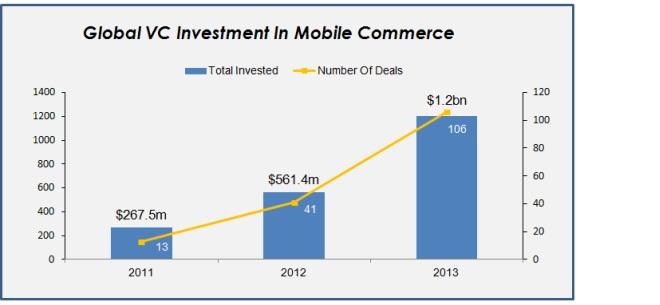 Example Investments in 2013
We've outlined (courtesy of the analyst team at StrategyEye) a sample of the investments across the wider content marketing ecosystem in 2013. The majority of investments tend to be under $10mn and if you take out the huge 4360m put into mobile taxi app Uber then the average deal size is around $8mn.
Notably active investors in m-commerce last year by number of deals were General Catalyst Partners, which participated in four deals with a total value of $46mn, including mobile payment firm Paydiant, ticketing app Yplan and chores marketplace Handybook. It was followed by Tengelmann Ventures, Matrix Partners and Greylock Partners, each with three deals.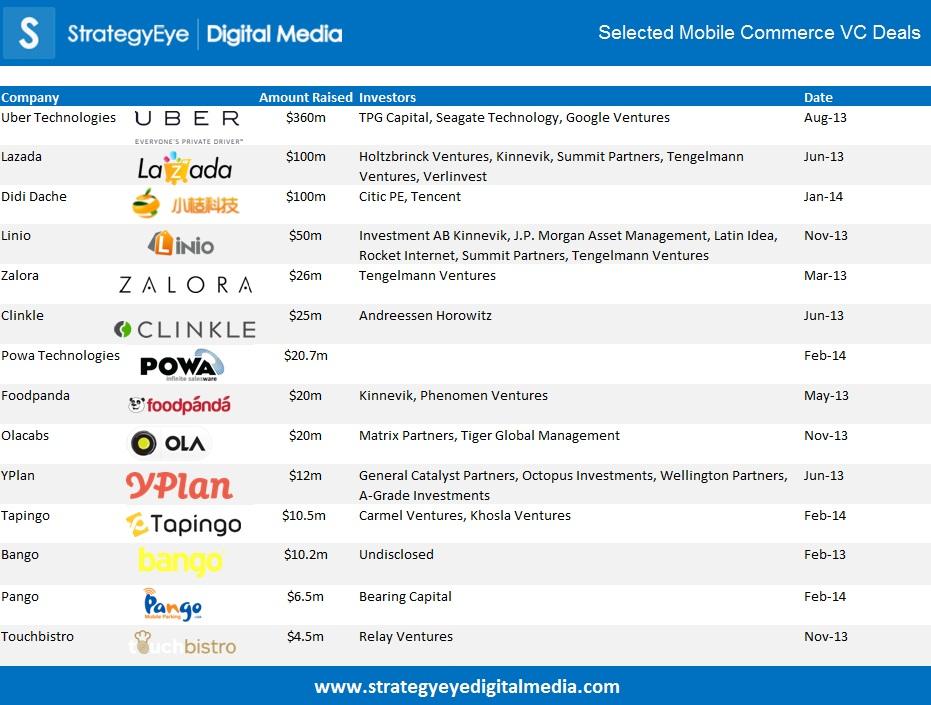 So where exactly is the smart money going?
1. US Dominates …For Now
Currently the majority of investment in mobile commerce is still occurring in North America. StrategyEye tracked $719mn of mobile commerce investment across 57 deals in the region last year. That's not surprising, given the penetration of mobile devices, comparative tech-savviness of consumers and maturity of its e-commerce market.
North America may dominate for now and will still see considerable investment this year. But over the next decade the momentum of VC investment will shift to emerging markets.
2. Mobile Commerce To Mesh With Messaging
Say what you want about WhatsApp's $19bn price tag. The deal highlights two things: the value of the firm's global mobile communications network and the scale of opportunity for leveraging that user base. Mobile commerce will be part of that opportunity.
Going forward mobile messaging players will play an increasing role in m-commerce and mobile payments and we are seeing this start with partnerships. Asian companies are leading this trend. Look at Japan's Line, which has had some successful forays into m-commerce already with its cosmetics flash sales and has now launched Line Mall – a standalone a peer-to-peer mobile market place.
In China, look at Sina's tie-up with Alipay for mobile payments. Or Tencent, which recently invested $100mn in taxi app Didi Dache and has now added taxi hailing and payment features to its WeChat mobile messaging service. WeChat has also just started selling insurance through its messaging service in partnership with Taikang Life Insurance. That bodes well for the industry, because while the success of Line's lipstick flash sales demonstrates how engaged its users are and how receptive they are to shopping on the messaging app, this highlights that consumers are also willing to make more serious purchasing decisions on mobile.
The hold that messaging apps have on mobile communications in their respective regions in Asia particularly means that they are in a very strong position to disrupt not just payments and commerce, but other verticals like games and social networking. Just look at Kakao, which is profitable and now steaming toward a $2bn IPO. The mobile messaging app, which dominates communications on smartphones in its home country of South Korea makes substantially all its revenues through games as well as selling virtual goods like stickers.
But it's not just these regions – BlackBerry is considering integrating mobile banking features into its BBM mobile messaging service as it seeks to monetise the service and that could well be its best bet.
3. Emerging Markets To Drive Growth
Investment in emerging markets is already happening. This is true in both mobile commerce and mobile payments. The key drivers, as we know, are the continued increase in smartphone ownership and an increase in spending power. The relative lack of PC and broadband penetration in some emerging markets compared to more developed markets means that mobile commerce could well leapfrog desktop-based commerce.
That is clearly visible in VC investment strategy. Asia Pacific saw $320mn of VC investment last year in 22 notable deals we monitored in a sample of investments from the region. That includes Australian tax app Ingogo, India's MyMobilePayments and Singapore-based online takeaway app Foodpanda. Latin America was also active with $68mn in a sample of four deals including Brazilian restaurant booking app Restorando and Mexican mobile payments firm Clip.
One investor looking to play a big role in m-commerce in regions like Asia-Pacific and Russia is Rocket Internet, with sites like Zalora, Lazada, Lamoda all gaining traction on mobile and picking up funding recently.
4. Spread Of Investments Wide As Market Remains Nascent
So what types of companies are receiving investment? The nascent nature of the market means there is a wide range and of course it depends on how you define mobile commerce. But it's impossible to address mobile commerce and ignore mobile payments.
Last year investors poured $772mn into 97 deals into payments as a whole. Mobile made up more than half of that, with $342mn across 47 deals. Within mobile payments some interesting trends are emerging. Again, interest is starting to shift to emerging markets. This is not to say mobile payments have reached anything like maturity in Western markets and there is still huge opportunity there, but the potential in emerging markets is big and investor interest is already piqued. Look at the investment Bango is putting into expansion into emerging markets. Or look at companies like iZettle moving into Mexico and Brazil last summer and SumUp making the move into Brazil in November – and homegrown versions emerging like MSwipe in India or Clip in Mexico.
5. No Single Technology Is Yet Dominant
There's still no one solution that's winning out. This means the fragmentation in the space shows no signs of abating. Investor interest remains in card-led tech like the solutions offered by companies like iZettle and Square. And while it isn't immediately explicit we believe there is less investor interest in near-field communication or NFC technology.
Merchants haven't embraced it in the way its champions would like and Apple is yet to integrate the technology in its smartphones and tablets as has long been rumoured would kick start the market. If anything it looks unlikely to now.
6. Verticals Like Food Delivery And Taxi Apps Are Taking off
So, mobile payments aside, what other areas of mobile commerce are seeing VC cash flow into them? Although mobile marketplaces are a hot area, this is more the domain of existing marketplaces being better mobile optimised, rather than something new and disruptive. Take Zalora, taking on money to expand its e-commerce platform to mobile last year.
One area of mobile commerce which saw huge interest last year, however, was mobile taxi apps. This segment generated $467mn across 11 deals. This figure was inflated by the huge $360mn investment in Uber, but 11 investments is still impressive in this niche. The other obvious mobile commerce niche that has really taken off is food delivery apps. We saw $48mn across six deals last year and that's only going to increase.