On Friday, December 10, the Be An Ally: HR Edition was held, co-organized by the women's NGO Mexoxo and the General Secretariat for Justice and Human Rights.
The event was about the issue of integrating the LGBT+ community into the workplace and was held in person, hosting political figures, company executives and professionals in general who are interested in equal access to work.
Mexoxo's founder and CEO, Elpida Kokkota, opened the event talking about the fight for justice, talking about stereotypes as artificial barriers and referring to drawing inspiration from academic work, aiming at a better world and the visible contribution of companies. 
The program also included speeches by representatives of both the corporate and LGBT+ communities with workshops and topics – among others – on the legal framework that exists for the inclusion of individuals in the working environment and how this is formed to welcome them safely.
The Deputy Minister of Culture and Sports, the first openly gay politician, referred to the practice of "coming out" in companies and the example they should follow respecting everyone's desire to be visible to his colleagues.
Specifically, he stressed that there is no need to be pressured to declare one's sexuality, nor should he say so every time he goes to a new job, explaining who he is. As for the leaders in each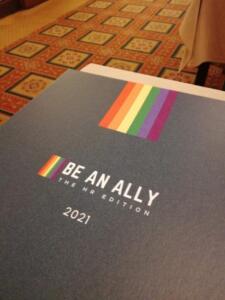 business, representation is important, especially for future generations.
As personal and professional trajectory often converge, the state secretary also commented on the disadvantage that working members of the LGBT+ community sometimes find themselves in when employers give different privileges, benefits and leave to others, discriminating even unwittingly.
There are now several alternative tools that can be put in place to avoid embarrassment by avoiding triggered words, reducing the fear especially in the lower echelons of officials living in a state of insecurity about whether to accept comments that characterize them, while he said it is more difficult for lesbian women to talk about these issues.
Inclusiveness rests on different areas of rights where companies are important allies and need to focus on them if they are to implement an agenda for equality. Diversity for companies is a strategic asset in the private sector and is no longer taboo.
Some companies "run" advocating projects that train employees especially men in the perception of equality, with equal (50-50%) coverage of jobs for men and women, providing certifications to raise awareness of aspects of the issue.
Among the companies that had a presence at the event with a representative were Coca Cola, Bayer, EY, JTI, AB Vasilopoulos, Athenian Brewing, Clio Muse, Deloitte, Enel Green Power, Grant Thorton, Teleperformance, Vodafone along with the Municipality of Athens and eCornell.
Clearly the room for improvement is enough in terms of diversity and this itself is a challenge, a test for businesses, large and small, that want to have a good impact by supporting customers and employees.
During the event, some ways of achieving political equality in the working environment were also mentioned, such as the way the recruitment and processing of the CV is made, where personal information is no longer necessary to contain specific information.
Although there seems to be a relevant institutional framework to put into practice the conditions for the equal treatment and entry of LGBT+ into the labour market, there is no implementation of the action plan that has been put into practice to protect individuals.
The terms change and the information actions are increasing but a lot remain at a theoretical level, calling for an immediate mobilization where the recruitment of a trans person for example on the occasion of the OAED program, will not be virtual nor will it involve their placement in the back of the office or in the unseen areas of a warehouse.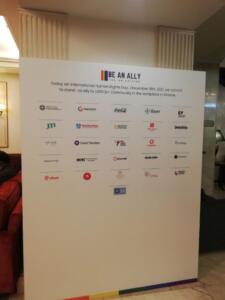 Changes that are promoted include the individual income of women, enhancing it so that there is economic availability for nannies and do not get lost from the labor market, policies that support careers and family, paternity leave and codes of conduct on occupational violence following the steps of countries that hold a high position in women's and LGBT+ rights, which have both greater growth and productivity.
Indicatively, Coca Cola mentioned that its strategic goal is for women to hold 50% of corporate positions, while at the same time it carries out projects with people from different departments, ages, origins, generally diverse groups that give them innovative ideas and a competitive advantage.
Brand identity, communication strategy, products for all, minorities, as well as youth campaigns are topics that have been in the spotlight, talking about responsibility that makes a difference. Equity footprint, timelessness, multiple roles, implementation of practices, local and global empowerment efforts over time require a financial support and training of human resources.
The proper use of new technologies and systems, responsible for reproducing prejudices and untreactions in the digital transition, was also discussed in the forum. In order to bring about a change in things, an intervention is needed from the bottom up, in order to reduce the gap from school and access in terms of social justice to the vulnerable groups of the 4th industrial revolution who have completely different needs.
To sum up, the management of multiple discriminations, such as a Roma woman who belongs to the less privileged citizens, requires a more general acceptance of groups that live disproportionately in society and therefore their recognition as not the same but equal starting from the value code that companies want to build for their future.