HUAWEI launches new FreeBuds Lipstick
HUAWEI FreeBuds Lipstick is coming to the Greek market soon, as wireless earphones in lipstick design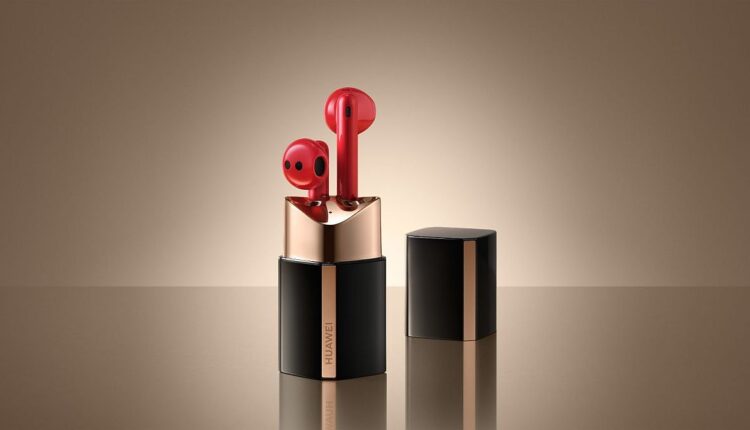 Never before have the earphones had such a look as that of the new HUAWEI FreeBuds Lipstick. The new headphones are coming soon to the Greek market to ensure users an experience with finesse of high design and in "indelible" red color that one would see in a fancy expensive lipstick.
The refined, affordable luxury that characterizes their design, with the impressive red of the earphones inside and the classic black with the golden detail on the outside, gives HUAWEI's new earphones a special beauty. In addition to their appearance, HUAWEI's new earphones have to offer additional high-tech performance.
Unique lipstick-style design creates a new trend in audio accessories
The style and luxury that characterize freebuds Lipstick can be easily perceived not only by their stainless steel construction, but also by their design and by their rounded edges in harmony with their refined elegant aesthetic.
A smart assistant with a comfortable ANC and excellent sound
FreeBuds Lipstick's high-resolution sound, which ensures a complete audio experience, is the result of advanced technology. The headphones are characterized by the classic aerodynamic shape to offer an upgraded audio experience.
For this reason, they use a larger-scale aperture, which supports a frequency range of up to 40 kHz and amplifies the average and high frequencies, strengthening the bass. When users listen to music with HUAWEI's FreeBuds Lipstick they gain access to a more "lively" and complete sound. In addition to high-quality hardware, HUAWEI continues to offer consumers better sound quality through various software features.
The new headphones carry HUAWEI's innovative and distinctive open fit design. Based on an ergonomic simulation system on thousands of human ear samples and an extensive pressure simulation test at eight different points of the ear, it improves the design of the headset to offer an absolutely comfortable fit.
In addition, thanks to AEM EQ technology, FreeBuds Lipstick is able to automatically fit in the ear and identify the best user-specific equalizer. Using the HUAWEI AI Life app, users can choose between three equalizers, including balanced (which is the default), bass boost and treble boost, to get a personalized experience.
Intelligent interconnection between devices
Compatibility with both Android smartphones, regardless of brand, and iOS devices through the use of Bluetooth is another feature of FreeBuds Lipstick. There is also the possibility for close-range Bluetooth pairing so that users can connect a smartphone, tablet or PC to the pop-up window, achieving a dual device connection.
FreeBuds Lipstick can record high-fidelity audio with a sampling rate of up to 48 kHz. All users need to do is enable the Surroundings feature in the HUAWEI AI Life app, and then they're ready to record the surrounding audio, for example during a travel vlog, so they can record an audio moment.
In addition, the battery life has been further enhanced, so that when noise cancellation is turned off, it is possible for 22 hours of continuous music playback with a fully charged case or 4 hours with fully charged headphones.
Their design, which highlights both the sleek look and the high aesthetics that technology can have, combined with their advanced technological capabilities, make HUAWEI FreeBuds Lipstick the ideal choice for something that, until now, may have seemed ordinary.
More information here