DODONI: Dynamic presence at FOOD EXPO 2022
Those who visited the Dodoni pavilion, had the opportunity to taste unique products that are produced and are available by the company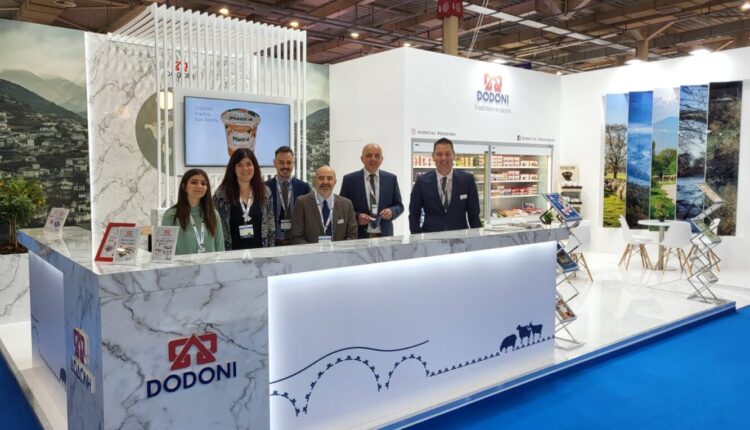 DODONI participated for the 1st time in FOOD EXPO, the largest food and beverage exhibition in Southeastern Europe, which was held with great success from 12 to 14 March 2022, at the Athens Metropolitan Expo.
With a presence in more than 50 countries worldwide and having a wide product portfolio, with more than 100 codes, through its participation in this year's FOOD EXPO, DODONI aimed to further enhance its export activity, giving the opportunity to all visitors of the exhibition to get to know products that are available exclusively in foreign markets.
More specifically, those who visited DODONI's pavilion in HALL 3, Stand C05, had the opportunity to taste unique products that are produced and are made available by the company, such as the new Plant'd, range of plant products, as well as DODONI Cheese Heavenly Thins.
"FOOD EXPO 2022 was the top meeting for the people of our industry and we are very happy to have been part of this excellent event. Through our participation we highlighted the importance for us of expanding our products abroad, as today DODONI products travel to all five continents, in more than 50 countries.
During the Exhibition we had the opportunity to introduce visitors to the wide portfolio of our products along with new launches that we have implemented in recent times. DODONI is synonymous with high quality products and we are proud to stand for Greek excellence internationally.", stated the Export Manager of DODONI, Mr. Vassilis Vrochidis.
With 1,200 Greek and foreign exhibitors, 1,500 international buyers and 650 targeted hosted buyers, FOOD EXPO 2022 came to confirm its leading position in the wider region of Southeastern Europe and to be a key center of commercial meetings and agreements for Food and Beverages in our country.