Delphi Economic Forum: The investors are now "Green" and activists
In the forum, reference was made to practices, objectives and next steps in sustainable investment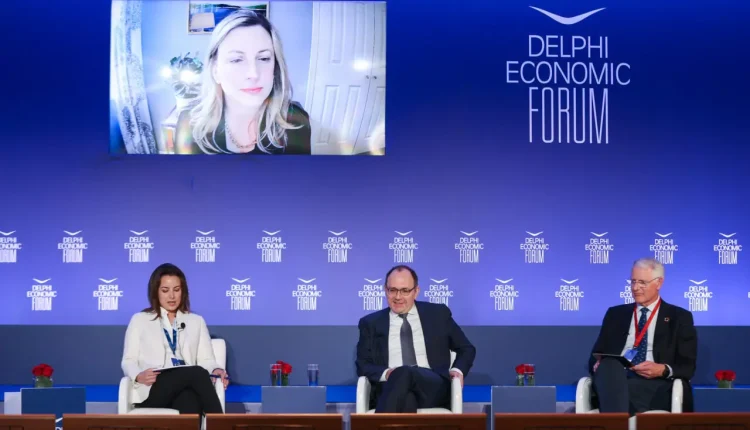 The participants in the relevant discussion on investments in a sustainable future, referred to the adoption of new practices of companies with a view to sustainable development with climate neutrality by 2050, thus drastically reducing carbon emissions, which is now a global priority, in the proceedings of the first day of the 7th Delphi Economic Forum, which takes place in Delphi 6-9 April and is under the auspices of the President of the Republic, Katerina Sakellaropoulou.
The vice president, Global Co-Head, Sustainability & Corporate Transitions of Citi, Keith Tuffley, spoke about a great opportunity, noting that the Citi group is doing a lot. "We are creating standards in the shipping sector with the aim of working with other banks. We aim at a series of collaborations, preparing the Net Zero project. However, we want the initiatives to be integrated at global level. The G Fund is a global partnership with stakeholders who are committed to reducing carbon emissions," he said, among others.
He noted, however, that there is a wide variation between targets and investments, noting: "Only 5% of a given group of companies have capital that aligns with these goals. We need to deliver on our commitments," while remarking: "There have been impressive reactions from many governments.There have been more commitments from the financial sector to reduce carbon emissions. There is acceleration in the transition to zero emissions. Some countries will find it very difficult to move forward based on domestic Renewable Energy Sources.
He underlined that there is the possibility of supporting and advising businesses towards the goal of zero emissions. "Investors have become more 'activists,'" he said. Mastercard's Vice President of Corporate Sustainability, Jennifer Merli, spoke of practices that as she said "are beneficial to all involved."
"We invest in Renewable Energy Sources and opportunities that have an exponential effect. We are working with 20,000 banks and we are coming out of the epidemic crisis but not the energy crisis. We have also launched a new sustainability program with our partners. We are trying to reduce the energy footprint," she said, among other things.
She referred to the launch of the Priceless Planet Coalition in 2020, which she said makes her more optimistic about global energy targets for reducing carbon emissions. "We started it and that's when we were at the beginning of the pandemic. We now have 100 partners who have spent a lot of money on the climate. We could achieve a lot with b2b," she added.
For his part, PwC's Global Leader of Strategy, PwC's Global ESG Leader, Peter Gassmann, talked about the huge opportunities for the Economy to proceed with its reshuffle based on the ESG (Environmental, Social and Corporate Governance).
"It's something that needs a lot of investment. But there must be common standards, specific data to do this.There is a mess of regulations, so starting we have the evaluation system and some specific standards that need to be re-evaluated. Investors and clients are confused with all of this. There are many different requirements," he said, adding: "Data is the big issue. To be sure that we are financing developing countries, our company has done a study on cross-border capital markets."
The sustainability expert of the Hellenic Foundation for European and Foreign Policy and moderator of the discussion, Cheryl Novak, observed that companies are now focusing on solutions together with the transition. "We need new tools based on the ESG," he said, while recapitulating that there is optimism, since the discussion reflected that the goals are achievable, although the necessary actions need to be accelerated."