A robot that is trained next to humans
Product of the ProgHRC research project "Gradual automation of tasks with collaboration between humans and robots" is an innovative and economical robot-assistant that learns easily from humans, reducing programming time and the cost of automation costs, especially in production lines with frequent alternations, and enabling small and medium-sized enterprises to exploit the benefits of robotic systems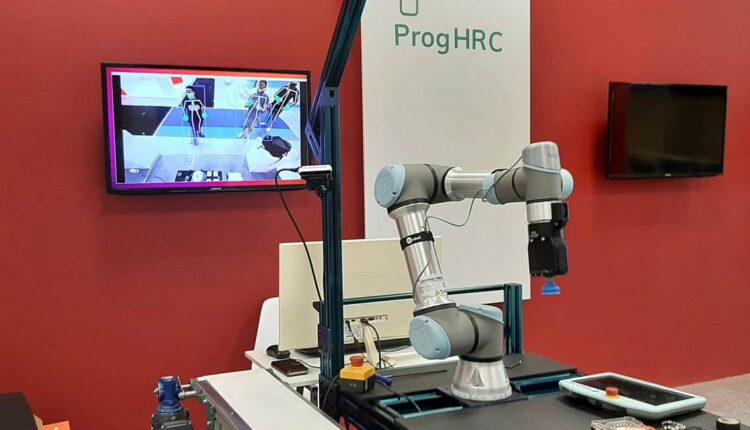 How would you feel if you were to hire in your business an employee who is reliable, fast, tireless and who doesn't have to take a break? An employee to that you will catch by the arm to show him only once the job he has to do and he will learn it (as a student learns from his teacher) and after a few repetitions will begin to perform it continuously and accurately? And all this without having to press a single key?
The above describes exactly the scope of the ProgHRC research project, namely, the development of an innovative technology that allows a human to show a robot how to pack products in just a few seconds and then let it work on its own: "Initially, man catches the robot and guides it by indicating for example how to catch objects from a conveyor belt and how to place them inside a box.Repeating this movement 2-3 times, the robot slowly understands its work and now performs it without the help of man. An innovative AI system with 3D vision allows the robot to see around it and automatically adjust its movement", describes the Technical Coordinator of the project and postdoctoral researcher at the Laboratory of Automation and Robotics of AUTH, Mr. Fotios Dimeas.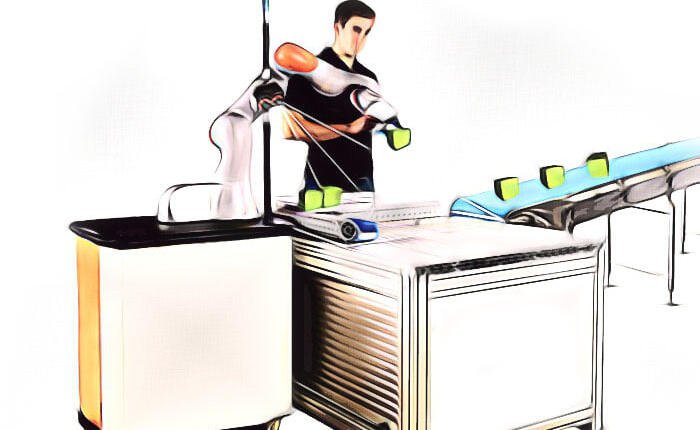 To schedule a robot today to perform a job in a factory takes specialized staff and valuable time, maybe several days when it comes to a production with frequent product rotations. This translates into significant programming costs that are added to the total cost of buying and installing the robot, which makes it accessible only to large industries.
This need was met by the research team of ProgHRC by developing a software that gives these robotic arms new programming capabilities, without code, to make robots more attractive even for a small business. "This approach seems to be quite promising when you look at the trajectory of Startups like Wandelbots and Nordbo, which have raised several million in investments. However, unlike those that use a special device that humans must hold in order to show movements to the robot, ProgHRC aims at a complete solution for the automation of tasks without extra hardware where humans have direct contact with the robot, and by extension, better control", adds the Greek researcher.
Automation of collaboration between humans and robots
The name of the ProgHRC project comes from the initials of progressive human robot collaboration and refers to the gradual automation of a task achieved through the collaboration of humans and robots. According to the technical project manager, this idea began in 2017 at the Automation and Robotics Laboratory of the Department of Electrical and Computer Engineering of the Aristotle University of Thessaloniki, as part of a postdoctoral research at a theoretical level.
"Presenting the results to the international research community of robotics we noticed very positive impressions and this gave us impetus to continue. So in 2020 we achieved significant funding for this project from the NSRF in "Research-Create-Innovate" in order to complete the R&D and do pilot tests. We have already developed the laboratory prototype and in 2022 we plan to run our pilots in food production plants in northern Greece that have shown great interest in the solution we offer. In general, having been in contact with several potential users who recognize the problem we are trying to solve, we intend to establish a Spin-off so that we can make it available commercially. In fact, we have already been in contact with some VCs from Greece", says Professor Zoe Doulgeri, who is also the scientific coordinator of the project, adding that something that began as a postdoctoral research now employs 8 researchers from the Laboratory of Automation and Robotics that coordinates the ProgHRC project, of which SpectraTech is also a partner.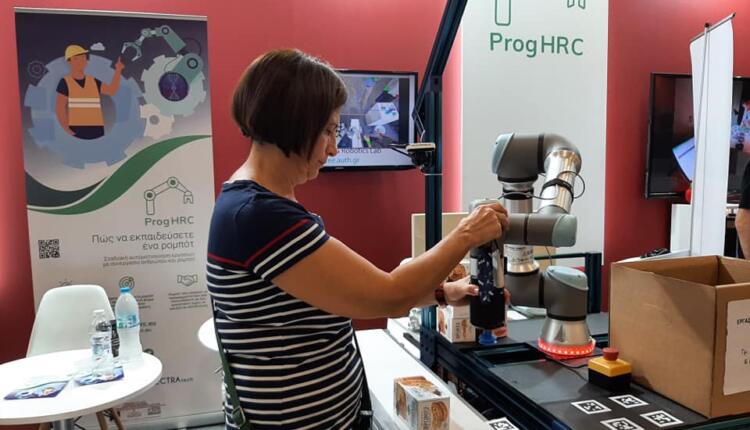 In general, the Laboratory of Automation and Robotics of the Aristotle University of Thessaloniki currently employs more than 15 researchers (postdoctoral, PhD candidates, etc.) on the control of robots and especially the collaboration of humans with robots. It is well equipped with the most modern collaborative robotic arms and this helps researchers to produce research results with significant impact in the robotics research community and attract funding from competitive research programmes.
In addition to ProgHRC, the laboratory led by Mrs Zoe Doulgeri also coordinates two European projects within the framework of Horizon 2020. The CoLLaboratE that focuses on the broader human-robot collaboration for the industries of the future and the BACCHUS that develops the control method for a two-handed self-propelled robot that can make a selective harvest of high-quality vines.
Flexibility and time saving
The core value offered by ProgHRC is the flexibility through AI and the significant reduction of robot programming time for product boxing and consequently the cost, compared to existing online or offline programming methods. The team's vision is to develop ProgHRC into the first choice for robot programming at any stage of production.
More and more robots are joining the world's industrial production lines, performing a lot of work. In particular, last year and according to data from the Association for Advancing Automation (A3), there was a record number of robot orders in the U.S. that reached 2 billion dollars. "The market for the installation of industrial robots worldwide exceeds 50 billion dollars, as over 400,000 robots are sold annually, with an ever-increasing trend.Although the largest percentage of turnover goes to the purchase of the robots, a fairly significant chunk goes into their programming. This is where we aim, not only to take a piece of the market, but to expand it by reducing the cost of programming", stresses Mr. Dimeas.
According to him, it is very important that the research results are not limited to just one scientific publication or a subsequent research project, but also be used commercially where possible. "The innovation ecosystem that brings out innovative ideas and Startups has helped us a lot, especially in being able to distinguish the commercial value behind innovation and to exploit it. In such an innovation competition, NextStage 2021, we submitted for the first time the idea of ProgHRC and we managed to reach the final", adds the Greek researcher commenting that there are many times when researchers – coming mainly from engineering schools – first give the solution to the effort of a new discovery and then look for the problem to apply it.
"But that's not necessarily a bad thing. Several modern problems in robotics have been solved at a theoretical level several years back, without the immediate application of the solutions.With ProgHRC we succeed in combining innovative methods of artificial intelligence and robot control that we have developed in our laboratory to solve real problems that the modern industry has. Our goal is to continue our research focusing on solving practical problems in robotics while constantly examining ways to exploit our results", concludes Fotios Dimeas.