These are the first 50 Startups to qualify for the next phase of LG's Incubation Program
The first official group "First 50", selected by a team of leading experts in emerging technologies and entrepreneurship of "LG NOVA", represents innovations in the industries that will have the most direct impact on society, now and in the future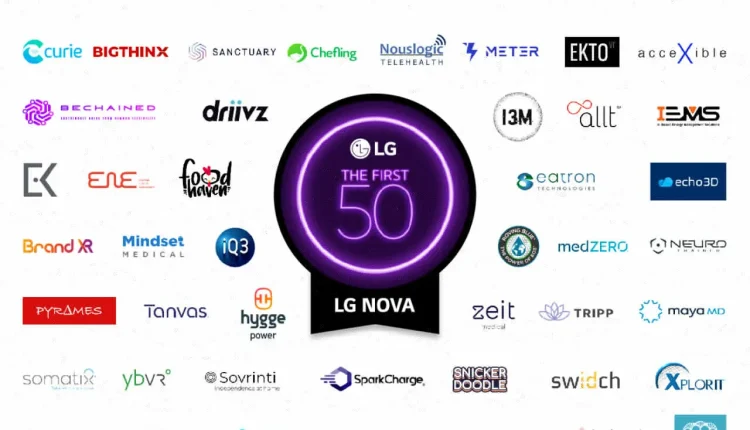 "LG NOVA", the Innovation Center of LG Electronics (LG) in North America, announced the team of the "First 50" Startups selected as part of the global competition, "Mission for the Future". Selected from more than 1,300 candidates, the companies represent new developments in the following categories – fields: Connected Health, Energizing Mobility, Smart Lifestyle, The Metaverse and Innovation for Impact and will start working with the "LG NOVA" team to further develop their business ideas.
The first official group "First 50", selected by a team of leading experts in emerging technologies and entrepreneurship of "LG NOVA", represents innovations in the industries that will have the most direct impact on society, now and in the future. Equipped with access to the know-how, guidance and financial support of LG's global network, the Startups will work with the support team of "LG NOVA" to create a proposal for a partnership with LG, as well as a test application of the idea that will prove that it is functional, in order to move to the next phase of the competition. In the next step, the 20 companies that will receive funding from LG for pilot projects will be selected, within the market in which each Startup operates. As the competition progresses, "LG NOVA" will select a final team of up to 10 Startups in an effort to launch joint business opportunities within LG's business ecosystem.
"These companies represent the crème de la crème of the diverse innovative ideas and companies that took part in the 'Mission for the Future' competition to address the challenges that our community faces. In these companies, we see the potential for transformational changes that will evolve our commitment to innovation for a better life, to the next level," said the head of "LG NOVA", Dr. Sokwoo Rhee, Senior Vice President for innovation at LG Electronics. "Our partnership with these companies will be defined by our role as one of the world's leading innovation companies in next-generation products, technologies and services as we help them accelerate their growth and deliver a positive impact to the world.
Some examples of innovations from the promising entrepreneurs and Startups selected among the "First 50" include the development of an early detection and monitoring platform for mental health by AcceXible for Connected Health, EVE's solution to evaluate, monitor and improve corporate fleet electrification strategies for Energizing Mobility, the progress of AirSpeQ in the detection of particulate matter in the context of Smart Lifestyle, the development of an educational platform for children by Kabuni in the category The Metaverse and the project to monitor physical activity at home with the help of machine learning, developed by the company Sovrinti for the module Innovation for Impact.
Full descriptions of the companies of the group "First 50", can be found here.
More information about LG NOVA can be found here.