The future of E-Commerce is here with just one click
The new and innovative product of the company "Simpler Remote Checkout" significantly increases the profits of traders, making it possible to immediately purchase products from any online and offline sales channel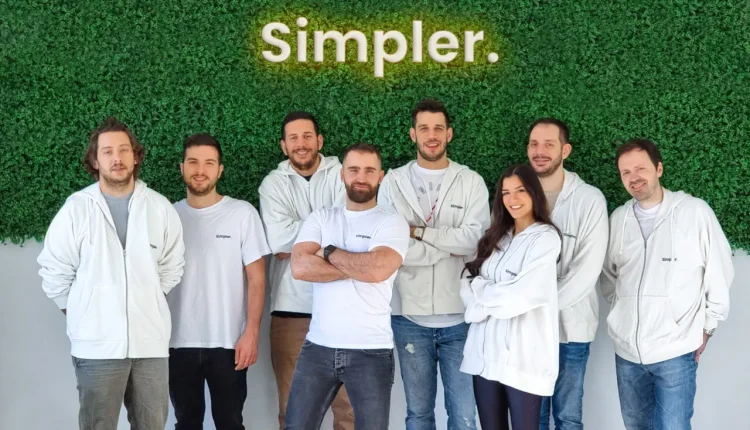 One of the most innovative Startups in the field of e-Commerce, which has been growing at an explosive rate over the last two years both in Europe and in Greece, is Simpler. A company with 100% Greek "DNA" but with the philosophy, strategy and know-how of leading Silicon Valley Startups. The innovative technological solutions "1-click checkout" and "Remote Checkout" offered by Simpler help merchants to sharply increase their sales through their e-shop, but also to improve the performance of their online and offline marketing channels. Simple and easy, without complicated procedures.
At the same time, it offers the customers of eshops a unique shopping experience that simplifies the process of acquiring the products they have chosen, without having to remember the user name or passwords for each of their purchases. Recently, Simpler launched the innovative "Simpler Remote Checkout" solution, with which consumers can buy any product they wish from any place with a single click or by "scanning" a QR code.
Through the "Simpler Remote Checkout" solution, those interested can get anything they choose from the eshops that work with the company without even having to visit their website or application: from an online advertisement, an email newsletter, an advertisement in a magazine, a catalog, a brochure.Even from an advertisement at a bus stop! With the same process, consumers can make their purchases even from physical stores or storefronts, simply by scanning a QR code, within seconds!
The efficiency of simple solutions
If one considers that 70% of users abandon the purchase process at the checkout stage, one understands how important the benefits of the solutions offered by Simpler are. Thanks to the company's technologies, consumers do not have to fill out lengthy forms with their details or their card details. This fact makes the process of buying impressively easier for them, while significantly increasing profits for traders.
The advantages, however, do not stop there, as the merchants who work with Simpler in addition to the huge benefits for their sales, see significant improvements in profit margins as well.This is because the company takes a large share of sales from alternative payment methods, such as cash on delivery or PayPal, which have a significant cost for store owners.
"The global e-sales turnover reached 4.9 trillion dollars in 2021 and is expected to exceed 6.4 trillion in 2024. However, we tend to neglect the part of the checkout process.
Nevertheless, it is a point that we can easily improve.Having this innovative technology in our hands, we wondered why we should limit ourselves to online stores? Why not "change the game" completely? With our technology, consumers have for the first time the opportunity with a single click either from e-shops or digital ads, practically from anywhere", the CEO and co-founder of Simpler, Rania Lambrou, told STARTUPPER MAG.
It is worth noting that the world's leading retailers, including Funky Buddha, Prince Oliver and Vogue Watches, have trusted the solutions offered by Simpler, seeing excellent results and recognizing both their innovation and effectiveness.
Simpler's secret of success
Simpler is a company, which, listening to the needs of the time, has managed to turn its name into a synonym for simplicity, security, innovation and efficiency. The pandemic has turned a large portion of consumers worldwide to online shopping. But the new data also brought new challenges, as internet shopping is a complex process for many people, while there are many who are worried about the security of both their purchases and their personal data.Simpler came to give the answer to this problem, which with the state-of-the-art technologies it uses allows its customers to make their purchases easily, quickly and simply, while providing absolute security for their personal data.
The secret of Simpler's success lies in its team, which consists of experienced executives with a different background but a common vision. The founding team of the company consists of Rania Lambrou, Alexandros Kyriakopoulos and Spyros Mandekis.
Rania has a background in finance and was a senior executive in the sales and product sectors at Glispa and Market Group. Alexandros has a technological background, having worked for 9 years in the investment sector, initially as an executive of Credit Suisse and then as a high-ranking executive at Vontobel.Finally, Spyros was a co-founder of NestCargo, while he held, among other things, leading positions in the technical division of companies such as Glispa, Market Group and Plum Fintech.
Together with their team they work every day to offer businesses and eshop owners the maximum benefits of eCommerce and customers the best experience in their online purchases.