The buildings of the future: AI capabilities with zero CO2 footprint
Building X is the first next-generation suite designed and built as part of the Siemens Xcelerator platform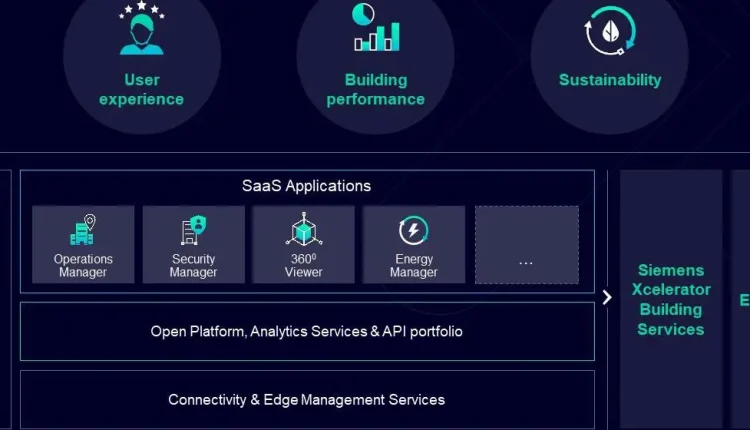 Siemens Smart Infrastructure has launched Building X, a new suite of smart buildings that is open, inter-functional and fully cloud-based.
This is the first next-generation suite based on the design principles of Siemens Xcelerator, an open digital business platform that was recently launched to accelerate digital transformation and value creation in industry, transport, networks and buildings.
The Building X suite addresses the challenges of various stakeholders, including those living and working in buildings, real estate investors, real estate companies, and facility managers. It acts as a single source of information to eliminate complexity and supports the achievement of zero carbon footprint.
Those interested can now digitize and use the data of their building from various sources, branches and systems on a single platform, Building X.
This allows for a seamless user experience and the integration of existing software and ecosystem, including third-party applications, through vendor agnostic connectivity and Application Programming Interfaces (APIs). The suite offers modular applications with AI capabilities and built-in cybersecurity. It also facilitates co-creation with customers and partners to quickly address the challenges they face, thanks to the open suite and capabilities offered by the cloud, enabling easier, faster and scalable achievement of digital transformation.
"The Building X suite is the solution for data sinks. We can now connect all the data generated by smart building systems in one place (data lake), accelerating the faster transition to smart buildings with zero carbon footprint. Building X delivers data-driven results for greater efficiency and a better experience, changing for the better the way we work and live in buildings.", said Matthias Rebellius, a member of the board of directors of Siemens AG and CEO of Smart Infrastructure. "We look forward to co-creating use cases with our customers and partners at Building X to accelerate innovation and sustainability in the industry."
The Building X suite currently has a set of applications and digital services, tailored to different stakeholder groups, which are linked to the AI-enabled platform. Building X opens up new possibilities for digitization, management and optimization of the building's functions, adding value to both existing and new buildings. Its applications, which cover key areas of building management, including energy, security and building operations, are supported by powerful analytics capabilities.Apps offer a seamless user experience, where relevant data is intelligently combined to drive results for customers.
Digital twin for the functions of the building
Building X combines the real and digital worlds of buildings by unifying data from multiple sources into a digital duo that simulates the functions of the building. Through the virtual representation of the building, operators can resolve issues more quickly. Users benefit from the transparency provided by Building X in their efforts to make their buildings more sustainable, achieve better performance and optimize the overall experience – contributing to higher business results.
A growing set of applications
Building X applications are designed to be modular and profiling user-driven, providing the right data to the right people. In addition to the co-creation features, users can choose from many out-of-the-box applications. This allows dashboards and data insights to be customized according to each user's needs. Building X already includes four applications, and more will be added over time:
The Energy Manager app monitors the energy consumption, cost and CO2 footprint of a building or group of buildings and allows for timely corrective actions if necessary. It also predicts energy consumption based on historical data and supports users in monitoring sustainability goals, helping them achieve zero carbon footprint.
The Operations Manager app monitors and manages building equipment and applications in real time. It can monitor buildings in different locations from a single location and ensures a fast response while reducing downtime. Users benefit from increased business continuity and improved reaction times.
The Security Manager app manages security systems with integrated and automated workflows. More specifically, it centrally manages day-to-day security operations and events on all systems.
The 360° Viewer represents a location in a virtual three-dimensional environment, allowing indoor navigation to utilize information about topology and equipment installation.
SaaS and results with building services
Building X is offered as a SaaS model (software as a service), with a subscription.
Thanks to the SaaS model, those interested can have direct and easy access to the software and find upgrades during the life cycle of the building to meet their changing needs.
In addition to the SaaS model, customers can also choose a comprehensive program for building management from Siemens Xcelerator Building Services, which will be utilized through Building X.This allows them to rely on Siemens to achieve their goals. In this model, Siemens utilizes a combination of its technology, combined with the know-how of its professionals in digital manufacturing. Programs are adapted to achieve predetermined results, such as reducing operating costs and energy, optimizing data performance for uptime and productivity, meeting regulatory requirements or improving the experience of occupants.
Siemens Xcelerator is an open digital business platform that includes a curated portfolio of hardware and software with IoT capabilities, a growing ecosystem of partners and an evolving market to accelerate digital transformation.