Schneider Electric digitizes shipping
The company participated as a Platinum sponsor at the conference on February 18, 2022, highlighting its innovative solutions for the shipping industry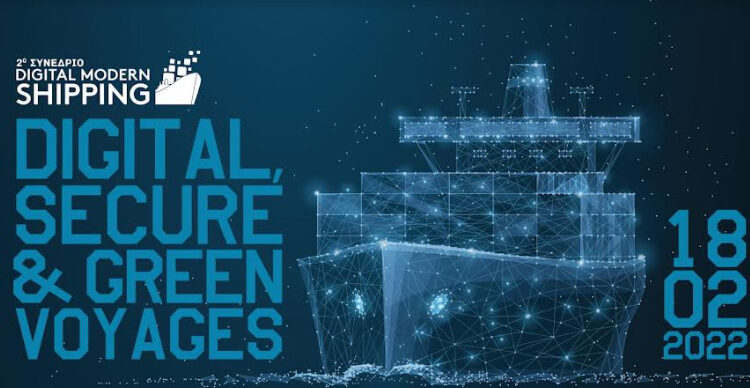 Schneider Electric, a pioneer in the digital transformation of energy management and automation, participates as a Platinum sponsor in the 2nd online conference "Digital Modern Shipping 2022" held by Smart Press, on Friday, February 18th. In the context of the conference, which concerns the application of new technologies and the implementation of innovative practices in the shipping industry, Anastasios Sarris, Channel Sales Business Developer SEE, Schneider Electric, gave a speech on the subject: 'Next Generation IT Solutions for Marine environments'.
The attendees had the opportunity to be informed about the full portfolio of specialized infrastructure solutions and IT services of the company, which are designed to ensure the optimal performance and safe operation of any critical IT infrastructure on ships, offering a competitive advantage to each vessel. Specifically, Mr. Sarris' presentation referred to the holistic integration of innovations integration of innovations in every level of operation of the ship, which is one of the differentiating advantages of Schneider Electric.
Another topic of the talk was Schneider Electric's EcoStruxure Micro Data Center and 6U Wall Mount, which is an innovative way to deploy server and networking equipment on Edge, with a unique design that includes UPS, ensuring increased security and remote management.This solution is a central point of Schneider Electric's portfolio and an object of interest for every company in the industry, as according to the company's data, the interconnected Edge equipment of ships is predicted to increase by 800% by 2024.
Moreover, the company presented to the public the integrated range of UPS solutions related to the shipping industry, as well as the Ecostruxure IT architecture that translates data into active intelligence and better business decisions, maximizing the value of data.Currently, Schneider Electric has a presence on more than 20,000 cargo, passenger and warships, with more than 6,200 certified service representatives of an installed base, offering support on request, in any port, while at the same time, it maintains more than 420 repair centers worldwide.
The Digital Modern Shipping Conference is organized for the second year by Smart Press and is an opportunity to present new solutions, technologies and developments in the wider Shipping sector, with the participation of executives from companies from every sector of shipping.Finally, the participants of the conference had the opportunity to receive a certificate of attendance, while the event was held in Greek and English. It is noted that Schneider Electric was also recognized as the most viable company worldwide in 2021 by the Corporate Knights Global 100 Index.