With two products, the SOFIA Decision Support System and SOFIA HR, RENVIS enables businesses to simplify the way they make decisions, to save effort and time, but mainly to avoid the risk of a wrong choice. Every day we are called to make decisions and this process usually begins and ends in the human mind, it is a "mental" process.
However, especially when it comes to the world of business, the reality is complex. Making a decision, in any business field, can become a real challenge and the consequences of a wrong choice have a significant cost – often decisive – for the course of a company.
As a result, the existence of solutions that help in this process is now considered not only useful, but necessary. With this in mind, Dr. Konstantinos Papapanagiotou, an engineer specializing in Supply Chain Risk Management and Game Theory, and Sofia Tsakiri, a lawyer specializing in the patenting and exploitation of intellectual property and the establishment of spin-off businesses, founded RENVIS in 2017.
Their vision was for this new company to lead the market for business software solutions by providing innovative products and services of high quality.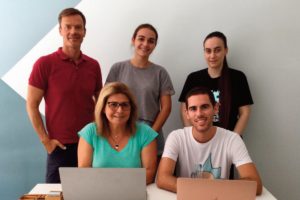 Their mission, to this day, is to help companies, regardless of their size and organization, to make easily and quickly effective business decisions, using their data.
This mission is achieved by creating products such as the "SOFIA Decision Support System (DSS)", which is the "flagship" of the company. It is a smart, flexible and user-friendly tool, designed for companies, regardless of size, that solves complex business challenges and simplifies the decision-making process.
More specifically, SOFIA Decision Support System is a Cloud Software-as-a-Service (SaaS) with a modular and scalable architecture that provides all the necessary interfaces (APIs) to interconnect with third-party software (e.g. ERPs) for the exchange of information and data.
Its innovation is that it enables the creation of customized decision-making models by defining factors and weights. Each factor can be scored from 0 to 10 and the weighted average is used for the overall score.
However, the method of calculating both the factors and the score is flexible and can be modified according to the needs of each business. Due to the success of "SOFIA DSS", RENVIS recently launched the SOFIA HR, a smart human resources assessment application that serves both organized HR departments, as well as individual users and HR Managers.
Built on the logic of SOFIA DSS, it helps HR Managers focus on individuals, not on spreadsheets and written reports, and make more accurate, fair and effective decisions. It is an advanced data-based Cloud SaaS, which depicts the results in a user-friendly way. It is flexible, modular, scalable and adaptable to the needs of each company, while its cost is low, so that companies can use it directly.
The reason that stands out, according to the founders of RENVIS, is that other HRM solutions offered in the market are complex, not flexible enough to suit any business and usually have high cost of acquisition and use. Precisely for these innovations and the axis on which it has been moving since the beginning of its operation, the startup has received several distinctions in recent years, while constantly increasing its partnerships.
It is noteworthy that in 2020, the company emerged as  Bitrix's only Gold Partner in Greece (with which it has been cooperating since 2017), and that recently the company became an AWS (Amazon Web Services) Partner, having certified its executives as AWS Cloud Practitioners providing technological and consulting services for the implementation of AWS solutions.
At the same time, RENVIS managed in previous years to be selected by the Data Market Services (DMS) Accelerator Programme, to be funded by the DataPitch Acceleration Programme, but also to "run" various applications and projects, such as GASPAR, which combines expert views with predictive engineering learning models. The company's plans, however, do not end with these successes.
As the founding duo tells Startupper Mag, within the next year they have already planned the launch of the new version of SOFIA HR, which will include ML/AI for the use of the evaluation history, data classification, AWS Augmentent Artificial Intelligence (AWS A2I) and advanced visualization options. At the same time, it aims to further develop the provision of technological and consulting services to businesses as an AWS Partner.