Polygreen strengthens its management team with new executives
Polygreen's management team includes Haris Markaki, Customer Experience Director and Kostas Georgakopoulos, Business Development Manager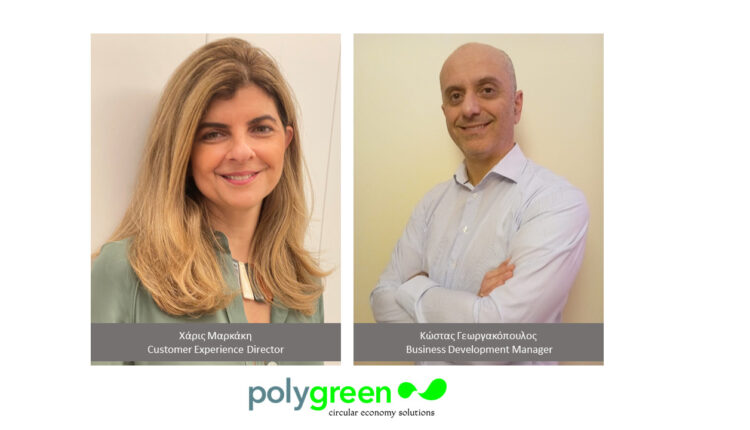 The workforce of
Polygreen
, a leading company in the field of
circular economy
and
environmental protection
worldwide, includes two more experienced executives and strengthens its management team, which was formed last year. With the new management structure,
the company aims to further develop the high quality of its services and accelerate the implementation of its business plan.
Specifically,
Haris Markaki
assumes the position of
Customer Experience Director,
having served for more than 25 years as a manager in marketing departments in the financial sector. Haris Markaki also has significant experience in the field of improving customer experience and meeting their modern needs, a field that is a priority for
Polygreen
.
At the same time, the role of Business Development Manager is assumed by Kostas Georgakopoulos, an executive with 15 years of experience in commercial departments of large Greek companies active in the management of recyclable materials and waste treatment for the production of alternative fuels for the cement industry. From his new position, Mr. Georgakopoulos aims to contribute to the company's business development at a national and international level.
It is noted that the Founder and CEO of Polygreen is Athanasios Polychronopoulos, a businessman with many years of experience in the field of environment, while
Lavrentis Alvertis has assumed the role of the General Manager of the company since July 2021 and had been for many years a manager in numerous organizations and industries.
The new composition of the company's management tram, combined with its specialized know-how, further enhance its competitiveness in Greece and abroad, in the field of providing innovative circular economy and waste management solutions. Polygreen's main platform in Greece is Just Go Zero, the first circular economy "movement" launched in 2021 and has already recorded significant partnerships with businesses and local communities, aiming at the transition to a waste-free world.