Hybrid work meets HP's smart technology at CES 2022
HP unveiled its new products at this year's technology and innovation show in Las Vegas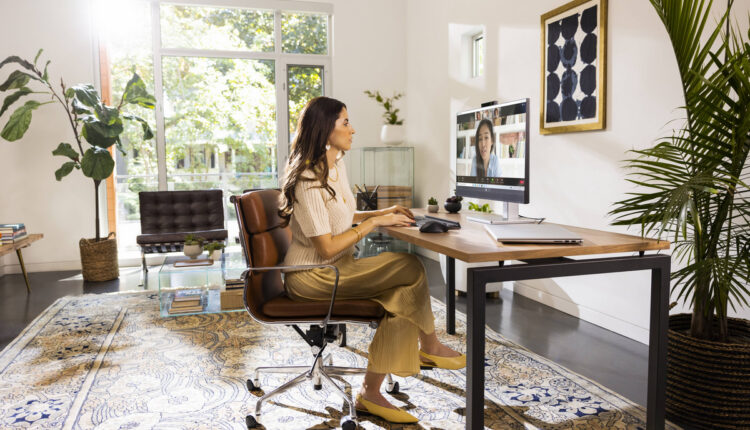 Hybrid work requires more than simply collaborating and working together. It challenges technology to provide the same experience no matter where people are. Workplaces are now wherever people want them to be, but the expectations of their work doesn't change. 
"Hybrid changed everything. We now have more freedom to be productive and creative from anywhere. Our hardware, software, and solutions innovations deliver the experiences needed to thrive in a hybrid world, providing the power to blend our most productive environments for work and creativity with our most inspired ideas.", said Alex Cho, president, Personal Systems, HP Inc.
Continuing to build on the recent launch of HP Presence, 1 HP added exciting new features for better video conferencing experiences. People can now enhance their onscreen image to personalize how they show up in meetings with the Appearance Filter, while the myHP application provides a single dashboard to control and customize their PC experience – like applying video settings across their conferencing apps with a single click.
HP has also made its advanced collaboration technology available across more of its portfolio, including the EliteBook 800 G9 Series PCs, EliteBook 1000 G9 Series PC, ZBook Firefly G9, and Z40c and Z34c G3 Curved Displays, and newest Elite Dragonfly PCs. From 5MP cameras with HP Auto Frame to AI-based noise reduction filters and dynamic voice leveling technology, HP Presence delivers a better way to be seen, be heard, and share ideas for people outside of the meeting room.
Taking workforce collaboration to a whole new level, HP has expanded its portfolio of Elite Dragonfly devices, delivering on the customer demand for premium mobile devices when it comes to hybrid work. These devices drive progress towards increasing sustainability with recycled magnesium, aluminum, and ocean bound plastics.
Specifically, the HP Elite Dragonfly G3, automatically optimizes voice clarity and AI-based noise reduction 2.0 that improves audio and users can be heard even when wearing a mask.
Equipped with intelligent charging, the battery learns work patterns to optimize power consumption. HP Wolf Security for Business4 provides a resilient defense against malware and hacking.
The HP Elite Dragonfly Chromebook Enterprise is the world's most advanced Chromebook for business, with emphasis on cloud-based work formats.Providing breakthrough collaboration experiences and security, the new premium Chromebook empowers business and cloud users with the simplicity of Chrome OS to collaborate, share and capture ideas.
Users can also take notes and share ideas on the fly with an optional magnetic pen7 that attaches and charges wirelessly on the side of the device. The HP Sure View Reflect integrated privacy screen protects sensitive information while HP Sure Shutter blocks your webcam with a single click.
The HP E24m, E27m, and E34m Conferencing Monitors are the world's most advanced conferencing monitor series9 that deliver the most authentic face-to-face meetings and at the same time  are Zoom Certified while with HP Eye Ease always-on low-blue light the eyes of the user are protected.
Additional new Windows 11 devices created for hybrid environments include:
•The HP Elite x360 1040 G9 and HP EliteBook 1040 G9 push the limits of performance and lightness for mobile workers everywhere. Redesigned for smooth transitions in hybrid work, the devices have a thin and light chassis with a 16:10 screen aspect ratio to show more and reduce scrolling. 
•The HP EliteBook 800 G9 Series PCs have been redesigned with an ultra slim chassis, a new 16:10 ratio screen, and a larger clickpad ratio. Enhanced by HP Presence, people can work together with a more personal experience with an optional auto-tracking 5MP camera, Audio by Bang & Olufsen, and optional 5G connectivity.
•The HP EliteBook 600 G9 Series PCs are powerful, easy to manage, and highly secure PCs that allow easy standardization into existing IT environments, while giving users the tools they need to work from almost anywhere.
•The HP ProBook 400 G9 Series PCs combine lightweight, upgradeable designs with commercial performance, security, and durability ideal for growing businesses.
New digital solutions
•The HP ENVY Desktop PC is the new expansive powerhouse for creatives, designed to be the central hub with HP Palette, HP QuickDrop and Thunderbolt along with the ability to connect up to four 4K monitors use your tablet, phone, or PC as a second display.
•The HP Z2 Mini G9, the world's most powerful mini workstation,13 brings high performance, equipped with low-profile NVIDIA RTX™ professional graphics transitions between multiple applications for design, rendering, and simulation and the ability to power 2D to 3D workflows.
•HP ENVY 27- inch All-in-One Desktop PC: A smaller version of the 34-inch model, 
true-to-life color, powerful performance, and a detachable magnetic camera .
•The HP Z40c G3 and HP Z34c G3 Curved Displays: 5K:2Κ 40" screen with a high aspect ratio, with an integrated 4K webcam, fast connection with Thunderbolt 3, enough to charge two PCs at once, with the ability to drag and drop files between the two computers effortlessly. 
•The ZBook Firefly 14 G9: professional-level performance, AI webcam with next generation Intel Core processors.