Active Energy Solutions: Greek Business Champion of the Greek economy
Indicative of the dynamic growth of Active Energy Solutions is that it is ranked 52nd in the list of the 1000 most growing companies in Europe compiled by the Financial Times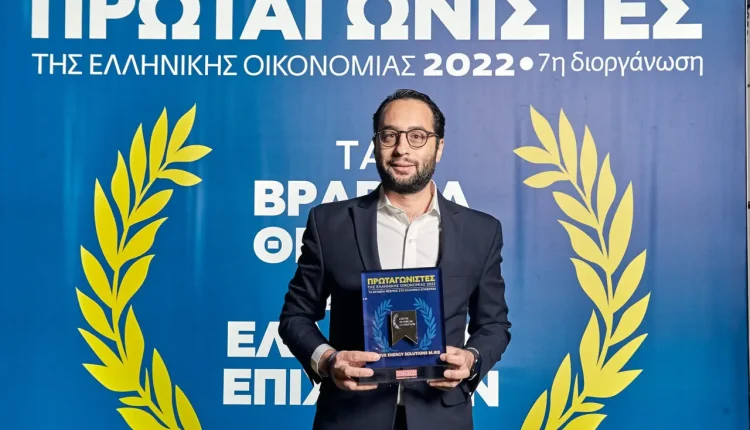 Active Energy Solutions, a Greek distributor of equipment for renewable energy sources (RES), was named GREEK BUSINESS CHAMPION at the "PROTAGONISTS OF THE GREEK ECONOMY 2022" awards, the institution that rewards businesses that shape growth prospects, play a leading role and actively support the Greek economy.
The distinction of Active Energy Solutions was made after an evaluation of its financial indicators and concerns the category of companies that have a turnover of more than 10 million euros while at the same time they have recorded during the financial years 2019-2020 an increase of more than 10% in turnover and in profits before taxes. Specifically, Active Energy Solutions, as a distributor of RES equipment with an international presence in Greece, Cyprus and the Balkans, recorded an increase of 397.89% in its turnover in Greece.
Indicative of the dynamic growth of Active Energy Solutions is that it is ranked 52nd in the list of the 1000 most growing companies in Europe compiled by the Financial Times, an important development that recognizes the dynamics, performance and prospects of the company.
"This distinction is a great honor for us on the one hand, and on the other hand it motivates us to continue to strive to enhance our growth prospects by providing the highest level of service to our customers and partners.At a time full of challenges at international level, this distinction, combined with the international recognition by the Financial Times, is a turning point in order to contribute crucially to the formation of a more sustainable tomorrow, as we already do through our products and services.Active Energy Solutions, foreseeing the trends in the energy sector and the growth prospects, has demonstrated strong reflexes and high performance and in the same direction we will continue responding to every condition. We are very proud of what we have already achieved and of what will follow," said the company's CEO, Vassilis Lazaridis.
It is noteworthy that in 2021, Active Energy Solutions recorded an absolute growth rate of 1979.82% compared to 2020, a performance that is the highest gradual ranking for a Greek company, always according to the FT-1000 Europe's Fastest Growing Companies list of the Financial Times. This distinction acquires special importance as it is the only Greek company that is among the 100 most growing companies in Europe.
Having comprehensive and in-depth knowledge of international trends in the energy sector, its primary goal is to offer integrated solutions in the field of Renewable Energy Sources (RES), adapted to the modern needs of customers and in this way contributes key to the achievement of the objectives of the National Energy and Climate Plan (NECP) and the reduction of CO2 emissions of the energy sector.