Pirelli is confirmed Sole Supplier to the FIM Superbike World Championship until 2026
A unique collaboration, in terms of duration, within international motorsports, as the partnership celebrates its 20 year milestone.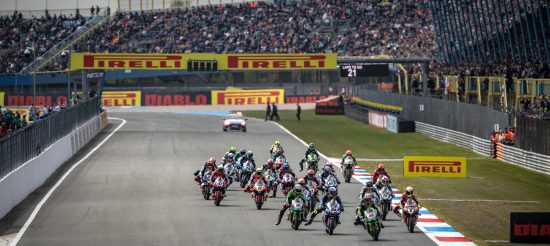 Pirelli and Dorna WorldSBK Organization have extended their partnership by a further three years: the Italian tyre company will be the sole Official Tyre Supplier for all classes of the FIM Superbike World Championship up to and including the 2026 season.
With the current agreement expiring at the end of 2023, Dorna WorldSBK Organization, in agreement with the FIM, the International Motorcycling Federation, proposed to Pirelli, which accepted, a new three-year agreement for the period 2024-2026.
Thus continues a unique collaboration, in terms of longevity, within the international motorsport panorama, which this year celebrates 20 years. It remains a demonstration of the solid relationship that Pirelli has managed to establish with Dorna, the FIM, the teams and the riders, thanks to the constantly improving quality, reliability and performance of its tyres.
Race action
Gregorio Lavilla, WorldSBK Executive Director for DWO: "Pirelli has proved time and again to be a perfect match for WorldSBK as our sole Official Tyre Supplier. Not only does our partnership ensure a great level of quality and performance to our teams and riders throughout the season on a wide variety of venues, but they also completely embraced the values and philosophy of the Championship by bringing to the race track the products they offer to motorcyclists. WorldSBK has evolved through numerous eras and phases since we started to work with Pirelli and the fact that we've been building on this mutually beneficial collaboration over the past 20 years is unprecedented. So, it's with great enthusiasm, that we're looking towards the future of WorldSBK and Pirelli together as the Championship evolves and new challenges arise."
Aldo Nicotera, Senior Vice-President and Head of Moto and Cycling Pirelli: "This year we are celebrating an important milestone: in fact, it has been 20 years that we have been alongside the FIM Superbike World Championship as Sole Supplier for all classes. A road, begun in 2004, which represented the first example of a single-tyre formula in the history of top motorsport competitions and which, years later, has proven to be a winning choice, later followed by other championships. Motorsport has historically been an integral part of Pirelli's DNA and this renewal is in line with our corporate strategy which sees World Superbike as a key platform for the development of our motorcycle tyres, starting with racing and super sports tyres. We are happy to continue this adventure alongside Dorna, the teams and riders until 2026 whilst continuing to offer motorcyclists from all over the world tyres that contain the best of Superbike-derived technology".
By applying the production-derived philosophy also to the tyres, since 2004 Pirelli has decided not to supply the Championship with prototype solutions but instead with normal production tyres that can be purchased by anyone on the market. In addition, Pirelli's single-tyre formula has allowed all the riders and teams to compete for victory over the years, being able to count on an equal supply of tyres for all.
From the beginning, Pirelli has had a triple role: it has been a technical partner as a tyre supplier, a sponsor of the championship but also a marketing partner, actively contributing to outlining the identity and qualities of the World Championship which have always distinguished it from other motorcycle competitions.
All this while remaining a forerunner and interpreter of market trends and needs by continuing to innovate technologically and setting new standards and benchmarks for racing tyres used all over the world. In 2013, as the first company in history, Pirelli abandoned 16.5-inch tyres in motorsport in favour of the new 17", a size more commonly used by motorcyclists on the road. In 2018, the transition to larger sizes, 125/70 front and 200/65 rear and, in more recent years, the introduction of new solutions in very soft compounds such as the SCX and the SCQ capable of offering riders even greater performance