HUAWEI MateBook E, 2-in-1 laptop for ultimate flexibility with high performance
The most usable 2-in-1 laptop is available in the Greek market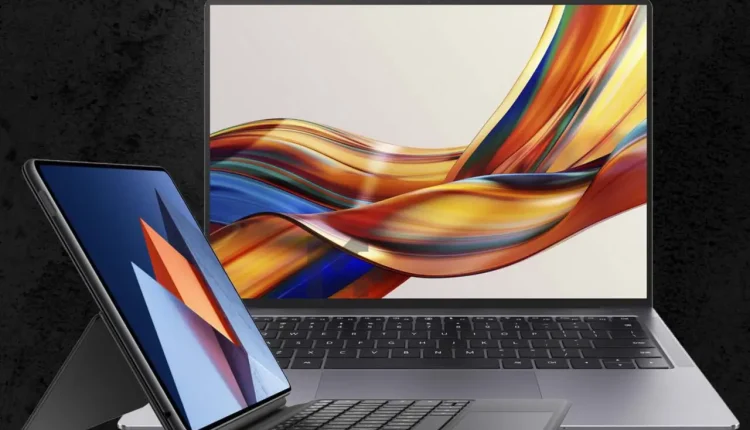 Do you want to be able to work, plan, read wherever you are, at any time of the day? If so, then the new HUAWEI MateBook E is Huawei's special 2 in 1 laptop that is designed to remain productive and functional without time restrictions and is finally available in the Greek market.With a flexible hybrid design, highly advanced features, high performance and impressive multimedia capabilities, the new 2-in-1 device is a powerful tool that combines the advantages of traditional laptops with the flexibility of tablets so that users can enjoy a faster and more efficient work experience wherever they are.
Inspired by the principles of minimalism, the new HUAWEI MateBook E is a particularly lightweight laptop, which is very easy to carry and has the most unpretentious and simple design you've come across. It's HUAWEI's first laptop with an OLED Real Colour FullView display, with an unbeatable color gamut and accuracy and maximum brightness at 600 nits for an uninterrupted viewing experience even under sunlight.For the first time, the HUAWEI laptop is compatible with the HUAWEI M-Pencil (2nd generation), with an extremely fast response (2 milliseconds minimum delay) and which additionally supports increased pressure sensitivity (4,096 levels of pressure sensitivity), for a more natural writing feel. The HUAWEI MateBook E is also compatible with the HUAWEI Smart Magnetic keyboard that enables the user to adjust (in a wide range) the opening angle as it suits them each time.
In addition, HUAWEI MateBook E can connect to other Huawei devices or gadgets, such as smartphones, tablets, headphones and more, for a more enjoyable and flexible user experience. By converting this 2-to-1 laptop into a type of portable production station, all the new features are harmoniously combined to serve more and more scenarios of its use, whether the user is at home, in the office, or wherever he wishes.
Lightweight, portable and with high performance
Genuine representative of the most modern aesthetic and the most advanced design, the HUAWEI MateBook E is also incredibly light (weighs just 709 grams) and extremely thin (7.9mm thick). Its rounded edges, which we are not used to seeing in conventional laptops, make its grip more comfortable and of course give it a refined "air".
The HUAWEI OLED Real Colour FullView display of 12.6 inches has a body ratio of 90%. It reaches 600 nits of maximum brightness, has a P3 color gamut, while the color accuracy is unusually high (DE < 1). All of the above ensure the excellent viewing of any content on the screen, whether you are indoors or outdoors, without compromising on sharpness and brightness. Moreover, the blue color filter effectively protects your eyes from harmful blue light, and is the first HUAWEI laptop with TÜV Rheinland Full-Care Eye Care 2.0 certification, ensuring the overall protection of your eyes.
With an Intel CoreTM i5 11th generation processor, Intel Iris Xe graphics, up to 16GB of dual-channel RAM and up to 512GB of PCle SSD, you can do as many tasks as you want at the same time without worrying about the adequacy of storage space. The independent fan and the eight layers of heat dissipation ensure that overheating is avoided by keeping the HUAWEI MateBook E cool during use.
Laptop and tablet at the same time
The screen of the HUAWEI MateBook E can be separated and used like a professional tablet. In this format, if you want to write something or make a presentation, HUAWEI MateBook E in combination with M-Pencil can offer an unexpectedly enjoyable and user-friendly experience.
As it is the first HUAWEI laptop to support HUAWEI M-Pencil, you now have the opportunity to write with great ease. Huawei M-Pencil in addition to increased sensitivity (supports 4,096 levels of pressure sensitivity), is also fast (with just 2 milliseconds of minimum delay) and does not face any problems when writing with some inclination. With a double tap, you can add extra features to further boost productivity.
Pre-installed Windows 11 has optimized features for a touchscreen to address the problems that may arise when users decide to use their 2-in-1 laptop in the tablet format. Thus, the operating system, by supporting movements with many fingers to switch tasks, makes control of these tasks even more efficient and leads to a better experience of using the device as a tablet.
The HUAWEI MateBook E has four microphones and four speakers. HUAWEI SOUND takes advantage of hardware and software algorithms resulting in the new laptop having unrivalled sound. The noise from the surrounding area is drastically reduced due to the AI Noise Reduction that HUAWEI has developed and the speaker's voice during the call is enhanced. Also, the sound adjusts automatically and depending on whether it is music, movie, game, or just a call.
The front and rear cameras are equipped with high-resolution sensors and large aperture lenses, while the HUAWEI MateBook E's antenna would be designed in such a way as to offer a fast connection for everything, while streaming multimedia content or an online call for the job.
No more obstacles between devices
The easy-to-use and varied MateBook E features is a 2-in-1 laptop and tablet that combines the strongest points of the two types of devices. However, the extra smart office features take its usability to another level.
Get ready for the complete removal of restrictions between devices, achieving not only the seamless transfer of data from one device to another, but also the sharing of their hardware capabilities. With Super device mode, all connected devices can interact and snap together. This way, you will be able to use them at the same time as if they were only one.
The future of mobile productivity
Technological progress has facilitated the implementation of a new working model which is becoming increasingly popular. Known as the "hybrid working model", it is characterized by the ability that gives employees to choose the place where they want to work. Working remotely on the one hand has created new career opportunities, but on the other hand it seems to "require" employees to be constantly productive.To achieve this, users are asking for more targeted and tailored solutions. HUAWEI, recognizing all of the above, continues to invest in products that help users and evolve the range of their capabilities. One such product is the HUAWEI MateBook E, which came to become the most popular 2-in-1 laptop at a time when more and more are adopting the hybrid working model.
The new HUAWEI MateBook E is available today, May 3, in the Greek market through the company's official network of partners, as well as the www.huaweistore.gr. Huawei Watch GT3 is available as a gift until May 15th or until stocks run out.