Huawei and Lancom work together for data centers in Greece
Huawei and Lancom signed an agreement for the dynamic development of the Data Centers sector more broadly in the Balkans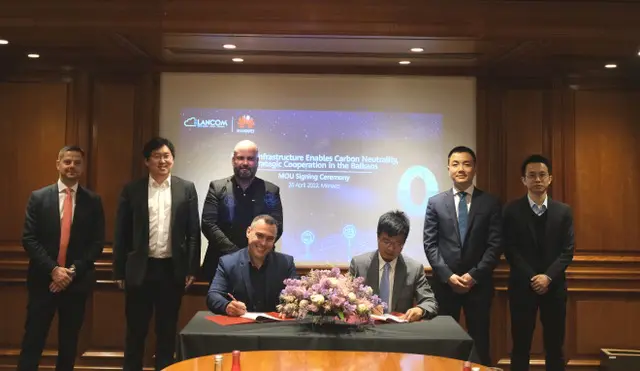 Huawei Digital Power signed a Memorandum of Understanding (MoU) with Lancom, to further strengthen their cooperation in Greece and with a common vision of strengthening the Data Centers sector in the Balkans.
Lancom, as a large Greek, independent Cloud service provider with three privately owned Data Centers in Athens and Thessaloniki, is a long-term strategic partner for the safe and sustainable development of Data Center solutions in Greece.Huawei and Lancom signed the agreement as part of the Data Cloud Congress 2022 in Monaco. The event was attended by Jacky Chen, President of Digital Power Technologies CEE&Nordic.
By signing the agreement, Lancom and Huawei jointly agree to develop the Data Center and Cloud Services market in Greece by providing innovative and highly competitive services across the industry.
"Based on the carbon-neutral trends and high power density requirements of recent years, Lancom and Huawei will promote and develop state-of-the-art Data Centers installation technologies, with the aim of building next-generation climate-neutral and unmanned O&M infrastructure," said Sam Zheng, CEO of Huawei Digital Power Greece.
"Lancom's strategic partnership with Huawei comes as a culmination of the common business mentality of the two companies. Our vision for the creation of new generation Data Centers, guided by innovation, respect for the environment and the implementation of innovative high-tech solutions, is realized with this agreement, opening up a new dynamic field of development in Greece and the wider Balkan region.", said Lancom's CEO George Nolis.
The aim of both is to establish themselves as leaders in the Data Centers industry in the Balkan region. The common goal of the two companies is to innovate, combining the production of energy from renewable sources, the distribution of high power, the free cooling as well as the prefabricated Data Centers solutions.
Lancom intends to integrate and implement the solutions proposed by Huawei for data centers in its proprietary facilities and in third-party projects. Also, within the campus of the "Balkan Gate" a strategic training center of Huawei will operate, providing practical experience to top talent from Balkan Universities, partners, experts of the public and private sectors, while creating new synergies that will add value to the industry.