KORRES gives a new "breath" to the concepts of innovation and sustainability, through its own Complete Cycle of 6 KORRES Labs that it has created – an effort that began in the 90s – marking the path of each product from nature to the skin and back again.
There are six laboratories, at the core of which is the network of ethical collaborations, the zero-waste extraction of herbs, the scientific research, the development of compositions with high standards and sustainable production methods, as well as the emphasis on aesthetics, and finally recycling.
These workshops express, according to the company, the vision of a complete cycle of value choices and, indeed, if you look at them in more detail, you will understand that nothing in the way they were inspired and created is accidental. It all starts with the Soil Analysis Laboratory, which is based on the ethical search for raw materials and ethical collaborations.
Through this, the company collaborates with more than 30 small organic farmers and 5 agricultural cooperatives, protecting biodiversity and promoting organic farming in Greece.
Having purchased the herbs it needs from the network of Greek growers, KORRES' effort continues in the Extracts Laboratory, which has been created in collaboration with the School of Pharmacy of the University of Athens. It is an environmentally friendly and certified laboratory,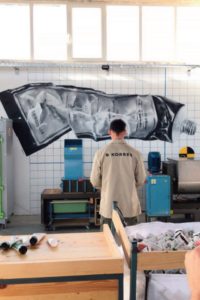 aiming at the extraction and isolation of natural active ingredients, in order to produce clinically effective extracts of high quality.
Only natural solvents are used, while the residues from the extraction process of herbs are converted into a biological fertilizer which "returns" to the soil. The next step is taken at the Molecular Research Laboratory. Primary research is in the DNA of KORRES.
Through a network of strategic collaborations with the international scientific community and comprehensive research, the brand's scientists deepen the study of plant actives at the cellular level, seeking the proper use of nature's "treasures". The Development Laboratory is the heart of the process of creating KORRES products.
A team of women scientists focuses on the development of natural cosmetics that are safe and effective, avoiding hundreds of ingredients. More than 500 stability, safety and efficacy measurements are carried out for each product.
Aesthetics and design have always been a key element of KORRES products, with the in-house Design Laboratory also focusing on designing sustainable solutions from product packaging to projectors – and the cycle is almost "closing". We say "almost", because the Complete Cycle of KORRES is actually completed in the Recycling Laboratory, the point at which "plastic, paper and glass are given a second chance", as the company says.
Through a comprehensive recycling program – and with the help of pharmacists and consumers – the company collects empty cosmetic packaging and converts them back into raw material or art objects that return to the hands of recyclers. In this way, it achieves its goal, which is none other than to coexist in harmony with nature and to pave the way for a cleaner planet.