Hellas Direct among the 1,000 fastest growing companies in Europe for the third time
Five Greek companies were among the fastest growing companies at European level on the Financial Times list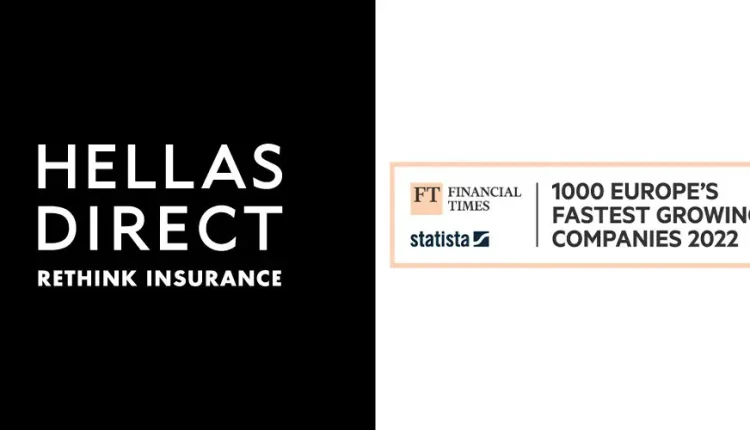 Hellas Direct, the insurance company, was selected again this year by the Financial Times as one of the 1,000 fastest growing companies in Europe and won a place in the FT 1000 list. This is the third time that Hellas Direct has won a place in this list, as it was also distinguished in 2021 and 2019. This year's ranking assessed the annual growth rate of revenue between 2017 and 2020. Among the thousand fastest growing companies in Europe five are based in Greece and three in Cyprus.
The FT 1000 has been compiled by the Financial Times for the last six years on the basis of data from Statista. The process was open with a public invitation to all potential candidates.At the same time, Statista identified companies in Europe that could take part in the competition and invited them to participate. The registration process was completed on December 31, 2021. The distinction from the Financial Times comes a few days after the co-founders and executive directors of Hellas Direct, Alexis Pantazis and Emilios Markou, took the lead in the EY Entrepreneur Of The Year Cyprus 2022 competition.
"An important year for Hellas Direct has left and an equally important year begins. We have taken our first step in providing financial services with wallet+ and we are ready for our expansion in Southeastern Europe. The new distinction from the Financial Times makes us happy and proud. We would like to thank our team, which remains united, creative and committed to our common goals", said Emilios Markou, co-founder and executive director of Hellas Direct.
"We are honored to make Hellas Direct one of the one thousand fastest growing companies in Europe for the third time. Our growth is a result of the hard work and the excellent cooperation of our team members. Every recognition, every distinction confirms that we are on the right track for our goal, namely to make the lives of our customers easier", added Alexis Pantazis, co-founder and executive director of Hellas Direct.
Hellas Direct is a purely digital insurance company based on the latest technology and the use of advanced analytics. It operates in Cyprus and Greece with home insurance and car, motorbike and home insurance respectively. Its long list of investors includes, among others, the European Bank for Reconstruction and Development, the European Investment Bank, Portage Ventures and the IFC (a member of the World Bank).