Heineken: Its new beer is brewed with… pixels!
The company unveiled virtual Heineken Silver, which is expected to conquer the world of Metaverse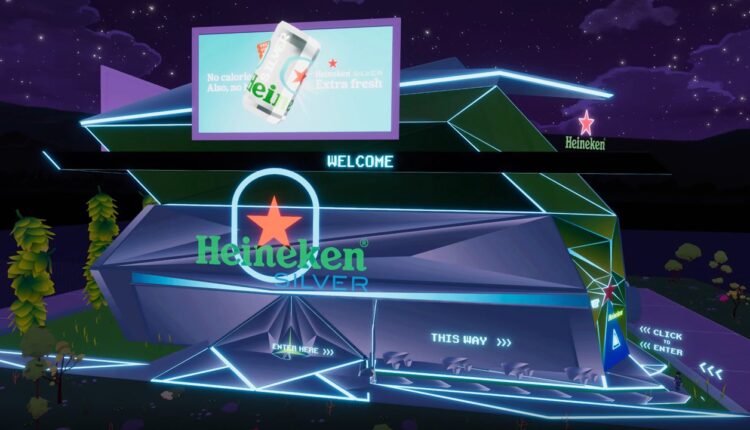 Heineken unveiled its first, brand new virtual beer, Heineken Silver exclusively at Heineken's virtual brewery, on the exciting digital platform, Decentraland.
In the real world, Heineken is popular for its uncompromising quality, which has been perfected through decades of innovation in brewing. Now the same expertise that made Heineken world-famous is undergoing a high-tech transformation to conquer the fascinating world of metaverse, one pixel at a time. Heineken has always had a passion for natural ingredients, but in the metaverse everything revolves around the best, 100% digital materials.
The unique A-Yeast, usually prepared in horizontal tanks, is now replaced with A-Pixels. Forget the hops collected in the fields, the virtual Heineken Silver is made with Binary Coded Hops grown by NPC farmers (automated). And of course, the whole process of virtual brewing is overseen exclusively by virtual brewers, digitized replacements of the famous Heineken brewers.All these elements are combined to develop a unique beer that visitors to Heineken's virtual brewery in Decentraland will be able to explore in the virtual world.
The virtual beer was unveiled at the product launch event at Heineken's virtual brewery in Decentraland, where guests discovered how beer is made in seconds while enjoying virtual snacks and chatting with Heineken ambassadors, including Thierry Henry.
"At Heineken, we believe that connecting with humans is vital to human existence and we know that metaverse brings people together, in a light and exciting way. It is not, however, the best place to try a new beer. Our new virtual beer, Heineken Silver, is an ironic joke. It's a conscious idea that parodies us and many other brands that are in the metaverse with products that we enjoy best in the real world. At the moment, you can't test pixels and bytes.
So we want to emphasize the oxymoron and remind everyone that nothing surpasses the taste of a refreshing beer in the real world, including the new virtual Heineken Silver.", said Bram Westenbrink, Global Head of Heineken Brand.
To add more interest to the metaverse and virtual Heineken Silver, Heineken teamed up with Spanish self-taught street artist J. Demsky to help design parts of Heineken Silver's virtual environment.
To discover the J. Demsky-inspired virtual environment of Heineken Silver and enjoy the endless reserves of Heineken's new virtual beer, just visit the link.