Fleksy: Intelligent Touchscreen Keyboard Announced New Android Version, While International Growth is Picking Up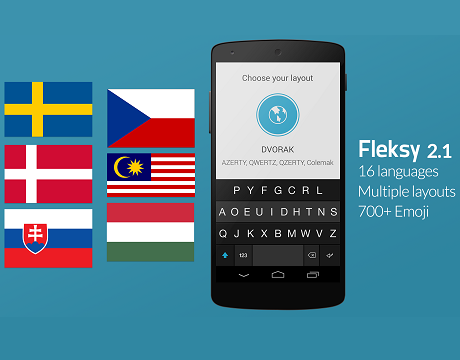 Fleksy is a startup company founded in the USA by a team of Greeks, that develops an alternative touchscreen keyboard for Android and iOS devices, allowing users to type accurately, almost without even looking at the keyboard.
The company today announced the release of Android version 2.1, aiming at boosting its international growth while two thirds of Fleksy downloads are coming from outside of the United States.
The release introduces dynamic layouts for international languages, including AZERTY, QWERTZ, and QZERTY keyboard layout options and also introduces support for alternative keyboard layouts, DVORAK and Colemak.
The release also adds support for several new languages including Swedish, Hungarian, Danish, Slovak, and Czech, taking the total number of languages supported by Fleksy to 16.
So far, Fleksy has been downloaded in 205 countries, with countries like Germany, India, Russia and Italy in the Top 10.
In a press announcement Kosta Eleftheriou, Founder and CEO, is quoted saying the company receives get 35,000 users requests for their language to be supported by Fleksy, while Ioannis Verdelis, founder and COO, says that Fleksy has been adding support for one new language a week since launch, and will be accelerating this push in the coming months.
Verdelis, talking to greek online business news portal EMEA.gr, is quoted explaying that while competing applications are well-optimized for the english language, Fleksy using its own patent-pending geometrics intelligence technology is able to predict fast the words a user is trying to type not only in english but also in supported local languages by interpreting their fingers' touches on near letters, allowing even vision-impaired users to type accurately.
Fleksy has recently received a $3mn founding round after launching in February and has expanded to a team of 13 people. Apart from 60 partnering developers on iOS and a big user base on Android, the keyboard will be featured as a launch partner in Samsung's next smart watches, allowing users to type messages even on a small watch screen.