Epsilon Net enters the e-commerce market with 51% of DIGITAL4U
Epsilon Net acquired a majority stake in the company active in the digital marketing sector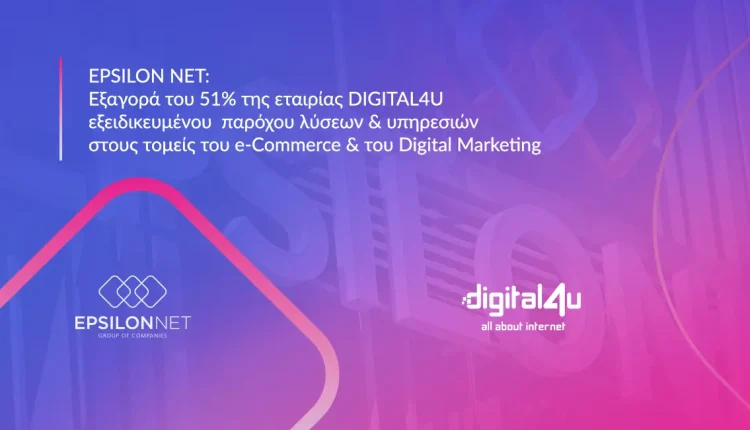 EPSILON NET announced the acquisition of a 51% (majority) stake in the company under the name DIGITAL4U, which is active in the field of e-Commerce and Digital marketing.
DIGITAL4U was founded in 2013, with the aim of formulating an integrated Internet Communication Strategy for each business as an IT and Internet service provider. It has extensive experience in creating e-shop/ e-commerce solutions, both in construction / optimization, as well as in promotion, offering a full range of solutions, depending on the goals of each business.
The company operates throughout Greece, employs 32 specialized executives and specializes in the fields of E-Shop and e-Market Solutions, Web Design and Development, Advanced e-Commerce Solutions, B2B Platform, Performance Marketing, Digital Branding and Search Engine Optimization (SEO).
During the 9 years of operation, DIGITAL4U has managed to attract some of the most popular brands in the Greek market and to introduce innovative solutions in the constantly evolving field of online marketing. It has been awarded, both in international and domestic competitions for its projects in e-Commerce and SEO.
DIGITAL4U's turnover for 2021 amounted to 1.36 million euros, increased by 27% compared to 2020, while the estimated earnings before interest, tax, depreciation and amortization (EBITDA) amounted to 229,000 euros, increased by 75% compared to 2020. The company on December 31, 2021, had zero bank lending while its cash stood at 314,000 euros.
51% of DIGITAL4U will be transferred to EPSILON NET. The total price for the acquisition of 51% of the company will amount to 0.5 million euros. Also, with the agreement of the parties, at the General Meeting on 14/04/2022, an increase of the Company's Share Capital will be decided after the completion of which the percentage of Epsilon Net will reach 60% in the M.C. of DIGITAL4U.
The remaining percentage of the company will continue to belong to its main founders, among them Christos Kostoulas, who will continue to perform his duties as CEO, while maintaining 24.5% of DIGITAL4U (after the expected share capital increase will be 20%).
This acquisition, a continuation of the company's methodical moves to expand into complementary products and services, strengthens the company's strategy to provide integrated solutions to its customers, implements EPSILON NET's design for entry into special vertical markets, providing innovative solutions aimed at expanding its customer base, and is also a key step for the Group's entry into the rapidly growing market of e-shop /e-Commerce and Digital Marketing providing complete end-to-end solutions for every business.
The Group continues its business planning at the level of continuous organic growth, while at the same time it proceeds to acquisitions and technological collaborations with the aim of increasing its market shares and total financial sizes. Its strategic goal remains the continuous production of value for staff, partners and shareholders, as the largest Business Software Group in Greece.