CERTH joins forces with Pfizer's hub to develop NLP and machine learning software
The Centre for Research and Technology- Hellas (CERTH) has signed a Memorandum of Understanding with the Pfizer Digital Innovation Center for the development of innovative software based on state-of-the-art technologies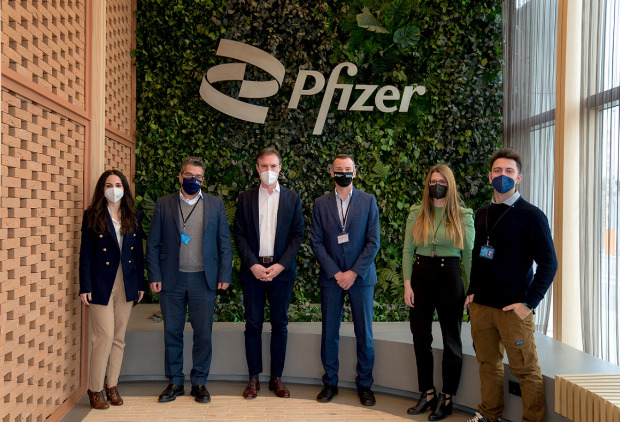 A Memorandum of Understanding with the Centre for Research and Technology-Hellas (CERTH) was signed by Pfizer's Center for Digital Innovation (CDI) in Thessaloniki, with this agreement documenting its first strategic collaboration with the city's innovation ecosystem and already progressing in practice.
The first project implemented, in collaboration with the Institute of Information Technologies Institute (ITI) of CERTH, concerns the development of software in the form of an intelligent agent, which will conduct a dialogue and answer questions from health professionals and patients. The software will use natural language processing (NLP) and machine learning technologies in order to understand the questions and compose appropriate answers.
"The importance and usefulness of the development of such software, which became even more evident during the pandemic, can contribute significantly to valid information, as well as to the improvement of the communication experience with patients and healthcare professionals," is underlined in the announcement by the Pfizer CDI, which also clarifies that the framework of the cooperation between the two institutions includes the implementation of research and innovation projects, highlighting the important research results produced, but also the possibility of utilizing them in innovations that change the lives of patients.
Nico Gariboldi, head of Pfizer's Digital Innovation Center, pointed out that the Center's strategic priority is to promote partnerships with the ecosystem of Thessaloniki, aiming at innovations that improve patients' lives and stated that "the signing of the Memorandum of Understanding marks the beginning of a creative collaboration with a significant impact for both Pfizer and the Digital Innovation Center as well as CERTH through joint projects, that always have the patient at the heart of it."
Dimitrios Tzovaras, president of CERTH, noted that through this collaboration, one of the most important objectives of the research center is being realized: its contribution to the provision of solutions that bring multiple benefits to citizens."