International entrepreneurship and global orientation combined with innovation is the future of entrepreneurship for large multinationals but also for SME's and startups. This is the direction large companies but also SME's have already started shifting to. That was the main conclusion of the first CAPITALS Business Circle meeting.
As EMEAstartups.com has recently presented, CBC is an exclusive network building trusted communities connecting senior managers and business owners with officials from Diplomacy and Politics, creating a unique mixture of high ranking professionals and turning networking into innovation.
The first meeting was held in Berlin and according to CBC leadership team talking to EMEAstartups.com, the event was overbooked with a very low non-show percentage. High level guests from different sectors, such as diplomacy, politics, economy, business etc. attended, while the guests came not only from Berlin, but also traveled from other cities and countries such as Hamburg, Frankfurt, Athens, Greece, and Prague, Czech Republic, proving the internationality of the crowd and the high interest generated.
The discussion revolved around Berlin as an international business and entrepreneurship hub in a global competitive environment and the main points made by the high ranking speakers such as Dimitris Tsigos, Michael Bültman, Nikolas Woischnik, Christian Wiesenhütter during the debate was that although Berlin is currently experiencing a big boom of the startup scene and a  business "orgasm" of creativity, it's still lacking the mentality, the connections between universities and big companies and funding sources to compete with Silicon Valley or even London at european level. Though was mentioned that the trend works for Berlin, perhaps the present is the Silicon Valley globally or London in Europe, but Berlin is the future.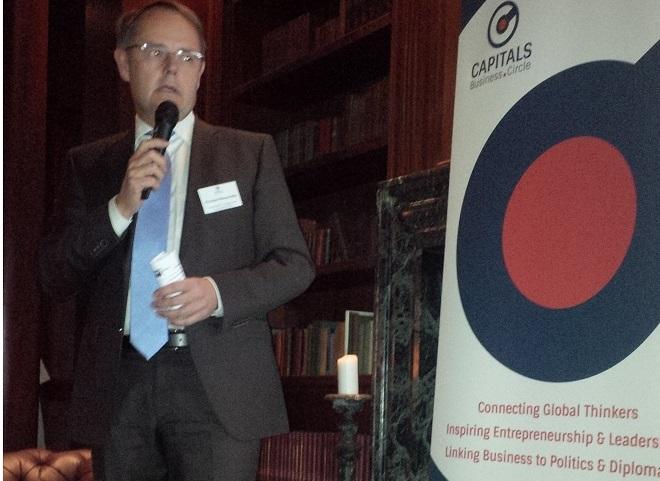 Apart from funds that are already "scanning" Berlin's high-tech scene, a lot of multinationals seem to acknowledge Berlin's potential as well, transferring their offices to Germany's capital city, but what it's needed to be done, speakers concluded, is for big corporations to move their R&D facilities to Berlin – in order to foster that innovation booming – rather than their headquarters, following Nokia's example, when the Finnish giant moved its R&D facilities from Bochum to Berlin.
As far as Europe is concerned, although it's the biggest economy and the biggest market in the world, it still moves slowly in comparison with the USA, with no support to entrepreneurship neither in Berlin nor in other parts of the continent. Speakers concluded that Europe needs to take steps to change regulatory framework, culture and education in order to turn more people to entrepreneurship rather than the public sector or being employees in large corporations.
CBC leadership team announced during the event that a lot of partnerships have already been established and the official announcements will roll out in the months to come, but according to the organisers plans shared with EMEAstartups.com, the partnerships include the European Federation of Young Entrepreneurs and the Hellenic Startups Association.
The next CBC meeting will be held in Berlin on March and it will be featuring Artur Fischer, the CEO of Berlin Stock Exchange and CEO of Equiduct Trading on a keynote speech titled "The perspectives and trends of Berlin Stock Exchange & Equiduct Trading  and the local markets generally. The investments trends at stock markets in 2014". Fischer was the "Architect" of DAX 30 of the Frankfurt Stock Exchange and he will give participants an inside and international view about stock markets.