Boissée Finances invests 33.4 million euros for a new hotel in Athens
The aim is to upgrade the neighborhood of the Archaeological Museum where the so-called Ibis Athens Museum Hotel will be housed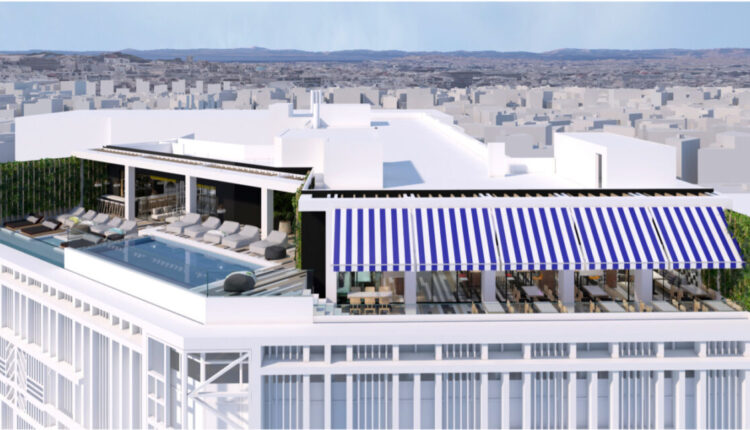 The French investment company Boissée Finances is planning a major investment in the area of the Archaeological Museum of Athens which, in the first stage, includes the construction of a new hotel unit, called Ibis Athens Museum Hotel, at the junction of 28th October and Marni streets, just opposite the Museum. The unit will house two well-known, international, hotel brands, Ibis Styles and Ibis Budget, three and two stars respectively, which will be managed by the company Elastik Hotel.
The Ibis Athens Museum Hotel will have a total capacity of 327 rooms (637 beds), which will be distributed over the nine floors of the building, while it will have 127 parking spaces in its four basements. On the top floor there will be a restaurant, bar, swimming pool and pool bar, in a special area, accessible to non-hotel guests, which, on a 24-hour basis, will combine an environment of service and entertainment overlooking the Acropolis, Lycabettus Hill, Strefi Hill, the Archaeological Museum and Pedion Areos Park.
The architectural approach to the design of this unit utilizes and is in line with the wider presence of historic buildings in the area, especially that of the Archaeological Museum. The location of the new hotel and the elements incorporated in its design (ancient symbols, sunshades, etc.), aim to make it a new distinct point of the city, while it will will contribute decisively – economically and aesthetically – to the overall regeneration of this region.
"Athens is a destination with unique characteristics: it combines the magic of the past with the vitality of the present. The location of the new hotel is emblematic and we hope with our investment to offer a high quality experience to those who choose to travel more economically, keeping quality high.", stated Eric Rollin, General Manager of Boissée Finances.
It is worth noting that the property on which the building will be built belongs to the Trianteio Vocational and Industrial School of Patras with which a fifty-year long-term lease contract has been signed. This lease will allow, financially, the School to continue its work, ensuring sufficient resources for its operation, while upon its expiry, it will come into possession of the building-hotel, an important property.
The architectural design has been undertaken by PAVLOS NINIOS ARCHITECTS PLANNERS & ENGINEERS – CAPE CONSULTANTS. Each point of the study was developed taking into account the urban landscape, the particularities of the area, utilizing sustainable materials and ensuring the access of people with disabilities to all areas of the hotels.
"After many decades of abandonment and total obsolescence of these plots, the restart of the area and the recovery of its lost glory are marked. The area of the Archaeological Museum of Athens will be transformed into a modern urban and tourist destination, combining culture, relaxation and enjoyment of high quality services.", said the architect Pavlos Ninios, head of the study.