What skills are required from high-ranking company executives to create sustainable organizations that generate long-term value and cause an equal impact on people, customers and society?
A new study by Accenture and the World Economic Forum (WEF) focuses precisely on the set of 21 management practices, systems and processes that is the cornerstone of a strategy that allows organizations to implement sustainability goals.
This is the "Shaping the Sustainable Organization" survey which shows that ESG (Environment, Society and Corporate Governance) intentions and objectives of businesses exceed their ability to achieve them. The study suggests three steps that companies need to take to create holistic value:
•Diagnosis: Evaluation at a high level using diagnostic tools that reveal areas of the business where sustainability DNA is stronger and areas where reinforcement is needed.
•Definition: Identification of key interventions that are necessary to achieve the company's sustainability goals.
•Development: Creation of a roadmap – based on the company's vision for change – with a clear set of indicators (KPIs) to measure progress on the enhancement of sustainability DNA on an ongoing basis.
"The overall impact of COVID-19 has made us realize that businesses need to meet the needs of all interested parties," said world economic forum founder and president Klaus Schwab, stressing "By investing in organizational practices, businesses will be better positioned to achieve their economic goals, while contributing to social well-being and the common good.
"Global environmental and social challenges are turning the tide in business," said Accenture's Chief Responsibility Officer and Global Sustainability Services Lead, Peter Lacy, and added: "But our study with the World Economic Forum found that organizations that build value for all stakeholders at the core of their organization and leadership enjoy significantly better sustainability performance.
These pioneers use new ESG technologies and datasets to create more sustainable and resilient supply chains, systematically harness the innovative power of diversity and grow by putting the needs of stakeholders at the heart of products, services and new markets. Those organizations that delay or ignore the current situation to prepare for future risks endanger being left behind.
To assess the power of sustainability DNA in companies worldwide, Accenture and the World Economic Forum created the Sustainable Organization Index (SOI), which asesses 4,000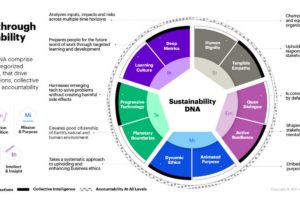 companies based on the tangible results of ESG practices in 146 sectors. Organizations in the first quadrant of SOI show significantly stronger performance compared to those with lower or less consistent scores. In particular, companies with equal strong Sustainability DNA achieve an average increase of 21% both in their EBITDA and in their environmental and social impact.
According to the study, the integration of Sustainability DNA leads to behavioral changes across the spectrum of organizations in three ways, encouraging human relationships and connections, enhancing collective intelligence, and promoting accountability at all levels.
Overall, companies tend to score higher on factors related to 'human relationships and connections' (average SOI=57), reflecting their ability to engage stakeholders, but are weaker in factors related to 'collective intelligence' (47), which indicates the difficulty of leadership groups to focus on stakeholders.
Overall, the average score across all companies in the SOI was only 52/100, indicating that most companies have significant scope to further enhance their Sustainability DNA.