Warply launched chatbot for AI loyalty service
The company released an AI-based chatbot service aimed at automatically serving its clientele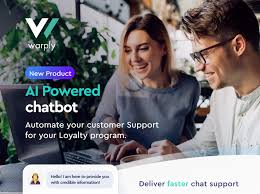 Warply, one of the largest companies in the field of mobile loyalty for payments, released an AI-based chatbot. This is a new product in the context of service automation in terms of loyalty programs.
The chatbot undertakes the information and support needed by the members of the loyalty programs in all communication channels, applications and sites. Specifically, a digital assistant responds to any kind of relevant information depending on the services or the working schedule of the brand, bank or business it serves each time.
The virtual assistant works with artificial intelligence, using a complete software for live chats, enabling marketers to automate their conversations in real time, offering a personalized experience to their customers. The user simply logs into a database for loyalty programs such as perks and benefits.
Through its cloud loyalty marketing platform, Warply generally enables businesses to increase their sales through reward programs, including personalized and predictive messages, coupons, proximity marketing and innovative solutions such as merchant wallet options and digital financial management solutions for business banking, or Keyboard Payments – a holistic banking solution with machine learning, compatible with PSD2.
Warply's services focus on a variety of pieces of user experience, campaign management, data, marketing, growth, and strategy to help businesses increase their engagement and sales through the knowledge they offer at the adtech and martech level.