Vodafone TV: Rich program with exciting series and movies for 2022
Vodafone TV offers an impressive program, available without a set-top box and commitments, for just 6.30 euros per month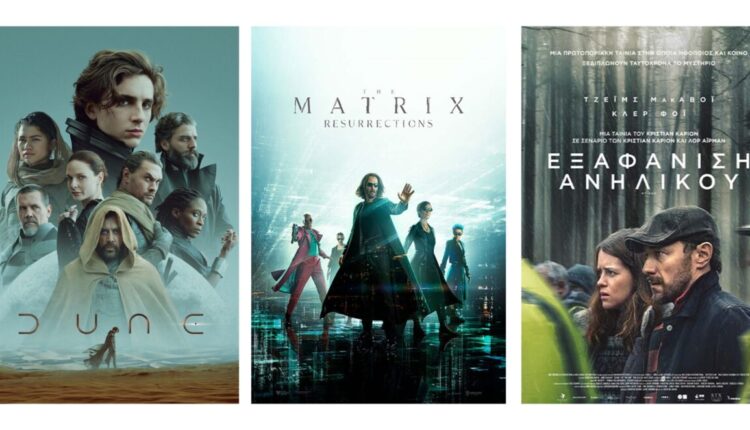 Vodafone TV, HBO's home in Greece welcomes 2022 with a rich program that includes exciting content, with cinematic premieres and great HBO and HBOMax exclusives and is available on all networks, without a set-top box and commitments, for just 6.30 euros per month and it is free of charge for the first month.
"Euphoria" – Season 2
It is written and directed by Sam Levinson, while the Emmy Award winner Zendaya is playing the lead.HBOMax's "Euphoria" returns to Vodafone TV with its second season.
Among the intertwined lives of the city of East Highland, 17-year-old Rue (Zendaya) must rediscover hope while balancing the pressures of love, loss and addiction.
"Peacemaker"
HBOMax's "Peacemaker" explores the story of a character of the exciting DC Extended Universe that cinema audiences met and loved in "The Suicide Squad", of
Christopher Smith or Peacemaker, a spectacularly vain man who believes in peace at any cost, no matter how many people he has to kill to obtain it.
In the series star John Cena (Peacemaker), Danielle Brooks (Adebayo), Freddie Stroma (Vigilante), Jennifer Holland (Harcourt), Chukwudi Iwuji (Murn), Steve Agee (Economos) and Robert Patrick (Auggie Smith).
"The Gilded Age"
The American Golden Age was a period of enormous economic change, a great conflict between the old and the new, the huge fortunes that came and were lost. As part of this transformation, HBOMax's "The Gilded Age" begins in 1882 with young Marian Brook (Louisa Jacobson) moving from rural Pennsylvania to New York after her father's death to live with her aunts Agnes van Rhijn (Christine Baranski) and Ada Brook (Cynthia Nixon).
"Somebody Somewhere"
Despite its vast plains and endless meadows, Kansas can become boring for someone like Sam Miller.In HBOMax's "Somebody Somewhere," inspired by the life of the comedian and singer Bridgette Everett, Sam (played by Everett) is local to the surface, but, beneath it all, she struggles to fit into Kansas' narrow mold.
"The Righteous Gemstones" – Season 2
From the creators of "Vice Principals" and "Eastbound & Down", HBOMax's black comedy "The Righteous Gemstones" returns to Vodafone TV for its second season and tells the story of a world-famous televangelist family, with a long tradition of deviance, greed and charitable work.
The second season finds the Gemstone family (Danny McBride, John Goodman, Adam DeVine, etc.) threatened by old and present acquaintances, aiming to destroy their empire.
New episodes from exciting series
Meanwhile, Vodafone TV brings new series from top studios. Like "Darkness: Those Who Kill," a thrilling Danish drama series full of brutal murders that spread a web of intrigue and deception for the police officers investigating them, starring detective Jan Michelson (Kenneth Christensen). But also the most legendary seasons of "Doctor Who" (seasons 1, 2 and 3), with the beloved, homonymous hero (David Tennant). But also the "Small Axe" that celebrates courage and
social unity in the changing London of the years 1969 – 1982.
At the same time, HBO's big hits continue on Vodafone TV, with new episodes, such as "The Sex Lives of College Girls" by Emmy-nominated writer and producer Mindy Kaling, and "And Just Like That", the new chapter of HBO's groundbreaking series "Sex and the City", which follows Carrie (Sarah Jessica Parker), Miranda (Cynthia Nixon) and Charlotte (Kristin Davis) as they navigate the journey from the complex reality of life and friendship in their 30s, to the even more complex reality of life and friendship in their 50s.
Cinematic premieres
"The Matrix Resurrections"
Back to a world, directed by Lana Wachowski ("The Matrix", "V for Vendetta"), which includes two parallel realities: That of everyday life and a second one that lies behind it. To find out whether his reality is a trick, to really get to know himself, Mr. Anderson (Keanu Reeves) should choose to follow the white rabbit once again. Of course, Neo already knows what to do. But what he doesn't know yet is that the Matrix is stronger, safer, and more dangerous than ever. Deja Vu! (At a special screening price alongside the cinemas 10.99 euros).
"Dune"
The French-Canadian director Denis Villeneuve brings to the cinema the amazing universe of the American science fiction writer Frank Herbert and presents "Dune", which has won the hearts of millions of people around the world. It is the fascinating journey of a mythical and emotionally charged hero, Paul Atreides (Timothée Chalamet), a brilliant and gifted young man born with a great destiny. As conflicts multiply over a super-precious resource, only those who can defeat their fear will survive.
"Night House"
In David Bruckner's psychological thriller, Beth (Rebecca Hall), upset by her husband's unexpected death, is left alone in the house by the lake she built for her. Not long after his death, disturbing visions of an eerie, charming presence in the house begin to nod to her. Seeking answers, she begins to search for her husband's things, to discover disturbing secrets.
In addition, Vodafone TV brings new premieres to the small screen, right after cinema, such as Christian Carion's "My Son", where James McAvoy and Claire Foy star, or "Shang-Chi And The Legend Of The Ten Rings" by Marvel Cinematic Universe (MCU), directed by Destin Daniel Cretton.
At the same time, Vodafone TV enriches the list of free movies with new additions.
Great educational content
Young friends of Vodafone TV can now enjoy content that will broaden their horizons, Through Brainy lessons, elementary school students can attend remediation classes, while children and teenagers can learn more about physics, electricity, programming and more, through the episodes of Generation Next.