For the strategic and effective interaction with the public, as well as for the imaginative promotion of a project through Event Management actions, the International Institution IPRA Golden World Awards (GWA) awarded V+O COMMUNICATION.It received 2 gold awards for two programs in the categories of Community Relations and Event Management, that were successfully designed and implemented last year. 
Specifically, the two gold distinctions of V+O include the IPRA Golden World Award for Excellence (GWA) in the category "Community Relations" for the social cooperative initiative "Future Loading" of Coca-Cola in Greece (Coca-Cola Hellas and Coca-Cola 3E), as well as the IPRA Golden World Award for Excellence (GWA) in the category "Event Management", for the strategic planning and organization of the presentation ceremony for the project of upgrading the lighting on the Sacred Rock of the Acropolis, which was carried out by the Ministry of Culture and Sports, with a donation and implementation by the Onassis Foundation.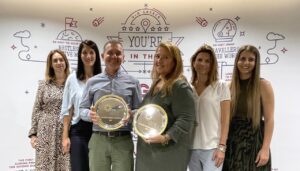 With this year's double distinction, V+O COMMUNICATION is the only independent greek Communication Consulting Company to date that has won a total of eight (8) International IPRA GWA Awards of Excellence. The course of V+O in the institution counts distinctions from 2014 to 2021 , three (3) of which concern a double distinction (2018, 2020 and 2021). In this year's event, V+O is among the 93 winners who excelled, in a year when the event reached and surpassed a record five-year number, on the entries submitted in the 37 award categories of the institution.
"Both programs that won the IPRA GWA award are unique and highly symbolic for us, because although they took place in an era with particular challenges for all of us, they managed to achieve excellent communication results and to distinguish themselves among programs of well-known PR agencies worldwide. Creativity, teamwork and dedication are deeply rooted in the DNA of V+O, whatever conditions may prevail.", said Mrs. Tonia Gogou, General Manager of V+O Communication.