Plenty: The Agritech Startup provides a solution to the food crisis with artificial intelligence as a "weapon"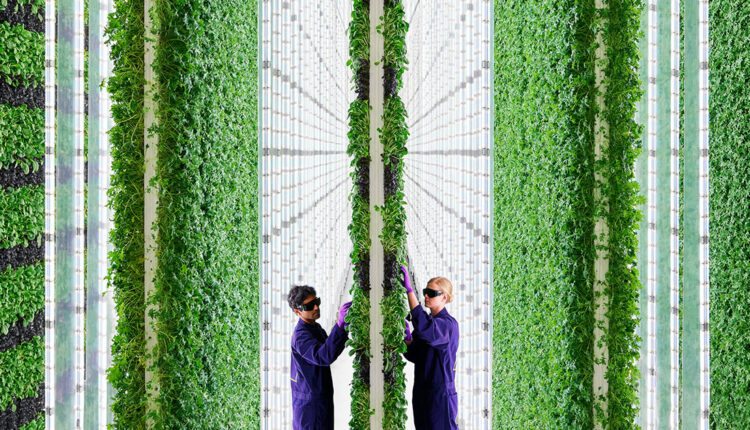 National Geographic recently predicted that by 2050, the food needs of an additional two billion people will have to be met. However, the irrigable land of the Earth remains essentially the same, therefore feeding this ever-growing population is becoming increasingly difficult. Vertical cultivation seems to be able to prove to be a critical tool for their feeding, and without the huge carbon footprint that comes with the transport of food from distant crops.
Agritech Startup Plenty, based in San Francisco, leveraging the potential of Artificial Intelligence, and redefining its strategy in terms of cultivation methods, significantly increased both the productivity and the quality of the products. Indicatively, the farms of the startup, while occupying only 8 acres, produce a harvest of fruits and vegetables of 2,913 acres. Plenty has achieved these amazing results using the vertical method of cultivation.
As Plenty states, its farm produces about 400 times more food per acre than a traditional farm. It uses robots and artificial intelligence to monitor water consumption, light and the temperature of the environment where plants grow. Over time, AI learns how to grow crops faster with greater efficiency and quality.
Among other things, the new technologies used by the company also help to save resources. The water is recycled and the evaporated water is collected again so that nothing goes to waste. The Startup estimates that this smart farm is so effective that it produces better fruits and vegetables using 95% less water and 99% less land, compared to "traditional" farms.
In addition to increasing production, Plenty's innovative technology eliminates the need for pesticides while protecting production from bad weather. External factors affecting traditional agriculture do not affect the vertical method of cultivation. This solution offers the best solution and aims to improve the quality of food and use fewer resources.
Nate Story, the co-founder and chief scientific officer of the Startup, believes that vertical agriculture and the technology implemented by the company have significant benefits for the world.
It is noted that Plenty is expected to expand soon to 430 stores in California and hopes to create more vertical farms both domestically and in other states.The climate-controlled vertical farms that are so promising have raised funding of 400 million dollars from former Google president Eric Schmidt, Amazon's Jeff Bezos and SoftBank.
The Greek Farmvent has presented a similar solution for shops and restaurants.