New joint management team will lead the merger of Nova and Wind
The integration aims at the further development of the telecommunications sector in Greece with the active role of the single provider through investments and the exploitation of the know-how of both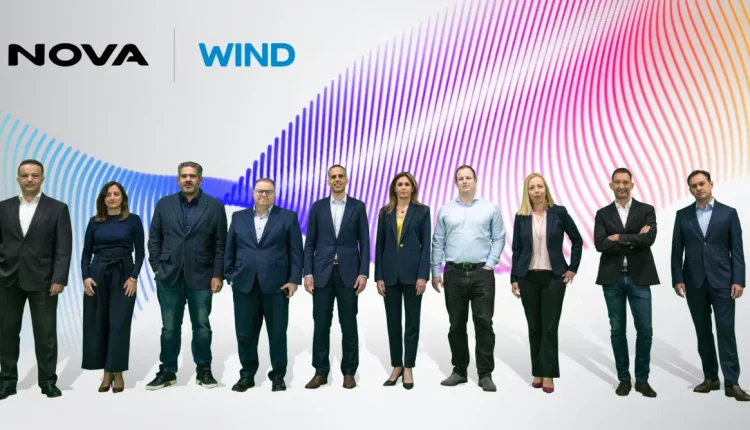 United Group has presented the new joint management team of Nova and Wind, which will lead the merger of the two companies, with the aim of creating an important pole, which will be a powerful provider in the Greek telecommunications industry with fixed and mobile telephony services, as well as pay-TV.
The new, joint management team consists of executives from Nova and Wind, combining the experience, market knowledge and know-how that the two companies have had for more than three decades. Together, Nova and Wind have a strong footprint in the Greek market, with about 5 million subscribers and a nationwide network of more than 200 stores.
The new management structure of Nova and Wind, in collaboration with the management of United Group, will now focus on the consolidation of the companies to create a new corporate entity, which will have the size, breadth and expertise to be a leading force in the further development of the telecommunications industry in Greece and the digital transformation of the country.
For United Group, the powerful telecommunications and media provider in Southeastern Europe, it is a commitment to offer top products and services to Greek individuals and businesses. Greece, with its strong potential, is an important and at the same time attractive market for United Group, which manages many of the most successful telecommunications and media brands in the region in which it operates.
As of 2020, United Group has already invested 1.4 billion euros in the project and it will invest an additional 1.3 billion euros in Greece over the next five years, focusing on priority areas such as the fibre optic network, 5G technology and pay-TV.
"There are people with amazing talents and abilities at Nova and Wind. We are pleased to have a very experienced management team that will lead the next phase, evolving and preparing the people in the two companies to make the most of the significant opportunities offered by the Greek market.", said Viktoriya Boklag, CEO of United Group.
Mrs. Boklag also added: "I would also like to thank Harry Kyriakopoulos for taking up the position of CEO of Wind over the past three months. During this transition period, Wind and its team maintained their excellent commercial momentum."
"It is an honor to lead the unification of Wind and Nova along with the other members of the new management team. I am excited about the prospects and potential that will emerge overall, as we combine two great teams to carry out a pivotal transformation for the industry.This is an excellent opportunity to evolve and expand the services and products we provide to consumers and businesses, showing even greater momentum.", stated Panayiotis Georgiopoulos, CEO of the Nova-Wind scheme
Soon the new Chief Technology Officer will be announced, while the members of the Nova-Wind joint management team will be:
•Panayiotis Georgiopoulos, Chief Executive Officer Nova – Wind
•Kiki Silvestridou, Chief Executive Officer Nova Media
•Georgios Lambrou, Chief Financial Officer
•Michalis Anagnostakos, Chief Marketing Officer
•Christos Noulis, Chief Commercial Officer
•Dimitris Papazafeiropoulos, Technical Chief Operations Officer
•Katerina Maniadaki, Legal & Regulatory Executive Director
•Giorgos Tsaprounis, Corporate Affairs Executive Director
•Maria Stergiou, B2B Executive Director
•Alexandros Bregiannis, Public Sector & ICT Executive Director