"My beach. Our Planet": Pernod Ricard Hellas promises a better future for Greek beaches and catering
The environmental initiative concerns the creation of standard beach bars for sustainable operation and the cleaning of Greek beaches in collaboration with the Environmental Organization iSea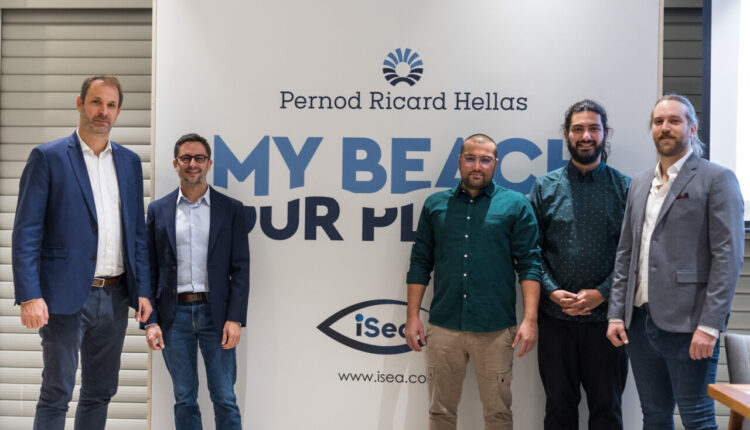 Pernod Ricard Hellas, following the group's global commitments regarding sustainability and social responsibility, carries out the environmental action "My beach. Our Planet" with the aim of creating a new culture of ecological and sustainable behavior on the Greek beaches.
Recognizing that a large percentage of its products are consumed on the beaches and aiming to balance the environmental impact of its operation in Greece, Pernod Ricard Hellas proceeds to a long-term commitment aiming to bring change both in the catering industry and the environment of the beaches of Greece.
In the context of the environmental initiative "My beach. Our Planet", Pernod Ricard Hellas is the first company in its field, which will train catering professionals to adopt sustainable operating practices of Greek beach bars. At the same time, under the guidance of the environmental organization iSea, specialized in coastal and sea pollution issues, and with the participation of its employees, Pernod Ricard Hellas invites volunteer citizens from all over Greece to participate in beach cleanings, rewarding them for their ecological choice.
The initiative will be launched in spring 2022 from Attica with the cleaning of 7 beaches and the training of beach bars near these beaches and is expected to create a significant environmental footprint, contributing to the cleaning of more than 30,000 sqm of Greek beaches.
"We are very proud that with the initiative "My beach. Our Planet" we are making a long-term commitment to change the Greek beaches and the industry in which we operate, educating our partners and citizens in a culture of sustainable behavior on the beaches – one of the most valuable elements of Greek nature and tourism.This action – in which all employees of Pernod Ricard Hellas participate – is a practical proof of our commitment to the Greek society and to the principles of sustainability and responsibility that govern our operation, both in Greece and worldwide.", said Mathieu Lambotte, CEO of Pernod Ricard Hellas.
"We are very happy to be supportive of this important initiative of Pernod Ricard Hellas, contributing to the implementation of good environmental practices and strengthening the culture of environmental responsibility. Besides, our goal is common: To create a better future for the Greek beaches and our planet.", stated Nikos Doumpas, Head of the Water Waste Pillar of the Environmental Organization iSea.
The initiative is in line with the global actions of the Pernod Ricard Group, which are defined by the passion for creating a better way of life, protecting the environment in which we live and are in line with the United Nations Sustainable Development Goals for 2030..
More information on the program of voluntary beach cleaning actions and registrations will be announced in the coming months.