"Allow us to introduce ourselves, we're the ones changing the game of gaming" (in free version: let us introduce ourselves, we are the ones who change the rules of the game). This is what someone reads when opening the website of modl.ai, which creates digital tools with passion and accuracy! The idea for the creation of modl.ai. was born at the University of Computer Science in Copenhagen (ITU) in Denmark, in one of the first places in the world where a research team focusing on computer games was created. In 2016 a talented and multidisciplinary team of game developers, engineers and AI experts estimated that the methods and material they had were advanced enough to allow them to bring modern AI game techniques from the laboratory to development (to automate and improve some aspects of the process) and to the production of digital games. 
Modern computer games have the ability to monitor not only what players are doing, but also store information about the context in which they do it. This provides the ability to track players' decisions, but also to find different types of players, as well as to identify patterns that predict what players would do under different circumstances. Placing an army of AI bots (agents) means that game developers can test their games in a matter of seconds or minutes rather than days or weeks as would be needed with real players. This is the focus and not only of modl.ai, whose head and co-founder is Professor George Giannakakis, who leads the only Institute of Digital Games in Europe at the University of Malta, while the engineer of Artificial Intelligence Dr. Daniele Gravina, who is a graduate of the Institute, has undertaken the co-management of the modl.ai's branch in Malta.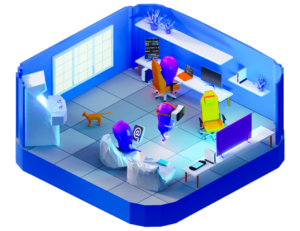 The distinguished greek professor is considered today one of the most recognized experts in research that combines artificial intelligence and digital games. His research work covers the areas of artificial intelligence and machine learning, emotional computation, advanced digital game technology, emotion modeling and digital creativity, as well as human-computer interaction. "The modl.ai platform is an innovative collection of methods and algorithms that combines techniques of stochastic optimization, evolutionary computation and deep remedial learning. In combination with psychometric models and basic design principles, the modl.ai team has managed to train artificial intelligence "agents" who can play video games such as players and predict the players' experience of their behavior," explains Professor Giannakakis.
The tools developed by the company include modl: test, a suite of AI-based tools to automate repetitive trial tasks in game development, modl: persona, which helps developers understand who their players are and optimize their gaming experience, modl: play, which is nothing more than an AI bot, which learning from human behavior plays as a player's opponent, and modl:create that creates tools to speed up the creation of game content. 
The modl.ai's long-term plans include offering AI solutions to a wide range of industries, where observing and modelling human behaviour could have a major impact. «The realization that artificial intelligence could be applied not only in the field of toys, but also in a number of other industries that observe and model human behavior may change the game for modl.ai in the future", adds Professor Giannakakis. 
The company, which currently has about 25 members, received 1.7 million dollars in a seed round funding in 2019 and is in the process of further development (scaleup). modl.ai's customers and partners include toy industry giants such as King with titles such as Candy Crash and Ubisoft with numerous titles such as Assassin's Creed Series and Tom Clancy's The Division.
It is worth noting that, according to a recent survey by Prof. Ioannis Ioannidis in Stanford, prof. Giannakakis is among the 0.5% of the most influential scientists in the field of artificial intelligence worldwide. He has written the first book on artificial intelligence and digital games and was recently awarded as Malta's most active researcher. From time to time he has also organized educational summer schools with the participation of giants from the field of the game industry , including Microsoft, Sony, Unity, DeepMind.