Meteology LiveCams: The ultimate weather guide in a Greek app
Efi Tzouma's app offers a live streaming view of the weather in various parts of Greece and the world along with useful information about where extreme events are occurring at that moment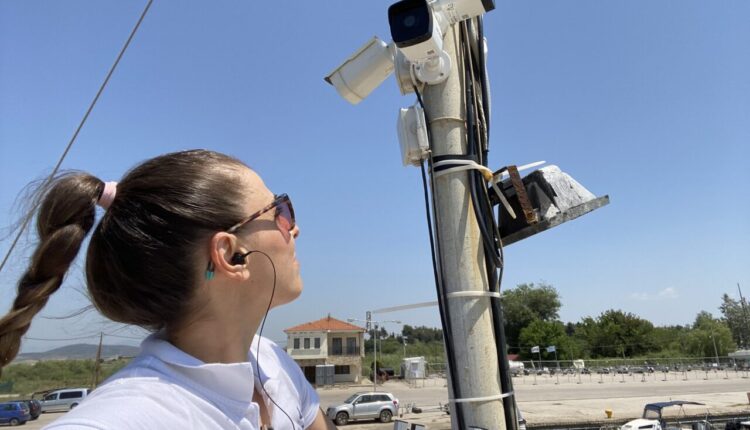 In the living room of her house, she has two hundred cameras on her screen and she watches the weather live online. In Thessaloniki there is sunshine and bitter cold, winds and snowfall in Halkidiki and snow in Santorini. By pressing a button, the camera changes and connects to Boston, where it is cloudy, while in Ireland it is drizzling.
Effie Tzouma's app, Meteology LiveCams, includes information about all weather phenomena in the country, cities abroad and in a few days the weather in Peru with a live camera. The young woman from Thessaloniki created the original application, on the occasion of her love for the study of weather phenomena, but mainly to help her brother, who had a car accident. It is the first and only Greek application with 200 live cameras 24 hours a day from all over Greece.
Speaking to the radio station of the Athenian/Macedonian News Agency "Agency 104,9 FM", Mrs. Tzouma says that the storms and storms of life did not make her give up for a moment. She fights in her own way and her ally is now the rains and all the weather phenomena. In fact, she gives those who acquire the application the opportunity to have the weather in their "pocket" and the proceeds from the subscription go to the rehabilitation of her brother Paris.As she explains, users have a functional application – "multifunctional" for their daily lives and also put their own stone in achieving her goal, since with the first income, she bought an electric wheelchair for her brother.
"The idea to make the app came after my brother's car accident in 2013. He was found bedridden with multiple fractures all over his body. We were struggling to cope with a scant income and a three hundred euros disability pension from welfare. My brother's daily needs were huge and very expensive. I had to find a way, especially when I had to leave my job and therefore an income. So, guided by stubbornness and will, I created my application step by step, with endless late nights and countless hours of work", said Mrs. Tzouma.
A former boxer and riding instructor, she did a lot of work in previous years. For the past eight months, however, she has been running the original Greek meteorology application with two hundred live streaming cameras in Greece- Cyprus- Ireland and America.
The weather map with the live broadcasts was not an easy task. Having initially the help of a very good friend of hers, she set up the original form and she took over all the rest.She took her car and traveled all over the country. With her ladder in her hands, she climbed mountain peaks, altitudes and screwed the cameras to buildings, terraces and even bell towers.
"The app is in seven languages and in the next few months I will add four more. Apart from the weather data that can be monitored, one has the opportunity to see the ripple of the sea, to see where there is a storm, rain, snowfall, lightning and of course beautiful sunsets. At the same time, it includes a complete guide with maps of winds, rain, snowfall, airports, boat ramps, shelters, campsites, port authorities, hospitals, emergency telephones, ski resorts and many more useful information. In other words, it has everything that the citizen, the farmer, the fisherman, the tourist who will visit Greece will need", explains Mrs. Tzouma.
The application is downloaded to mobile phones and tablets, after the user creates his/her personal account with his/her details and after adding a password. Then he logs into the app and has everything in his hands with a "click". Paris, who recently began to take his first steps again, is proud of his sister's venture and is slowly helping as well.The two of them want to send the message that we should not give up, since stubbornness and will defeat everything. The application has two days of free use for those interested to get to know it, while if someone wants to continue to have access, the annual subscription is 9.90 euros.