Liquid: Portuguese Analytics Startup Raises $1mn to Help Developers Personalise Apps and Increase Conversion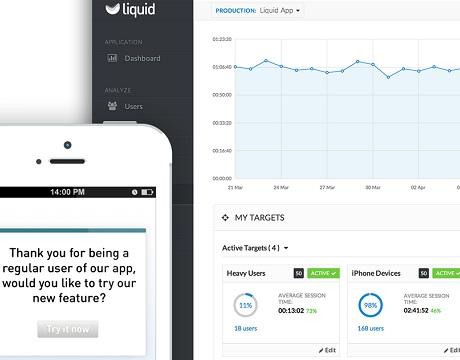 Liquid, a software analytics service from Lisbon, Portugal that helps mobile app developers, product owners and marketers to optimise conversion rates by personalising apps for individual users in real-time, announced an $1mn seed funding round from Faber Ventures and Portugal Ventures.
According to an official announcement the funding will be used to grow Liquid's team, add new features to its platform and to ramp up customer acquisition activities.
Without rewriting the underlying code, Liquid allows companies to personalise apps for individuals and segment users in real-time. Adding a few lines of code to their apps, developers are prioritising features, changing the design or offering new content according to the individual's behaviour and to similar segments propensity to engage or purchase in-app.
A dashboard gives app owners access to data including demographic information such as age, gender, location or social data, and app-specific information like the number of weekly visits or number of in-app purchases, helping them truly understand how each individual uses the app.
The team behind Liquid consists of founder and CEO Alexandre Vaz, a former senior director at Oracle and BCG consultant; founding developer Miguel Almeida, founder of software and hardware services startup Paradigma; and founding developer João Soares, former CTO of crowdsourced loyalty app Mobitto.
A public beta of the product has also been launched. The platform is planned to launch fully in July 2014.