Lidl Plus: Super competition gives 80,000 euros cash
Download Lidl Plus on your mobile, make your purchases at Lidl and join the big Competition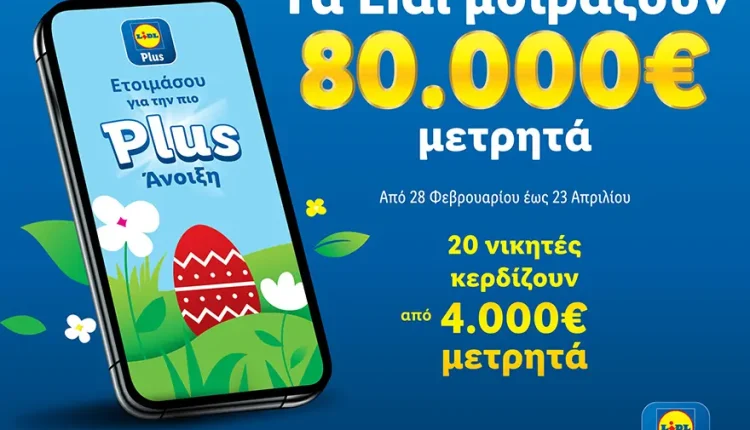 Lidl Hellas proves in practice that it never stagnates and is constantly evolving with a view to better customer service, through unique and original competitions. So, the well-known Lidl Plus returns dynamically with a new super competition. 20 lucky users of the application will have the opportunity to win cash of a total value of 80,000 euros.Yes, you heard right, 80,000 euros cash! The 20 winners who will be drawn will receive 4,000 euros in cash each. So run to catch up because the competition ends on 23.04.2022!
Participation process
Participation in the Lidl Hellas competition is very easy and simple. Scanning Lidl Plus digital card at the checkout and with purchases from 25 euros or more, the customer receives 1 entry within the app. Therefore, purchases worth 25 euros = 1 participation, purchases worth 50 euros = 2 participations, and so on.For example, if a customer makes purchases worth 55 euros, he/she will receive 2 entries, ready to be sent (i.e. 2 entries out of the 50 euros of purchases; the additional 5 euros will not be counted in his/her next purchase). The more entries you manage to collect, the more chances you have of winning the big draw. Entries are sent by the users themselves through the Lidl Plus app.
Lidl Hellas is never complacent, which is why it makes sure to constantly evolve Lidl Plus, through important initiatives, which aim to reward customers for the vote of confidence they give over time to Lidl Hellas with their purchases. At the same time, it is constantly updated with new features and content, which maximize user experience.
You can now download Lidl Plus for free from the App Store, Google Play or Huawei, AppGallery, then register quickly and easily and take part in the competition to enjoy the most Plus prizes.