JUXTA: Launches world's most advanced walk-in vending machine, ideal for remote EV charging sites
Created to support customers in the rapidly expanding EV charging sector, the JUXTA Nomad can be fully installed and operational within 12 hours, enabling drivers and passengers to purchase food and drinks while waiting for their vehicles to charge.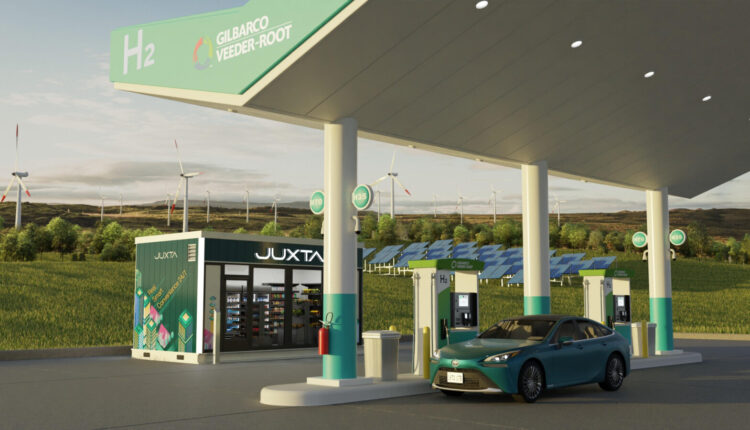 JUXTA, a global technology company and micro convenience retail store provider, is poised to revolutionize the retail landscape with the launch of the fully equipped, pre-assembled, autonomously operated JUXTA Nomad.
Created to support customers in the rapidly expanding EV charging sector, the JUXTA Nomad can be fully installed and operational within 12 hours, enabling drivers and passengers to purchase food and drinks while waiting for their vehicles to charge.
JUXTA is a US-based corporate startup formed in 2022 by Vontier, a global industrial technology company, which also incorporates Gilbarco Veeder-Root, a world-leading supplier of fueling and convenience store equipment.
Om Shankar, JUXTA Co-founder and CEO: "JUXTA was born to deliver a technology-driven step change in the micro-retail landscape. Our mission iFs to support station operators transitioning from traditional hydrocarbon fuel stations to EV charging points and collaborate with established retail brands to extend their presence beyond fuel pumps by adding value to the charging station experience and driving top-line growth.
"While there are other players in the autonomous retail ecosphere, JUXTA's offer is unique, as it is the only turnkey store on the market that does not require complex integrations. Our Nomads are also exclusively targeted at the micro convenience retail landscape and have been specifically designed, developed, and trialed over an eighteen-month period to provide multiple benefits for EV charging operators.
"EV players have always known that they have to solve the retail challenge on their sites, but until now, there has been no immediate solution – JUXTA provides that solution. The JUXTA Nomad is the world's most technologically advanced walk-in vending machine. All our customers need to do is take delivery, connect to electricity power, stock the shelves, cut the ribbon and then walk away, leaving the Nomad to start retailing immediately."
Solving the labor challenge
The fully autonomous nature of the JUXTA Nomad removes operator dependency on fixed human labor, eradicating the challenge of finding and retaining staff that currently blight the retail sector.
With no requirement to accommodate staff or a counter, optimum space is devoted to stock within the 264 square feet (24.5 square meter) Nomad interior. Coupled with state-of-the-art shelving and presentation units, the expanse enables customers to stock between 500 and 600 fast-moving, high-margin items.
"The JUXTA Nomad offers the most profitable per square foot retail format in the world," explains Shankar. "Each Nomad also provides customers with a comprehensive suite of real time data, enabling them to optimize their retail strategy and precision-target their customers by stocking only high-demand items to reduce waste and enhance profitability."
App-free access
While waiting for their vehicles to charge, drivers and passengers can enjoy the ultimate quick and convenient retail experience. With no need to download an app or register for membership, shoppers can gain instant access to the JUXTA Nomad with the touch of a debit or credit card, whether carried physically or stored digitally on their smartphone's wallet or smartwatch.
Once inside the store, customers can select from a range of snacks, sandwiches, hot drinks, and fresh fruit, or select larger items for dinner at home later – whatever the retailer chooses to stock depending on each Nomad's location and customer purchase data. For example, operators of Nomads positioned by remote EV charging points far from any urban conurbation could prioritize drinks and snacks to be consumed by drivers while waiting for their vehicles to charge. Operators of Nomads located by EV charging stations closer to or within towns and cities could also choose to stock larger items, such as readymade meals, for shoppers to purchase and consume when they return to their homes.
Inside the Nomad, shelf and cabinet sensors instantly detect when an item is picked up, and an array of cameras will anonymously identify by whom. The information is combined in the cloud to create a digital basket for each customer. If a family or group of shoppers enter the store, JUXTA's AI-driven technology will collate their purchases.
Where legislation permits, JUXTA's technology will enable compliant retail of age-restricted items such as alcohol or cigarettes. Contained within specific age-verified fridges and dispensers, restricted items will only be released after cameras have confirmed the purchaser is of appropriate age. The technology will also have the scope to request and verify IDs, such as driving licenses, to confirm the purchaser's age if necessary.
Customers can verify their purchased items on a large touch screen before they exit the store. However, if they prefer to minimize their shopping time, they can walk straight out with their purchases, entrusting JUXTA's technology to record their purchases and charge their credit or debit card.
Benefits beyond the charging station
Whilst JUXTA was born to primarily service the rapidly developing EV sector, the company's Nomads can offer multiple benefits to other sectors. While the units require an electricity supply, they do not need to be connected to external water supply as in-store water reservoirs are used for hot drinks. A JUXTA Nomad can be transported and installed virtually anywhere within 12 hours. Potential locations include hospital car parks, festivals, campsites, tourist attractions and college campuses. Nor is the internal layout of the JUXTA Nomads limited solely to retailing typical convenience store items. The format can stock whatever the retailer wishes, even camping supplies.
JUXTA has developed its Nomads to allow operators and retailers free rein to brand the offer both inside and outside the store. Responsibility for maintenance, cleaning and restocking lies with the operator, with JUXTA's AI and camera technology able to instantly identify and report any hygiene issues, such as spillages.
Depending on how far apart they are geographically dispersed, a single employee should be able to maintain 8 to 12 JUXTA Nomads daily. Access to multiple suppliers can be granted to facilitate the delivery of items such as daily newspapers, milk and fresh fruit and vegetables.
Field-proven and primed for global roll-out
JUXTA has successfully proven the efficacy of the hardware and software that underpins its transformative retail offer to the EV charging sector and beyond. The company has concluded a trial of its first autonomous Nomad in North Carolina and confirmed four further customer Nomads in the US, which will be fully operational later this year. JUXTA is also in advanced negotiations with customers in Europe, where it will introduce its first Nomads in 2024.